From an app for kindergarten kids to an app for engineering students, Prometteur Solutions, one of the best educational mobile app development companies in India, has the ability to create the finest mobility solutions for the education business. The many sorts of instructional apps that we can design for you are listed below.
Learning App for eBooks
At the end of the day, it is important to remember that mobile app developers should be in control of their projects and not the other way around. Mobile app development is a process that requires high levels of creativity and innovation.
This means that you need to find an educational app development company that understands your vision and will be able to take your idea and turn it into reality. Here at Prometteur Solutions, we put in our best in giving you a profound educational mobile app development solution when it comes to learning apps for eBooks.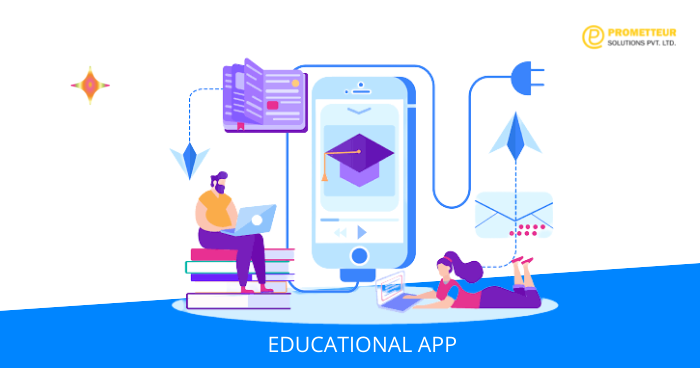 Apps for Online Training
Educational apps are becoming more and more popular. With the advent of new technologies, a lot of students are turning to these apps to get their education. They have the benefit of being able to learn anytime, anywhere, and they are also cheaper than traditional education methods.
The popularity of educational mobile app development companies is soaring because they make it easier for schools and teachers to create educational content for their students.
Apps for E-Libraries
Over the years, we have created many apps for e-libraries. They have been created to help users find books and other materials in the library, check out items and renew materials. The apps also provide access to library databases, digital collections, and other electronic resources.
These apps are designed to be used on smartphones or tablets. Others can be used on desktop computers or laptops. Some of the most popular ones are:
Some popular apps for E-libraries include; Hoopla Digital; Kanopy Streaming Video; Zinio Digital Magazines; Google Play Books Library Manager App; Kindle Cloud Reader App
App for Education Gaming
Our educational app developers have vast experience in creating Educational gaming apps which are a great way to get your kids to learn. They provide a fun and interactive way of learning that is much more effective than the traditional teaching methods.
Educational gaming apps have many benefits. benefits of educational purposes and they can help you or your company achieve your set goals. At Prometteur, we know all the right tips on how to make the best educational app possible.
Coaching Classes Learning App
Coaching Classes learning apps are apps that help people learn new skills. The app has a library of classes and lessons to choose from, so users can pick the skill they want to learn and start right away. Simply put, the Coaching Classes Learning App is an educational mobile app development company that helps people learn new skills.
Nursery & Preschool Learning App
In the digital age, it is essential to have a mobile app for any business. Mobile apps can be used to create a brand, build customer loyalty and increase sales. But not all businesses have the resources or expertise to create their own mobile app. That's where an educational mobile app development company like Prometteur Solutions comes in. We are very skilled in creating educational apps that are engaging, interactive, and entertaining for children of all ages.
College & University Mobility Solution
Prometteur Solutions is the best option for anyone who needs a college and university mobility solution. We have a team of expert developers who are skilled in developing educational apps. Contact us today to get started with your project!
App that is based on knowledge
This app is a knowledge-based educational app. It provides a multimedia learning experience to the users. The app, when designed by Prometteur Solutions, an educational mobile app development company that has years of experience in designing and developing apps for the education sector would be a game changer for your business.
Solution for Education Management
Educational apps are an important way to get students to learn and develop their skills. However, the field of educational mobile app development is a relatively new one. There are many challenges that developers have to face when creating these apps and some of them include:
– Lack of experience in this field
– Lack of resources for developing these apps
– The lack of know-how on how to create a successful educational app.
Hence, there is a need for an educational app development company that can provide the expertise required to develop these apps. This is where Prometteur comes in. We provide the best services when it comes to educational app development services.
Importance of educational mobile apps
The days of limiting education to the classroom are long gone. As more students use technology's on-demand education offerings, classroom tables are being entirely supplanted with smartphones. The classroom is being taken over by teaching applications, which provide a flexible timetable, the capacity to personalize instruction to individual schedules, and the opportunity to repeat a session indefinitely. A user-friendly UI and 5-star reviews are welcome bonuses, but a successful education program is about much more than that.
1. Having a high rate of return on investment makes you happy.
High-value content is one factor that ensures repeat visits. In your location, plan the modules, lessons, and any other critical components. Ascertain that the information you use is of good quality and will pique the pupils' attention.
Use high-resolution photographs and videos, and any text should be well-written and tailored to the intended audience. SupremeDissertations does this by providing high-quality writing based on extensive research. This kind of information might be beneficial to any learning platform.
using a computer
Another significant kind of material is video. It provides students with instant access to a range of knowledge and is the closest thing to meeting with an instructor in person. If you invest in a nice camera, TrustMyPaper will write a full-length script for you. In this manner, a professional person will meet your professional demands.
2. A database that is well-organized
The next logical step is to create a database that contains all of the necessary lesson data. This is done to make future updates as simple as possible. Moderators may do so at the touch of a button, and always up-to-date information will keep your students engaged. Even if you do not know how to code, creating no-code applications is becoming simpler. It is a different affair to figure out what type of interface your target audience needs.
3. A user interface that is straightforward to utilize
After you have gotten the content and the database, you will require a well-designed user interface. A large range of programs now has their own distinct user interface. Speak with a live person to ensure that they understand your requirements. They may allow an offline mode for you if you inform them that your pupils may not always have a stable Internet connection.
For Pexels 4, the mobile device app uses Ono Kosuki's photo. Log in with a single click and access a dashboard
A decent education app must include one-step login and dashboard features. Because one-step login saves time, students can concentrate on their studies. The dashboard, on the other hand, allows users to establish their own personalized education profile and continue their studies.
5. Customized Service
Personalized or customized education encompasses more than just the content of the educational program. Allow the learner to customize the software as they see appropriate; they have already paid for it, so let them have fun with it. Students should be able to customize the following characteristics of educational apps:
Modes for Day and Night
The Study Program's Background Information
Gender-sensitive materials, as well as age-appropriate personalization, should be offered.
It should be adaptable to the interests of the students.
Gardner's Theory of Multiple Intelligences should be used.
Allowing students to choose the exact app they want or need assures that they like learning and are more likely to suggest your educational program to their colleagues.
The number six option is interactive tutoring sessions.
Although interactive sessions with live professors are typically considered a bonus and hence eliminated from instructional software, they should be considered a required component. Bonus features that allow the educational institution that initially developed the software to generate extra money will be forever appreciated by students. Eric.ed.gov discusses the importance of live contact between a student and a tutor or instructor in great detail.
Check to see whether the instructors in charge of this section of the curriculum have prior experience communicating with pupils through the internet:
There should be no landscape whiteboards in the backdrop since the content should be mobile-friendly.
The tutor should adjust his or her approach to the student's age and interests.
To keep students' attention, the curriculum must be fascinating and active.
The information should be tailored to the student's level of comprehension and learning speed.
7. Tests and Progress Reports
As a standard feature, each teaching tool should provide progress exams and reports. They are also an element of the individualized learning strategy. Allowing students to take practice examinations at their own speed and from the convenience of their own homes is a certain approach to help them progress: Check to see whether the testing option is available in services that allow you to completely customize your education app. Your pupils will be able to maintain track of their progress and, if necessary, change their learning speed and resources.
8. Integration of Social Media Platforms
Allow pupils to post their progress test results publicly on their own social media network if they are satisfied with them. This allows them to brag about their accomplishments. It enables you to publish free classified ads in a community of individuals who have similar interests to you. It also helps you have a better knowledge of your students and how you can help them continue their education.
9. Push Notifications
Is a fresh lesson on the horizon? Is there any new video content that students may watch? Is it not true that the findings of the progress report are now available? It is not an issue at all! Push notifications will allow you to interact directly with your pupils while also increasing app use. A step-by-step tutorial on utilizing push notifications, including how to set them up and how to use them with your target audience, is available here.
10. Audience segmentation
Your students' behaviors in your app will generate a large amount of data that may be analyzed. Take advantage of this new opportunity by segmenting your audience and utilizing data to understand more about each group. With each new release, you will be able to tailor your strategy to them even more.
Must-Have Features of Educational Development Apps
Screen Sharing
The instructor can easily engage everyone on the same level by using screen sharing. It promotes student attention to the instructor and fosters teacher-student engagement. At the same time, class presentations have become easier and more comfortable since students may share their screens directly with one another, removing the need for a projector and the juggle of cables and adapters, as well as linking professors from all over the globe.
Session Capture
Students benefit from session recordings since they know they may return to the subject after the face-to-face session. As a result, the gaps are filled since students may go over the difficult subjects following the live session. The flipped classroom method, in which instructors offer fundamental content before a face-to-face session, followed by classroom activities, is also promoted via session recording.
These recording sessions have shown to be quite beneficial to students in terms of test and assessment preparation. It also eliminates the need for the learner to take notes by hand. To improve student engagement, an ideal learning app should include session recording.
File-share
When instructors need to communicate photographs, multimedia information, or other important data through group chat, file-sharing comes in helpful. As a result, all students get instant access to the information. Students can rapidly download and post materials and assignments. The file-sharing tool reduces repetitive activities, allowing instructors and students to focus on the work at hand.
In-Session Discussions
In-session chat is now one of the advanced education smartphone app features that enable students to connect with their classmates while in class. Students may also ask questions and have them answered throughout the session. This feature promotes real-time collaboration and conversation, resulting in a thorough knowledge of key concepts. Teachers get real-time feedback in this scenario, making it a more participatory experience.
Streaming in real time
For most, if not all, sectors, the internet has removed geographical constraints. Globalization has had a favorable influence on the education industry and area, which is one of several. Interaction is the most important aspect of successful learning, yet most teaching platforms/apps lack it. To meet this demand, one of the most sophisticated education mobile app features, Live Streaming, was launched. With the correct focus and approach, it has a huge potential to affect learning.
Live streaming allows for real-time engagement, a large audience, and quick learning.
Admins of the chat room
Tutors/professors are granted the ability to be chat administrators, allowing them to hold private conversations with students. Teachers may use the app to filter out pupils who are working on different projects and track their progress on a regular basis. Teachers may stay up to date on their daily reports as well as other important information.
Feedback that is not spoken
In educational applications, non-verbal evaluation is the most honest way to improve the user experience. The tailored experience that fascinates the user is one of the most important characteristics of the mobile education app. A hand signal system is a great approach for pupils to communicate and express their issues without disrupting the learning process. As a result, the message is conveyed fast, and the feature fulfills its objective.
Polls
Polls are a fun method to get students to participate in live sessions. Once the life lessons are completed, teachers may post flexible questions, debates, and live polls. This scenario will rapidly engage the students, and they will be able to see the results/responses right away, making it a terrific approach to building an active remote classroom.
Meeting Rooms
The app's breakout rooms function allows and instructs students to be divided into groups depending on different themes. Between checking the progress of the prescribed activities, teachers may shuffle/ join various student groups. This tool enables professors to remotely supervise class assignments and promote student-centered learning, even in a virtual setting.
What new features does the education app have?
Practical Exams and Mock Tests
Exams and evaluations are an important aspect of both conventional and contemporary learning methods. As a result, "Exams" is a new feature that students may look forward to on the app. Apart from surveys and questions, the app might feature a dedicated area.
Offline Education
Many students have had limited or no accessibility to the internet since the lockdown began. Offline education may be advantageous to such kids since they can download a fixed number of courses at a time and use the program to its full potential even if they do not have access to the internet.
Notifications via Push
Push Notifications have become a standard feature in practically all applications. The user's attention is drawn to these alerts since they provide a summary of the content in a brief text. Numbers/percentages may be used to provide a general summary. In terms of educational applications, students may be alerted about course completion, the number of examinations that have appeared, and pending submissions and deadlines. Although the settings for these push alerts may be changed, they are effective in keeping students aware at all times.
Gamification
It is scientifically proven that children of a particular age learn more quickly when they are taught via play. You may anticipate Gamification to overtake the whole notion of helping students learn quicker via games and enjoyable experiments in the near future. Gamification is intended to draw in more students while also improving their user experience.
Personalization
The individualized experience of students is essential to the development of an educational app. The majority of educational applications appeal to students of all ages. Most applications nowadays provide customization depending on the convenience of the user; however, educational apps will soon include capabilities such as personalized learning. Students may customize the app depending on their study habits and approaches.
Since the epidemic was proclaimed, technical breakthroughs have seen tremendous progress, and educational institutions have begun exploring ways to replicate the in-class experience in teaching. As the need for educational applications grows, so does the desire for innovative educational features that make learning more pleasurable, interesting, and engaging than ever before.
Some Start-up concepts for education
We have attempted to narrow down a few of the greatest app ideas for companies that may make a significant difference in the education market. Let us have a look at some of these concepts.
1. Augmented reality (AR)-based educational applications
Apps using augmented reality for education tend to perform optimally with a high level of satisfaction among users.
The field of augmented reality, sometimes known as AR, is quickly evolving. Gaming, interior design, and other commercial categories are becoming dominated by technology. AR is one of the most promising technologies for e-learning app creation. It may be used to teach students about healthcare, engineering, and other subjects.
2. App-based private virtual tutoring
Private virtual tutors are one of the greatest app concepts for learners that top app development firms may employ for education app development. When students are forced to limit themselves to their houses due to pandemics, private tutors may assist them in studying efficiently. As a result, an app for private instructors deserves to be included among the best app ideas for entrepreneurs.
3. Apps for quizzes that make studying more effective
Apps that allow you to take quizzes to help you study more effectively. After you have finished a chapter, it is a good idea to put your knowledge to the test. As a result, educational quiz mobile applications might easily become one of the application ideas for students. Quizzes are already used in apps like Udemy, Khan Academy, Coursera, and others to assess the user's knowledge.
4. App to monitor school buses
Apps to monitor school buses can be built by expert educational app developers for safety purposes.
Wouldn't it be wonderful to be able to follow the school bus in real-time in order to avoid being late or to wait for it if it is late? If you think it is a decent concept, you may have it built by one of the finest app development firms for start-ups. The app may function similarly to Uber, but for school buses. It may also be beneficial to schools. Bus drivers might be rated based on their own or the students' experiences.
5. Use an app to keep track of your learning progress.
Monitoring the learning progress is one of the most popular mobile app ideas for students. This data may also be utilized to give users a customized learning structure to make the learning process more successful with the use of AI in education. These educational software concepts are already being used by big brands like Udemy, Coursera, and others.
6. App for reselling or recycling old books and electronics
Being a student nowadays is difficult, particularly with all of the digitization that has occurred. As a result, recycling or reselling obsolete electronics is a smart option. Users may identify books and gadgets that they no longer need on the educational app you create. It would benefit kids while also reducing plastic waste and paper use. This is one of the best educational app ideas that might help students save money.
7. App for reading audiobooks
Audiobooks are one of the most successful e-learning app concepts. Even when they are involved with something else, such as traveling, students may study. It not only aids in the recall of information but also increases the individual's attention.
8. An app that uses artificial intelligence to help you learn new words and pronounce them correctly.
It is a smart idea to employ AI for the education app if you run a firm or intend to engage an educational application development company that specializes in AI. Language acquisition may be aided by artificial intelligence. For example, the user may utter a word, and the AI can determine if the user is expressing it correctly or not. The AI may also fix their speech and assess their repeat rate.
It is no longer a luxury to have an app for a school, college, or institution; it is now a need. Many institutions are still hesitant to build an education app owing to expense, complexity, and a lack of resources to do it in-house.
4854
0
0
cookie-check
Make Your Own Educational Mobile Apps to Help Anyone Learn More Effectively