Android App Development Company
Provide End to End Android Mobility Solution
Prometteur solutions are the best android application development company and also the best digital marketing company in India. We offer the best android application development services to clients in different parts of the world. We have a team of highly professional android developers with extensive experience in the industry and in-depth knowledge in building high-performing android applications for businesses and companies.
ANDROID APPLICATION DEVELOPMENT
One of the fastest-growing markets in IT is android application development. Business companies are increasingly seeing more and more reasons why they need to use technology to connect with the right customers, drive traffic and convert sales. Android is an open-source platform for smart devices. The open-source operating system has been a catalyst to mobile app development since its inception by Open Handset Alliance and Google.
Android is a Linux-based, open-source operating system that is very compatible with a Java library. Android excellently provides an open market characterized by efficiency and gives third-party individuals and companies providing android app development services great opportunities. The android operating system has a global, massive reach. It engages a global audience as a reward for its efficiency in building and launching android applications in a more straightforward way than other platforms.
There are over 3.6 billion users on the android platform. This comprehensive coverage of usage is higher than any other mobile app development platform in the world. The android operating system is available on different mobile devices worldwide, and the number of users keeps increasing day by day. Presently, many businesses and brands rely on using android applications to drive their businesses.
Android application development creates an application for devices and tablets that will run on the Android operating system. Android app development services are mainly offered using C++, Java, and Kotlin programming languages and an android app development software kit (SDK). However, it is also very possible to use other programming languages for mobile app development. Some of this android application software needs network connections to work, while others can work without a network connection.
WHAT ARE THE FEATURES OF ANDROID APPLICATION DEVELOPMENT?
Here at Prometteurs, we firmly believe that the success of any android app development software in the market relies heavily on the features of the app. We think that android applications with the best features accelerate traffic and easily convert sales. In the marketplace, android applications enjoy a better and higher percentage of users than iOS. People love all the best features of android mobile applications. Our digital marketing team will work very closely with our android application development team to strategically build the best android app with the best marketing tools integrated with the app to help your business grow fast.
Here are some of the best features to include in your android application development.
Easy registration and login
Android application development companies and mobile app users are very familiar with this feature. Its relevance is also commonly known; users like it when it is easy. Having a mobile application software that requires filling long login forms during registration and login will put many users off and leave them with a wrong impression about your product.
The best thing is to allow your users to register and log in with their email or phone numbers. You may also customize your mobile app for users to use social media like Facebook to log in.
Android application development jobs, at their best, always put user experience first.
Fast Loading Speed
As users love easy registrations and logins, they like to use mobile applications with good loading speed. Any good android development company will tell you that loading speed is critical in web and Android application development projects. Loading speed should be breakneck and not exceed more than five seconds at a slow rate.
Another feature of android application development to consider is the responsiveness of the android application. Every button clicked should be processed immediately, with any delays after tapping. The android application development company must also ensure that the app fits different screens of devices—for example, smartphones and tablets.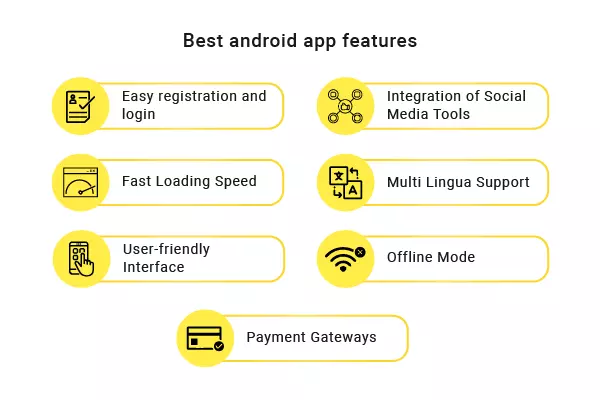 User-friendly Interface
An Android application can be sophisticated yet very easy to use. Users don't have to find it difficult when navigating through the app. The best android application development company will always create an android app with particular attention to an easy-to-use user interface.
The user interface is an essential feature in android application development. User interface plays a vital role in how long users spend on the mobile app and their feelings while using the app. We recommend using the most tested and trusted functionalities for the best user experience.
Integration of Social Media Tools
There are billions of people on social media, so you should find the best android application development company to correctly integrate the right social media tools into your app. Integrating social media tools enables you to easily connect and manage your users on different social media platforms. Some of the best social media tools are Facebook, Twitter, WhatsApp, Telegram, Pinterest, Telegram, etc.
Social media tools allow you to easily manage your users or visitors and turn them into long-term return buyers. You can also create a niche audience, share engaging content, and advertise new products to your social media audience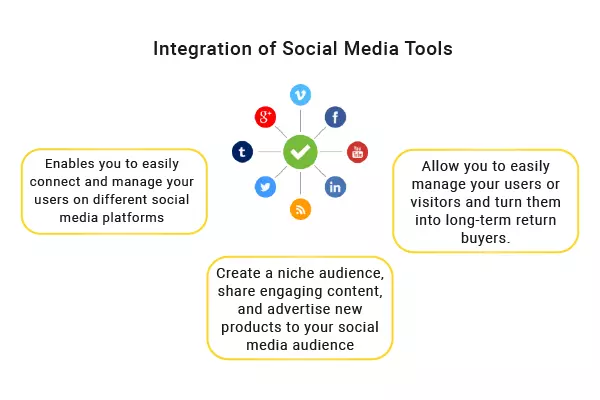 Multi Lingua Support
This feature is for businesses that deal with customers from different linguistic backgrounds. It is an excellent feature because it allows other language speakers to use the android app software without worrying about the language.
Android application development companies are increasingly using the multi lingua feature to serve a global audience. Today, you can find an android application in English, French, German, Chinese, etc. Having an app with a multilingual functionality means that you can reach and offer your services to different world continents.
Offline Mode
How about an android application development company that can build you a mobile app that works well even when disconnected from the internet? Features like this give your business advantage because users navigate the mobile app with or without an internet connection.
Payment Gateways
Payment gateways are mobile application extensions used to receive and process online payments, especially eCommerce and Android mobile applications. Android application development software includes payment gateways that enable users to make payments for products and services; with the payment gateway feature in your mobile app, the issue and trouble with customers paying with fake money is resolved.
Therefore, these are some of the best features for android application development; these features can be fantastic and have transformed many businesses. Usually, at Prometteurs, we design and build your android application with the best parts for your type of business and the goals you intend to achieve. We will build you a website that will drive your business plans, dreams, and visions and make your business stand out in the marketplace.
DO YOU NEED AN ANDROID APPLICATION DEVELOPMENT COMPANY?
Android application development software comes with many unique features which are very useful for driving businesses into success. Any company that targets a broader audience should choose android application development over any others. Let us look at some of the reasons why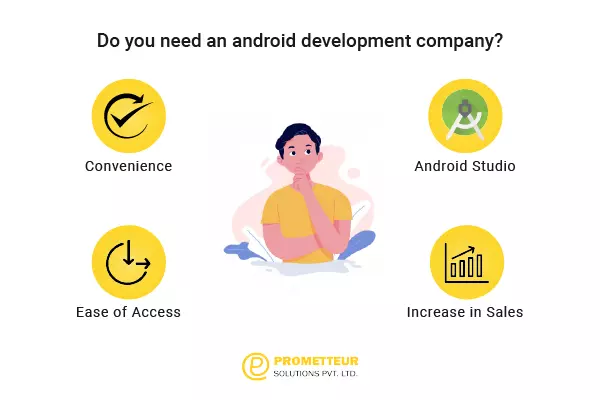 Convenience: There are many more Android smartphone users than iOS users in the world. It means that more people are familiar and very comfortable with android application development in the marketplace. Android smartphones come with many benefits and solutions to real-life problems. For example, Google Maps, which is a good resource for navigating and finding locations. People love to use android devices for the exchange of data and other relevant information.
Android Studio: Android studio is a very important IDE. It is excellent for android application development. Android studio is a tool for different types of android application development. The tool has an option for previewing web app layouts during android application development projects. It has a based system and enhances support for android apps, android tv, and android wear. There is also a fantastic Google cloud platform for android users.
Ease of Access: The popularity of android application development is growing day by day. Many people can quickly go to the Play store and download any available android application for their android phones and tablets. Experts reviews show that it takes about one or two weeks, at least, for an IOS app to be ready for download while it takes only a few hours for an android app to be available for download on Play Store. This gives android application development some credits as regards easy access.
You can easily port to other OS such as Chrome OS, Ubuntu, Blackberry, and Symbian with android. The platform has the highest number of users and increased flexibility. Also, many big companies around the world are using the Android OS to run their products.
Increase in Sales: Android application development produces apps that are very user-friendly and very effective for businesses. Thus, it is an excellent tool for business expansion, which in turn leads to an increase in revenue and sales.
An android app can go a long way in promoting your business since there are so many people using android smart devices. Therefore, when an android app is driving your business sales. You can easily find users of the app since there are android users everywhere in the world in large numbers.
There is a fast and continuously growing market in android application development. The numbers of android app users also keep increasing. It is a proven fact that with an android application, businesses can easily connect with their clients and audiences to create a strong relationship and a credible business brand.
There are many advantages of choosing an android application development over others for business and many other functionalities in life. If you want to create your android application, contact Prometteurs now!
Prometteurs Solutions provide the best android apps with end-to-end android mobility solutions.