Magento Development Solutions
For Your eCommerce Platform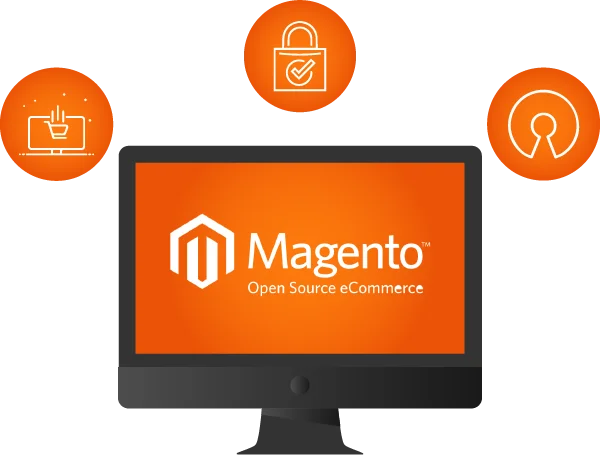 Magento development services are on the rise, leading to highly creative, functional, and innovative shopping cart systems that are extremely handy for an eCommerce site or online store. This eCommerce platform is one of the most sought-after out there, and that is because Magento eCommerce development is considered one of the most reliable and highly secured among its contemporaries.
Magento is one of the most robust, professional open-source, smartest, and feature-rich eCommerce platforms that offer business owners or entrepreneurs total control and flexibility over the appearance, functionality, and content of their online store. Magento development has made – and keeps making – shopping online super easy for customers around the world for several years, thus enhancing the brand value.
Magento development services are versatile, fast, and secure. While Magento is super-packed with several features, its biggest asset lies in its ability to update eCommerce websites built with Magento. Magento is a fair advertising platform as well as a highly efficient eCommerce platform.
Magento is also considered the best platform for both startups and small businesses that have limited budget and investment. A Magento Development Company can also assist you in migrating from your existing site to the Magento eCommerce content management system within a particular time frame without causing any harm to your workflow or business.
Magento Development Company
A good and reputable Magento development company should be able to offer these Magento development services:
Magento Web Development
Magento Installation and Configuration
Magento Theme Development and Integration
Custom Magento Development
Complete Automation of Order Processing
Magento 3rd Party Application Integration
Magento Upgrades
Magento Plug-in/Extension Development
Backend Report Customization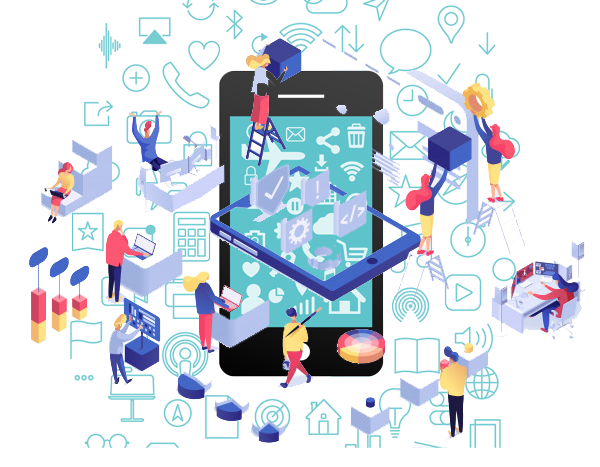 Why Magento Development is the Best for Your Business
The primary aim of Magento is to provide unique ways of selling products on the web. It also helps in the functionality and promotion of online stores. Magento is popular and highly recommended despite the presence of other platforms like WooCommerce PrestaShop, etc. The following are a few reasons why business owners who are still on the fence when it comes to using Magento should make the switch:
Supports SEO
Magento's most imperative feature is its support of search engine optimization (SEO). The platform is incredibly SEO-friendly, making your online store much more visible, thus resulting in an increase of customers who visit your eCommerce store to purchase physical or digital products. Magento is capable of providing up-to-date SEO ranking factors, including analytics for tracking every web visitor that visits your eCommerce store.
Availability and Effortless Maintenance
Magento development services also cover the maintenance of your eCommerce website. The Magento development company you work with should be able to handle all the issues that are related to website or server maintenance as well as other developmental problems. These features make Magento one of the most user-friendly platforms to use. It is open-source software anyway, so you can easily copy it to your server and also edit its code. Magento is also available for installation on one go.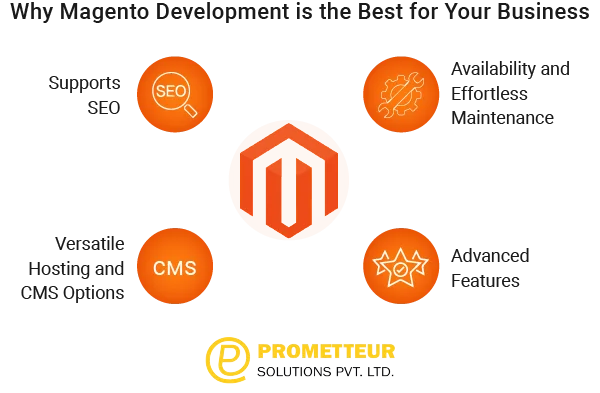 Versatile Hosting and CMS Options
Magento supports more than 50 payment gateways as well as multiple websites. It is highly proficient in smartly handling extensive database and the perfect alternative for product editing.
Magento Development allows eCommerce stores to choose any hosting company of their choice.
Advanced Features
Magento is more than enough for efficiently dealing with your eCommerce business. This is because it provides the latest features which allow customers to enjoy a lot of ease when transacting business.
This is why many customers prefer visiting online stores built with Magento, thanks to the way it presents advanced solutions in simpler forms.
Magento is a fully-functional platform that is used by many highly successful entrepreneurs or business owners.
What to Do Before You Hire a Magento Developer
Learn about Magento
Before you start interviewing a bunch of Magento developers, it is essential for you to do a little bit of homework. Go online or to the local library to learn more about Magento, the remarkable and professional open-source platform that has revolutionized the eCommerce space. Understand as many of the features of Magento as you can, taking note of the features that you believe will enhance your brand value. Learn more about the latest version of Magento along with the latest, innovative features.
A deep understanding of Magento will enable you to hold your own when discussing your requirements with your Magento developer or the Magento development company you choose to work with. You will be able to set realistic expectations from the Magento developer, and will not be lost when the developer uses industry language.
Check Out Magento Features and How Beneficial They Can Be for Your Business
Magento has a myriad of innovative and creative features for eCommerce websites. Users can even integrate third-party extensions in order to increase the functionalities of their sites. Extensions are add-on features that can readily be installed or uninstalled without the need to change the code completely. This makes it incredibly easier for store owners to add countdown times for end-of-year sales, seasonal discount features along with a lot of other exciting features. It is essential that you fully understand the features and extensions that are readily available so that you can set a practical expectation for the numerous features that you want to integrate into your eCommerce store.
Check Out Other Online Stores that Run a Business Similar to Yours
Visit other eCommerce sites that run a business that is similar to yours, especially the successful ones. There must be something they are doing right that has made them so successful in the internet marketing space Find out how they drive traffic to their offers and pages as well as the numerous features they use to boost conversions. Make a list of these features before you hire Magento developer for your project.
How Magento Developers Can Help You to Boost Your Online Store Conversions
eCommerce is booming at an astronomical rate and has even gone on record to become the only trillion-dollar sector or industry that allows retailers to sell their products easily online.
With over 2,000,000 online stores powered by Magento, it has undoubtedly helped retailers to confront the tough and competitive market and still survived by offering the best functionalities and class features.
Magento developers, therefore, play a significant role in making eCommerce websites successful by ensuring visitors convert to buyers.
So, how can a Magento development company optimize your eCommerce store while executing basic development operations that will help you remain competitive in the market today?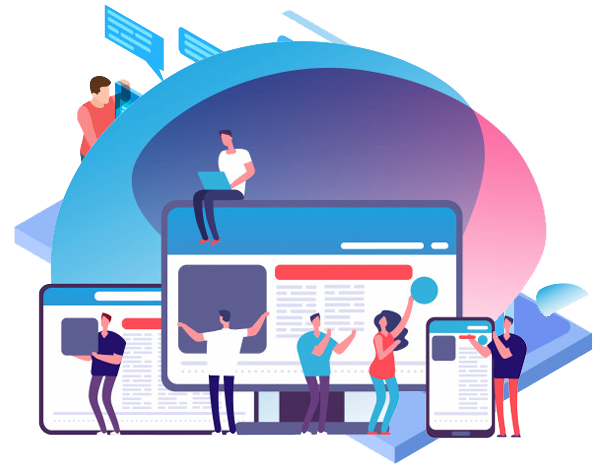 Developing a Highly Responsive Site
Over 50 percent of the eCommerce traffic out there comes via numerous mobile devices, meaning that m-commerce is the default instrumentation of shopping online. TA reputable Magento development company can help you to adopt a unique multi-device approach via the use of highly responsive design. And they can also implement features that are majorly recommended by the search engine giant, Google, thus ensuring easier upgradability.
Enhance Speed while Avoiding Performance Bottlenecks
Visitors to websites or eCommerce platforms today don't like to wait. Yes, everybody wants things instantly. Therefore, in order not to make your prospective customers wait too long, and finally clicking away to your competitor's website, you need to optimize your site for incredibly high performance. Your website must be SEO-friendly as it helps to give you an edge or two over your competitors. Every page on your site must be able to load as fast as possible, thereby recording zero bounce rates. Magento developers usually make use of minimum amounts of JavaScript code lines. They also clean up the CSS entirely by getting rid of all unnecessary rules. This significantly increases the speed of every page on your website.
The images you use on your website should also be optimized in order to minimize the page load time to a considerable extent.
Customized Magento Themes Designed to Meet Specific Business Needs
If your eCommerce store is responsive and user-friendly enough to get your potential customer to reach the shopping cart page, you have successfully won half the battle. What is left is for the visitor to proceed to check out and end it with a transaction. However, by default, the theme that is generally used in this aspect is not readily optimized for conversion. The Magento developers you choose to work with can assist you to optimize the shopping cart page by changing the size, color, layout, etc.
Optimizing the shopping cart page will end up pleasing your prospective customers enough to follow through the highly effective call-to-action.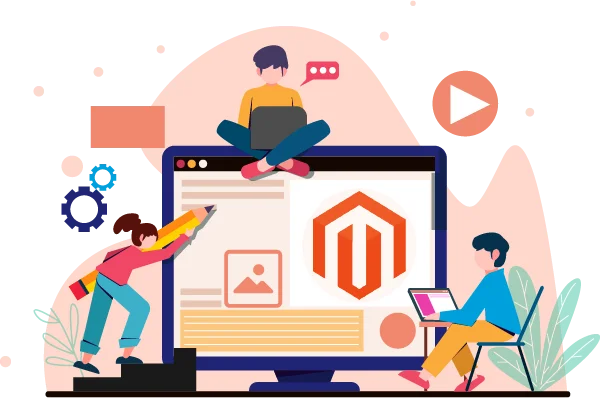 Localization of Your Online Store via Multilingual Websites
If your goal is to sell your products to the global market, it is very crucial for you to start targeting prospective customers in various locations. And for this to be successful, you need to develop multilingual websites which will help you to serve these customers better.
Multilingual sites will also make your potential customers feel much more comfortable doing business with you since the sites are presented in their respective languages. And thirdly, this will help to boost the sales conversion significantly
And of course, closing sales which results in generating higher revenues is one of the primary focuses of any reputable eCommerce store. The Magento Development Company you choose to work with can help you out in this regard so that you can attain optimal sales via the implementation of these tips for better and quicker sales.
How to Choose a Magento Developer
Choosing a Magento developer may seem scary, but it is possible to work with a highly experienced developer or team of developers. Follow these tips:
Search for a Magento Developer
The first step you should take is to bear in mind the scope of your Magento project. This will guide you in your quest to hire Magento developer. For instance, if what you need is a minor adjustment on your eCommerce site, you don't need to go for big-budget Magento developers.
Check out the Portfolio of the Magento Developer
This should be obvious, but it must be mentioned. When you eventually come across a Magento eCommerce development company, you feel you can work with, check out their Magento portfolio. A great and impressive Magento developer will be more than proud to show off what they have done for past clients. This is a testament that they can do the same or even more for you if you hire them to work for you. So, go online, peruse the portfolios of various Magento development companies. And as you search for the perfect Magento developer or Magento Development Company, look for examples of work that you would love to have for your own company or business.
Ask for References
Let's say you have successfully narrowed down your search for a Magento eCommerce development to a few companies. Start asking for references from the Magento development companies' clients. Magento Development companies perfectly understand this, and should, therefore, have no issues with providing references for you. The last thing you – or anyone else for that matter – would want to be the test project for a development company that has no idea how Magento works or even how to go about handling the intricacies of the program Unfortunately, many clients have experienced this situation with other developers, and things even got ugly. You want to work with a Magento development company whose team of developers possesses a wide range of experience developing Magento websites. And they are not afraid to share their references with you, a prospective client.
Explain Your Current Business and Product Practices
Whether you are a startup or an existing business looking to rebuild your existing eCommerce website with Magento, make sure the Magento developer knows what you need. You also need to be sure they have confirmed that they can efficiently perform what you want. So, what do you need: Search Engine Optimization services or the integration of an ERP system? Or maybe what you need are custom extensions that are somewhat beyond the scope of regular Magento development.
Whatever it is, you need to make sure that the Magento developer knows what you have in mind. And they can deliver on every item that you believe your eCommerce business can't do without. It is vital to hire a Magento development company only after you have done your due diligence. Find out the skills and capabilities of their team of Magento developers before entrusting them with your project.