PrestaShop Development Solution
For eCommerce Businesses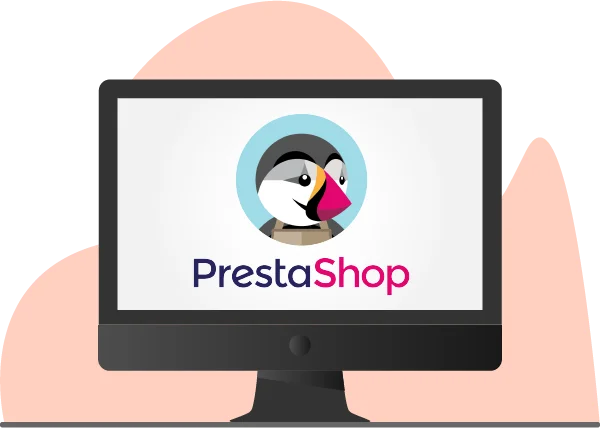 Do you want to take your eCommerce business to another level but don't really know how to go about it? Have you heard of PrestaShop but put it off because there is no PrestaShop support maintenance? Neglecting this open-source platform may be one of the greatest mistakes you will ever make. You can remedy this by working with the best PrestaShop web development company to handle your project.
Here is why you need to consider this remarkable eCommerce system.
What is PrestaShop?
PrestaShop is an open-source eCommerce platform that is free for anyone to download and use with several modules available from the PrestaShop module-development agency. It was launched in 2007, and the site-builders headquarters are located in Paris. However, they have several offices peppered all over the globe, offering their unique service in a wide variety of languages.
Although PrestaShop is free to download and use, it is not an entirely free solution for anyone looking to venture into the eCommerce industry. After you download the software, you cannot use it effectively without paying for the hosting. You can get a PrestaShop web development company to set things up for you, then combine it with PrestaShop customization options and you are good to go.
You may also have to purchase several modules from a PrestaShop module-development agency, and the modules can be pretty expensive. The modules are a must-have if you want to make any integration with your eCommerce. In most cases, open-source site builder software can be a bit too complicated, even for the average developer. Beginners or newbies who are interested in creating websites need solutions that are easy to use and highly intuitive.
Intermediate-level website designers may dismiss the idea that Magento or WordPress are confusing. But then, neophytes have to overcome the learning curve before they can master either of these platforms. Thankfully, however, the arrival of PrestaShop has done away with that issue and provided the open-source feel without any intimidating interface. PrestaShop may be free to download or use, but it could eventually be more expensive than other eCommerce options. There is now a hosted version of the software known as PrestaShop Ready. The latter is still undergoing more development but has been proven to be a far more natural alternative for many users.
PrestaShop: Where It Starts From
Everything starts when you visit the visually appealing and simple PrestaShop site where you can readily download the software, subscribe for a web hosting solution, and may even select any expert designer if that is what you wish. PrestaShop customization features are readily available to suit your needs.
But then, if you have the time and patience, you should play around with the tools on the platform without anybody's assistance. You don't have to pay a dime, yet PrestaShop comes loaded right out of the box and can even hold its own with the likes of Shopify, etc. especially when it comes to ease-of-use.
What makes PrestaShop unique is that it is an open-source and free eCommerce solution without a complicated interface. Since it is open-source, you can get a lot of PrestaShop support maintenance from several sources because people are continually talking about PrestaShop. This means you will have a lot of knowledge, especially when you explore blog posts and dedicated PrestaShop forums. The PrestaShop web development company you work with can also provide some form of PrestaShop support maintenance to help you run smoothly.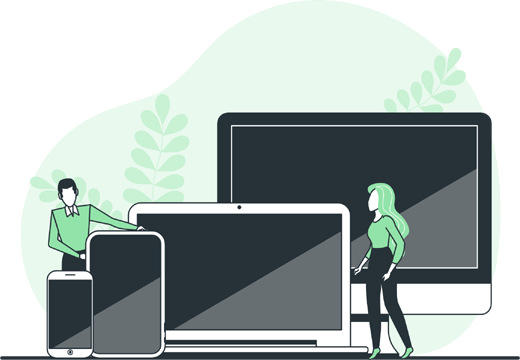 What is more, the vast collection of modules from PrestaShop module-development agency and themes take PrestaShop out of the league or ordinary eCommerce solutions. The majority of PrestaShop users love and enjoy the visually appealing themes that are available for their stores, as well as the interesting modules to test.
What You Get from PrestaShop
PrestaShop has a basic package and comes as a website builder, open-source eCommerce content management system, and marketing package. Users can readily launch an online store within minutes, and the vast range of themes facilitates the design process. Hosting is not included in the basic PrestaShop package, though users have the option to sign up with any one of PrestaShop's hosting partners, your dedicated PrestaShop web development company sometimes also provides hosting solutions that you can consider along with other relevant PrestaShop customization. You will not get as much design support as you would love to, but the open-source community is more than willing to help if you get stuck. Moreover, you can always opt for a proficient designer at an affordable cost. PrestaShop is an eCommerce website builder equipped with a dashboard that includes design tools and options for managing your online store. The open-source platform comes with a product page creator, along with settings for digital items and product variants. Users can move over to the marketing section to set up automated emails and connect their social media accounts. PrestaShop comes with hundreds of modules obtainable from the PrestaShop module-development agency that easily integrates with the software as several eCommerce features are packed into the basic software.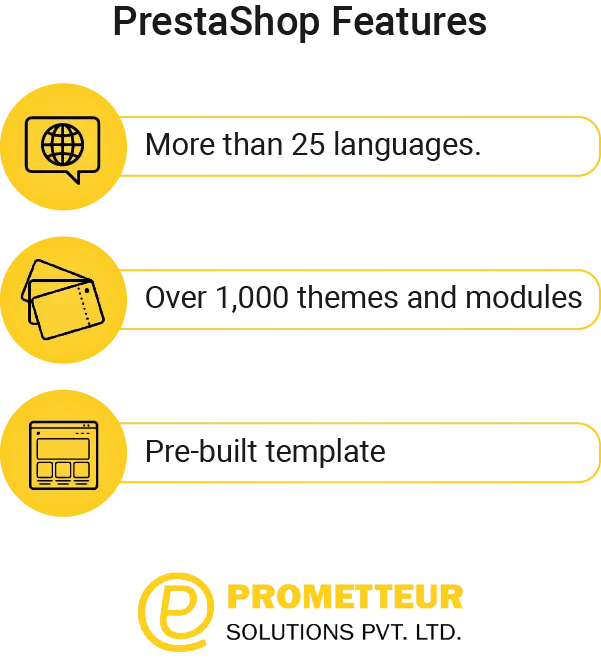 PrestaShop Features
As mentioned earlier, PrestaShop is free since it is open-source software. But since it is self-hosted, you may have to purchase items such as domain names, hosting, as well as a template or two if you need a cool design.
Navigating the PrestaShop website is pretty straightforward: head over to and click the 'Get PrestaShop' tab. Then download the software to your computer.
The following are some of the basic features that come with the standard PrestaShop software:
More than 500 features are currently in the system, with dozens more added from time to time to allow you to enjoy PrestaShop customization.
PrestaShop is translated into more than 25 languages. This means that you can expand your eCommerce business overseas so that visitors or prospective customers that speak foreign languages can do business in your store. Do you remember when Amazon, the largest eCommerce store in the world, created new versions of its website in several languages in order to target foreign markets? PrestaShop customization for language is a true game-changer for businesses. This is what you have the potential to do or enjoy with your PrestaShop site.
Over 1,000 themes and modules from the PrestaShop module-development agency that facilitates PrestaShop customization i.e., you can use the themes and modules for designing your eCommerce site the way you want along with the functionality it requires with the proper modules.
A custom template that comes with PrestaShop so that users who desire PrestaShop customization can quickly construct their own custom build without choosing any pre-built template from the template store.
These are the core features that come with PrestaShop. They are enough to set and launch your eCommerce website quickly. But what you should pay more attention to are the more than 500 features that are built right into the system. The number of features that come with PrestaShop is staggering, especially compared to a few of PrestaShop's competitors.Some users find this vast number of features highly intimidating, but you don't have to. All you need to do is to focus on the feature you want or can use and block out the ones that are somewhat too complicated for you.
A More In-Depth Look at a Few PrestaShop's Features
The following are some of the best PrestaShop features that you should utilize as soon as possible:
Store Customization
Two modules from the PrestaShop module-development agency are required for PrestaShop customization: one that is incredibly easy to make edits on the fly and another more advanced section for changing or adding the code and customizing any way you want it. PrestaShop has both file access and visual builders since it is an open-source solution. You can use the features to change shipping methods, set up different payment methods, enable an SSL, etc.
A few PrestaShop customization tools include:
A search box on every 404 page
Product organization
A navigation panel within the checkout area
Creation of accounts with profiles
A Google Maps integration for those who have brick-and-mortar shops
A search bar that brings up information on products, depending on the keywords typed within, etc.
Product Creation
PrestaShop offers an intuitive and powerful product creation and management area, starting with a module obtainable from PrestaShop module-development agency for configuring features, creating products, and setting values. You can create several groups of products in order to get bigger sales or to organize the store. The software also comes with a spot for customizable goods that allow customers to upload files for T-shirt designs, etc. Attributes and product variants are supported, and PrestaShop comes with a full feature set for selling photographs, music, digital products like eBooks, etc.
Third-party Tools
The source code of open-source software is open to anyone, meaning that third-parties can create robust tools that work seamlessly well with the stock PrestaShop package.
Store Manager for PrestaShop is one such tools, and it helps users manage every aspect of their online stores. Its functionality and features are specifically designed to:
Automate daily store routines
Administer data storage
Track the activities of customers
Display current inventory information, etc.
Google-rich Snippets
As you well know, Google is an excellent source of traffic for any website. But then, to direct search engine users to your eCommerce site, Google needs to know that your store exists so that it can rank your website appropriately. One of the best ways you can assist Google so that it can improve its understanding of your website as well as its contexts is to make use of rich snippets. Rich snippets are sets of structured data markup that users can add to their existing HTML.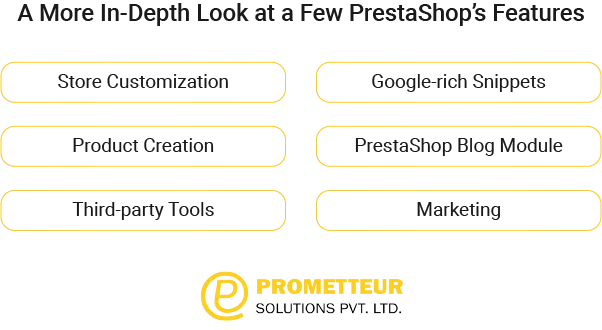 This markup assists search engines like Google, Bing, and others to better understand the information on your website. It is possible to hand-generate rich snippets; however, you can have access to a particular add-on that is available in the PrestaShop Addons Marketplace that entirely streamlines the process. You can use this add-on to significantly improve your site, meaning that your online store's SEO doesn't have to be complicated.
PrestaShop Blog Module
The best way to always keep the information on your eCommerce site is to maintain a blog. Although the core PrestaShop installation does not include a blog, several add-ons are available in the Addon Marketplace. You can utilize these add-ons so that you can install a blog on your website. But if you have an existing blog, you should consider finding something that will help to display your blog posts in your store. And if you don't, you can also find something that will add full blogging functionality to your website.
Marketing
Another distinctive aspect of PrestaShop is that there is no need for you to find other apps, plugin, or integrations. The PrestaShop for e-Commerce Development Company or PrestaShop web development company you are working with should be able to inform you about all the perks. The software comes with typical marketing tools which you can take advantage of including:
Coupon codes that customers can quickly redeem in your online store
Special offers based on products, customers, etc.
A quick discount mode
The ability to offer free shipping on some or all products or when a customer spends up to a particular amount of money
Pricing rules that change dynamically, depending on some parameters
Ask new or existing customers whether or not they prefer gift-wrapping their products during checkout.
Email can include a series of products that customers have already viewed.
An email system for sending emails to customers that have abandoned their carts for one reason or the other.
Affiliate programs
A full search engine optimization for improving search engine rankings, connecting to social media platforms, etc.
Customers can sign back in so that they can see all the products that were previously added to their carts.
Drop product promotions right in your homepage slider, showing your customers how much they can save.
Promote particular products on your homepage and also suggest related products on product pages, etc.
Email marketing
Covering the entire features that come with PrestaShop is next to impossible. However, what you need to know is that you can find the ones that are loaded to the brim with goodies for any kind of eCommerce store, whether big or small. The feature collection also included customer management, automated email alerts, order management, insights, etc.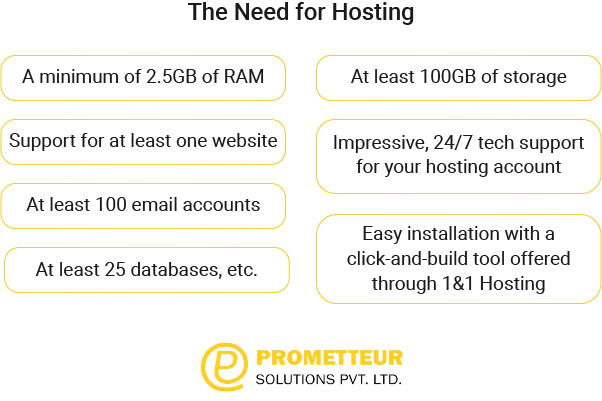 Upsells and Extras from PrestaShop
PrestaShop works similar to WordPress and Magento since it is free and open-source. You won't pay for the software, but you need to get a domain name, hosting, and services or design tools you need.
When you sign up with PrestaShop, you will be offered the option of getting you configured with a web designer – if needed – and hosting. These are not required, though the rates are pocket-friendly for both.
PrestaShop will try to upsell you on these offers as you undergo the checkout process, and this is probably why they are generally considered part of the PrestaShop Business Plan. If you are not sure you can always consult with your PrestaShop web development company of choice for proper guidance.
The Need for Hosting
PrestaShop requires hosting, as mentioned earlier. But then, only a few companies have a one-click installation button for PrestaShop. This means that you may have to follow the manual route for such websites. The hosting offered by PrestaShop is via 1&1 Hosting, a high-quality and reputable provider that is popular for its low monthly prices. The hosting through 1&1 is compatible with PrestaShop, and ready so that you can start building your eCommerce site with the best PrestaShop for e-Commerce Development Company.
Some of the offerings include:
A minimum of 2.5GB of RAM
At least 100GB of storage
Support for at least one website
Impressive, 24/7 tech support for your hosting account
At least 100 email accounts
Easy installation with a click-and-build tool offered through 1&1 Hosting
At least 25 databases, etc.
Create Your eCommerce Shop with an Expert
PrestaShop may have a highly intuitive website builder, but some individuals or companies may prefer having an expert handle all that aspect. You can always talk to a PrestaShop Web Development Company or a PrestaShop for e-Commerce Development Company if you are not a techie. You may end up spending some money, but the partnership with PrestaShop can work in your favor, thereby keeping the price down. Moreover, PrestaShop has conveniently vetted all the experts they may pair with.
PrestaShop Customer Support
PrestaShop only offers PrestaShop support maintenance when you are already running your eCommerce store on another platform and need to migrate to the system. You can also avail yourself of the training provided by PrestaShop through interactive courses. Better still, you can have PrestaShop for e-Commerce Development Company guide you on the ins and out of the platform with great PrestaShop customization options. PrestaShop is a solid choice for anyone who needs to set up an eCommerce store that comes with lots of customization options. However, this system may not be the right choice for you if what you are looking for is an all-in-one solution but with the right PrestaShop for e-Commerce Development Company you have nothing to worry about