Custom Website Development
Custom Website development Service that is built to educate, inspire, attract & convert.
Prometteur has a reputation for creating innovative custom web applications that meet and exceed expectations. Our specialized custom website development service engineers offer the highest level of usability, scalability and complete compatibility in browsers and platforms. Each of our modules is designed to fit into a framework that is mindful of usability, performance, security and auditing. Since every company is unique with its own specific needs, we invest a considerable amount of time trying to learn how the business works, so we can propose unique and innovative options for the clients.
There are three main parts as to what custom website development is all about. It's the planning, the creation and the maintaining of web-based software. Custom data applications as the most popular type of application we create, these include business processes automation, Customer relationship management system, custom E-commerce software and one of a kind applications build for a specific purpose. All our web applications are responsive to support cell phones and tablets natively, our testing team evaluates usability on physical mobile devices to ensure our systems can be effectively used in any environment.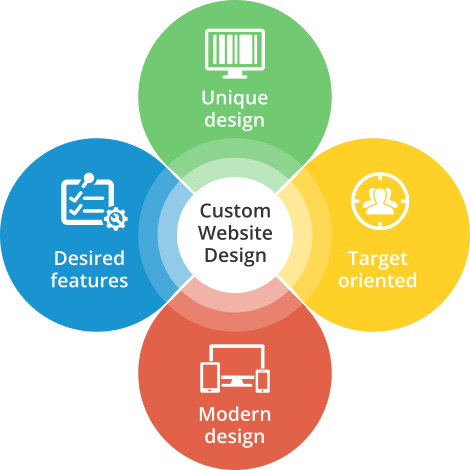 Why Custom Web development?
Custom web development applications can interact with older systems to plug into legacy systems and extend their life by years.
Custom responsive web applications are meant to be used on mobile devices, tablets and computers, this can often mean that the overall flow of information improves.
Custom applications build for a purpose can be deployed in house or on the cloud, this is often a critical aspect of security that many companies desire.
Often software built for your business can be converted into a SaaS (Software as a service) turning a tool into a revenue generating avenue.
Custom software is limited to your needs, without the unnecessary frills your employees can focus on the job at hand instead of learning a new skill.
Custom CRM solutions greatly helps in automating business processes and also helps companies both to understand and to anticipate the needs of current customers as well as of any potential customers.
Leveraging the power of the internet you can set your staff free from the workplace, so they can be effective from their home, on the road and at the clients.
Often performance is a major concern with off the shelf software as its designed with every single possibility, this creates a lot of unnecessary bloat and investment in configuration.
As custom software is built for a specific business process the time saved in training is enormous.
The Prometteur Solutions team creates solutions that solve business problems for their clients, produces higher levels of client satisfaction, creates new avenues for partnership. Our specialized web solutions have enabled several of our clients to build strong relationships with their own customers and helped improve their competitiveness, efficiency, profitability and effectiveness in the marketplace.