PHP Framework development services
Simplifying development process using framework
Frameworks are actually the performance and efficiency boosters of your web applications, web services and web development tasks. Equipped with fascinating features like templates, session management and database access libraries, these frameworks excellently enhance your web activities. We as a PHP framework development services company in India aims at providing the most flexible and modular development solutions, which will save your invaluable time. We will make your web development easier with our easily scalable options. With us you don't have to worry about those business logic coding, user interface designing and database building as our services are enough to ensure you that much-needed stability and code security. Our range of framework services will relieve you from all the tensions and rigorous development tasks. We have been using the frameworks for an array of application development projects for our clients and have deep expertise on CakePHP, Laravel, Symfony, Zend, Yii, CodeIgnitor, etc
The framework development services from Prometteur solutions will provide you with the extended choice of web application features and will easily manage those complex web directories or files. From error and code handling to logic authentication, these frameworks can excellently handle all the things. So for your business expansion, these are undoubtedly the best tools to use. Avail the different framework development solutions today and see the results yourself.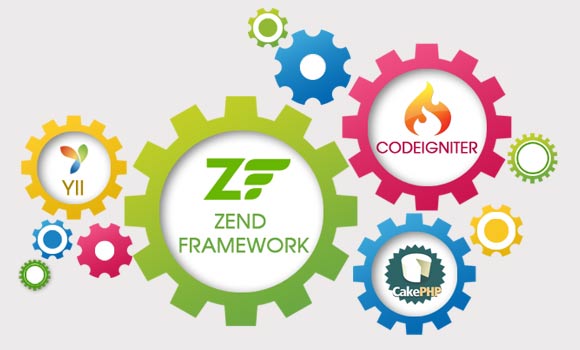 Here is the list of some of the PHP Framework development that we suggest to our clients :
Laravel development
We believe in never-ending advancement and prompt the workforce to practice the latest frameworks rather than waiting on corners of competition. Being an early adopter, we always help our clients to find simplified solutions for their intricate demands and Laravel is a perfect framework for this. With easy Migration, we can turn any existing website into a Laravel version, which will enhance the performance, UI and even Marketing juncture. A better-threaded URL directory will help you find better roads to the top of the Search results.
CakePHP Development
The twenty-first century has brought about several changes regarding web-development. Owing to enigmatic websites and web solutions, every organization is readily switching to CakePHP. There are a ton of variables that need to be mulled over before selecting the right framework to start the development process and CakePHP framework is one of its kind and is a more comprehensive platform, most useful, effective and popular. Prometteur Solutions Pvt Ltd strives to incorporate all these features on your website and is considered to be the most proficient CakePHP development company.
CodeIgniter Development
Being one of the primitive application framework of MVC, developers of Prometteur have grown their knowledge-base and curiosity for building ace Codeigniter web apps.If you are thinking of developing the dynamic and intuitive websites, then Codeigniter is the best PHP framework to rely on.It is extensively feature-rich and allows easy creation of PHP programs. Consisting of built-in libraries, this open-source framework helps in building websites speedily and conveniently. Since it is the era of technological advancements so developments like these can offer exceptional and powerful features in your web applications.We as a Codeigniter development company of India promise to offer you the most engaging web results with the incorporation of all the above discussed properties.
Yii Development
Yii, its name itself tells the intensity of features it incorporates. Known as 'Yes It Is' in its expanded form, this high performance PHP framework is used for developing a broad range of web applications. Written in PHP5, this open-source framework contains a comprehensive range of class reference tutorials and offers maximum re-usability in web applications, in a way enhancing the development process effectively. Its high speed, security and excellent functionalities make it the most apposite and developer-friendly platform.