Ecommerce App Development Solutions
Are you running a business, but want to generate even more profit? Do most of your customers quickly locate your business or website via their mobile devices? Then, you should consider developing an eCommerce app for Android and iOS for your business.
This is because research has shown that companies with apps usually generate a lot of profit, thanks to improved engagement with their customers. And that is why you should do the same.
The Trends in the eCommerce App Development solutions Market in 2022
The eCommerce app development market is big and promises to grow more prominent in the future. For instance, there are approximately 50 million active tablet users and over 124 million active users of smartphones in the United States of America.
And according to the figures provided by Statista, over 60 percent of smartphone users use eCommerce apps. It has, therefore, become apparent that any retailer that operates their business without an app will not experience exponential growth or rake in much profit.
Types of eCommerce Apps
If you want to invest in eCommerce app development, you must have a full understanding of how they are classified. eCommerce apps are classified into several categories; we'll only be taking a look at just two of them. And you will also discover how they are deployed in these convincing models:
B2C (Business-to-Consumer)
This is the most popular or well-used type of eCommerce application. B2C has to do with the interaction of a brand or enterprise with a new or prospective customer. The majority of the eCommerce apps out there fall under this particular category.
Brands do not want to limit their services or products to typical stores again. These companies are more than willing to invest in fashion store app development, grocery store mobile app development, or even Amazon-like app development solutions so that they can sell more efficiently to their target audience.
B2B (Business-to-Business)
Business-to-Business eCommerce apps are also aimed at selling services or products. However, these processes can only be carried out between brands or companies, i.e. business companies.
For instance, let's say you have a mobile platform that manufacturers can use to advertise or market their products (e.g. building materials) to other companies (e.g. construction firms) who can afford them.
So, B2B is all about establishing interactions between two firms or companies with the help of mobile apps. Business clients are, in most cases, highly reliable and the best for anyone who needs an excellent source of income.
Other types of eCommerce applications include:
C2C (Consumer-to-Consumer)
This is a business model that has to do with the sales of products or goods between consumers. One of the best examples of these eCommerce apps that you should be able to relate to easily are platforms used in conduction online auctions as well as numerous peer-to-peer (P2P) marketplaces. Apps like quikr or OLX
C2B (Consumer-to-Business)
You should know that this is not a regular example of eCommerce app development. But in this particular case, however, consumers are the ones on the selling end of the stick, i.e. selling their services or products to firms (business).
Would you like an example? Well, one of the best examples of the C2B process is when a web developer demonstrates or pitches what they can do for a firm or agency. And the company can take the web developer up on their offer and buy what they want or like.
Central Features of an eCommerce App
Although most eCommerce app development solutions companies/services create apps using a wide variety of tools or software, the features that every eCommerce app must respectively possess in order to be both scalable and user-friendly include an admin panel, a vendor panel, and a customer panel.
Developing an eCommerce Application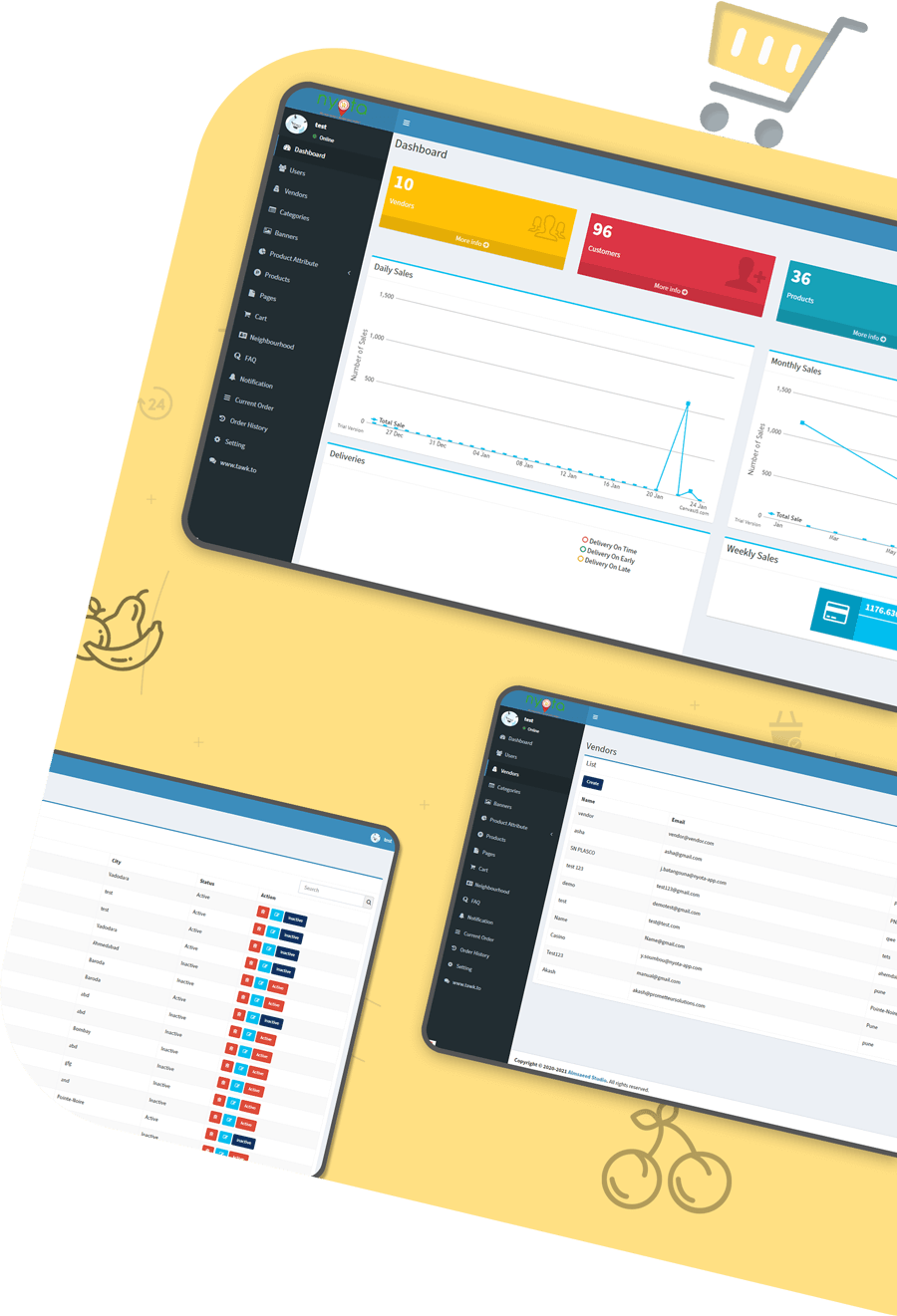 When it comes to developing a highly responsive eCommerce application, you will need a brilliant concept as well as a knowledgeable team of experts. These experts should be skilled enough to be able to turn your vision or idea into reality.
Most eCommerce app development solutions companies also have these experts as part of their team:
Android developer
iOS developer
Project developer
UI/UX Designer
Backend Developer
Tester
So, if you are interested in setting up an eCommerce app development solutions company/services or looking to hire one, you must have all of these skilled professionals in your team.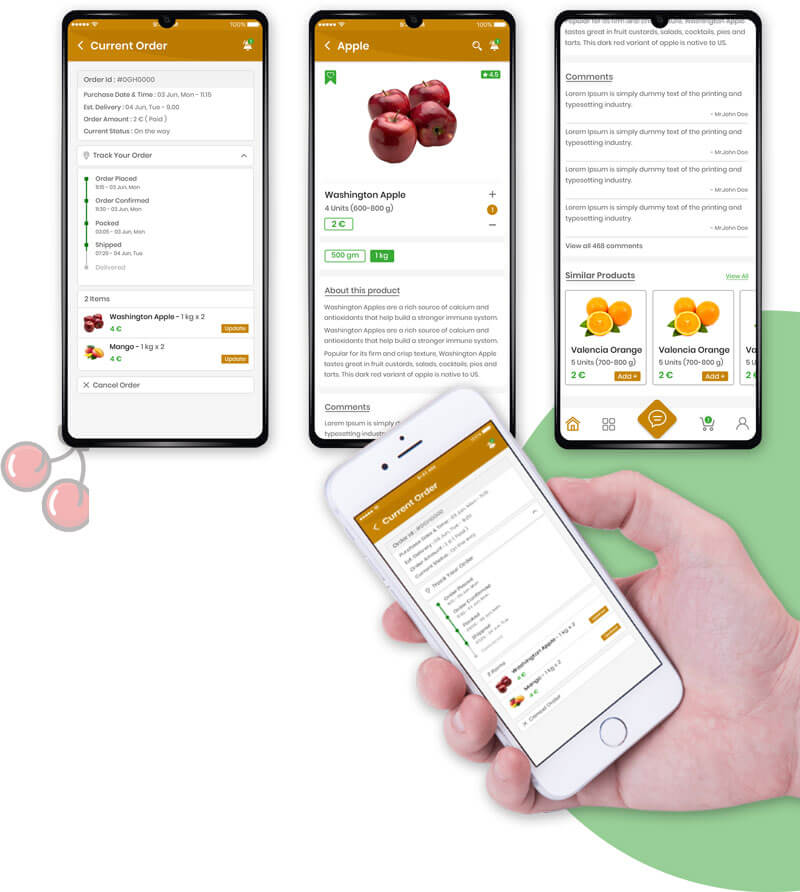 Benefits of eCommerce App Development
Boosts eCommerce Success
eCommerce apps have augmented eCommerce success since they were discovered and put to use. Examples of highly successful eCommerce businesses include Amazon, Alibaba, etc.
So, for instance, let's say you have a brick-and-mortar clothing store and you want to increase or boost your daily, weekly, or monthly income. The best way to boost the profitability of that business is by investing in an Amazon-like app development service in order to expand your target market.
When you have a mobile version of your store, you can easily reach more people in your locality. And if you back this up with a highly mobile-responsive website, you will be shocked by the number of orders you will have to fulfill every day of the week.
Additional Source of Income
Businesses or enterprises that have invested heavily in Amazon-like app development or fashion store app development and the likes have experienced or recorded significant profits every day.
eCommerce applications can become an additional source of income for you. This is because your customers will be able to buy whatever they want and at any time without stressing themselves.
And since many people are generally lazy, you will make more profit when your target audience places orders via your eCommerce app for Android and iOS.
Engage Customers One-on-One
If you have a successful physical store, you will admit it can be physically draining to keep tabs on all your customers that walk into your shop to buy a few stuff.
But do you know that having an eCommerce app that showcases your products can make it easier for you to engage your customers one-on-one? You will be able to learn what you are doing wrong and should improve on as well as what you need to provide when you communicate with your customers.
Businesses that value the feedbacks of their customers and work accordingly usually experience long-term growth. And that is what you should be doing as well.
Not Office-bound
Many businesses out there run their operations without having to be bound to any office. This is why the eCommerce app development market will continue to be one of the fastest-growing niches as more people go online to start their businesses.
Increases Customer Loyalty
Are you tired of always looking for new customers all the time? Do you want to increase customer loyalty? One of the best ways to do this is by finding out what your average customer desperately wants and providing the solution without sweat.
And the best channel for this is via your eCommerce app. You will immediately gain the loyalty and trust of such customers, and you will be the first to pop into their minds the next time they need help.
For instance, a grocery store that takes advantage of the reigning technology by investing in grocery store mobile app development will engender customer loyalty by chatting with customers and working with the feedback of the app users.
Satisfied customers can even become your unofficial brand ambassadors by recommending your services or products to their colleagues, friends, family members, or co-workers.
Opportunity for Development
The eCommerce app development market is one that is continually evolving as innovations, as well as new technologies, are discovered and utilized. This is an excellent opportunity that business owners can leverage to enhance and scale their brands as well.
Reduced Costs
One of the greatest benefits of having an eCommerce app for Android and iOS is the opportunity to reduce costs. You don't really need to build or rent a space for showcasing your products
All you need to have – rent as the case may be – is a good warehouse where you can store your finished products securely.
Always within Reach
The last thing most people touch before they turn in for the night is their smartphones. And it is also the first device they reach for when they open their eyes the next day after a goodnight's sleep.
If your average buyer has an eCommerce app for Android and iOS on their mobile devices, you have successfully established more points of contact. Your customers will not need to visit a brick-and-mortar store before they order a service or make a purchase.
Thanks to the Amazon-like app development program you have access to, your store will always be within reach of your customers.
Reminder
Most fashion store app development solutions companies provide push notification systems. You can integrate this feature in your eCommerce app to remind your customers of your offers, services, or products in an obtrusive manner.
The future of eCommerce is not only bright but continues to shine brighter every passing day. This is, therefore, the best time to jump on the gravy train by investing heavily and smartly in eCommerce app development for your business.
You can take your brilliant idea to a reputable eCommerce app development solutions company and let them develop a feature-filled, robust application for your business!
1486
0
0
cookie-check
ECOMMERCE APP DEVELOPMENT SOLUTIONS