When it comes to the website, every website owner wants traffic to their website. And the mobile app is not just about the traffic, it's targetted traffic. Because website traffic is one of the most significant keys to success. Google uses search engine optimization (SEO) in ranking websites. Improve SEO ranking is essential because it takes care of so many things that can negatively affect credibility and customer satisfaction. An investment in a business's SEO is an investment in advertising the business to a large audience, building the business brand, gaining new customers, and getting recognized through Google's search engine ranking as a reputable business.
This article will learn about different SEO techniques and the best ways to improve your website's search engine ranking using the best SEO techniques in 2021.
What Is SEO Ranking?
In simple terms, SEO ranking is the position of any website on search engine results. SEO ranking is determined by several factors such as loading speed, interactivity, visual stability, user experience, etc.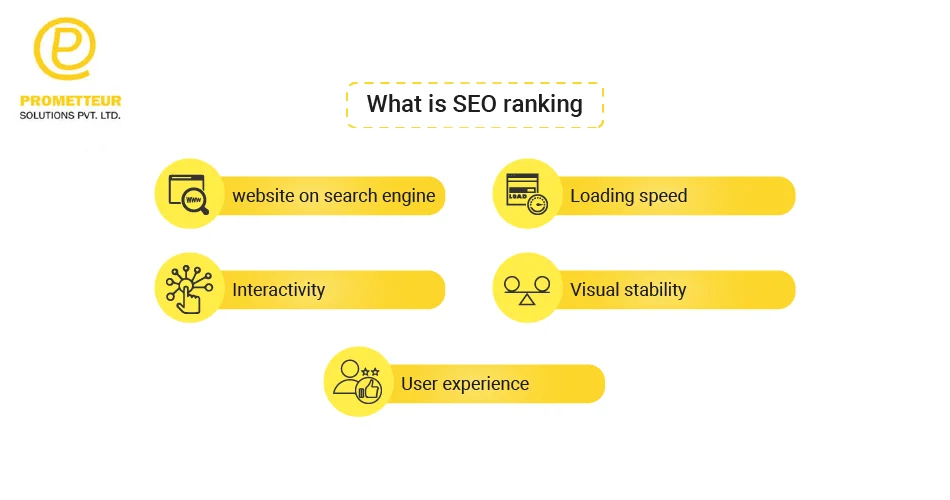 For example, an online website taking delivery orders online only in the local area. But the website receiving most of the visitors from other areas. Is this traffic is useful for the business owner? The answer is simple – No. This traffic brings minimum value to the online business. To make an online business successful you need targeted customers. SEO is the only technique that you can use to rank higher on search engines including Google, Yahoo, Bing, etc, and target the right audience as well as traffic for your online business.
What Are The Best Ways to Improve SEO Ranking?
If you are looking for effective SEO tips and bring more qualified leads to your website then you are on the right page, read on!! We have made it easy for you.
Use Search Engine Optimization Plugins
One of the best SEO techniques in 2021 is to use the Yoast plugin on your WordPress website. Millions of websites use the Yoast plugin to boost website visibility, traffic, and sales. It is highly recommended for a WordPress website, and using the software is one of the best ways to improve the search engine ranking of your website.
Keep Putting Fresh and Unique Content
Always Have Great Content. This is one of the best SEO techniques in 2021 that produces excellent results. If your website consistently features excellent content, people will like to visit your website, and they will enjoy spending quality time there, which will make Google rank it high. As you create content for your website, make sure you don't duplicate any content and web pages. If you must duplicate a page, use a canonical URL.
Search engines love unique and regularly upgraded content. By content, we mean anything like articles, blogs, videos, music, comments, reviews, infographics, slideshows, or anything which is suitable to your niche. Keep posting article blogs on a weekly or bi-weekly basis. If your content is static or outdated then there is a chance your website visitors will go away quickly and never come back again.
Also, make your content readable. To do this, use a simple style and standard grammatical constructions for easy comprehension. You can use tools like Grammarly.com and readable.com to check and make sure that all your contents are readable. Sharing great content is one of the best ways to improve search engine ranking for your website.
Therefore, try to complement your content with videos and images. Some audiences prefer a mix of writing with corresponding images and videos.
The HTML Header Tag
Search Engine Optimisation begins from the building of the website. Web gurus and SEO experts begin to implement their marketing strategies by integrating several SEO techniques at the early stages of their website development.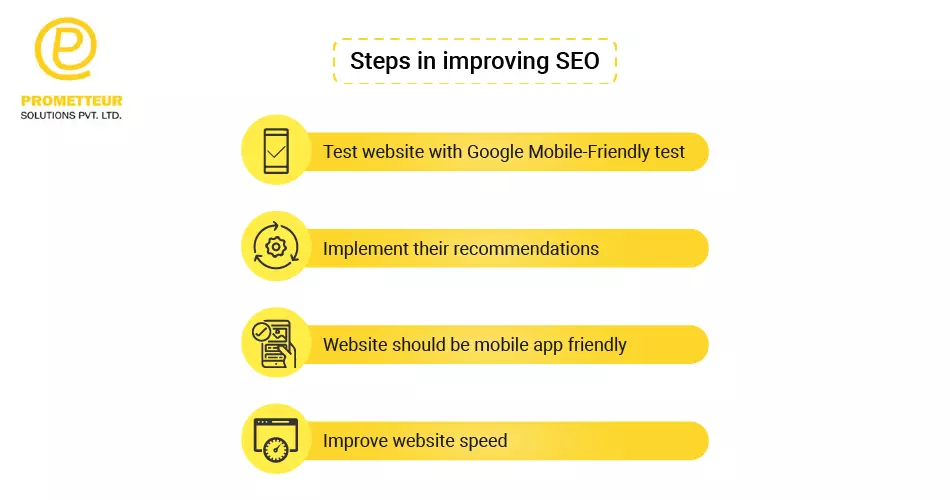 HTML headings play essential roles in improving the Google search ranking of your website. In HTML, all headings are between H1, H2, H3, H4, H5, and H6. They are arranged according to the headings of contents based on their importance on web pages. Thus, H1 is used for every content's most crucial heading, which is what the reader sees first on a visited page. It is indeed among the 2021 SEO techniques 2021 that we must pay attention to.
The Use of ALT Tags for The Descriptions for Images
Don't just add images to your website, but also use the ALT tag in HTML to describe the images. This is very recommended, especially for users who use voice reading software. This is a good SEO technique 2021 that improves your search engine ranking and, as such, maintains your visitors.
Use Internal Links
Using this SEO technique 2021 to reference older works in new content. And as your readers interact with your website pages to enjoy the new articles, they can use the old ones' internal links to visit other articles. Technically, it will make them spend more time on your website, which is a criterion for ranking higher in search engines. Therefore, using internal links is one of the best ways to improve search engine ranking as the linked pages will be crawled.
Always Use The Appropriate Keywords
Every SEO expert would agree that using keywords to create content is one of the best ways to search engine ranking. The use of keywords in your content is also key to organic SEO. Using keywords will help you to know what online users are frequently searching for on the internet. You can then use your findings and reports to develop relevant content that matches their search. If you get this right, whenever someone searches on the internet, Google directs them to your webpage where the information they seek is available and at the top. This will give your website organic SEO. Every search engine loves well-written content with the proper usage of keywords.
Page Layout and Formatting Matters
How do you even improve google search engine ranking without good page layouts and formats? Readers don't like font sizes that are too small and too big for the eyes, neither do they like dull and boring colors and disorganized page layout as it puts them off too horridly leave your web page So if you want to keep your visitors longer on your web pages and give them a delightful user experience, use engaging font sizes, colors, and layouts.
A good page layout and excellent formatting give the user a delightful experience. There are clarity, interactivity, and page attractiveness which comprise some of the best ways to improve the search engine ranking.
Include All Relevant Contact Address
Lack of relevant contact information on your business website can crush all your. Therefore, not including relevant contact information on your website is a bad SEO technique in 2021. Don't forget that your business needs credibility, and the more credibility, the more trust. You do not want your business website to appear untrustworthy to your visitors. Building credibility and trust are one of the best ways to improve search engine ranking.
Business websites without contact information make visitors raise their eyebrows and suspect foul plays. Next, they will report your website to Google, and before you know it, your search engine optimization is crushed.
Give Each Page a Title
Giving your web pages suitable titles is one of the best ways to improve search engine ranking. This SEO technique makes it easier for search engines to find your web page if it has the correct page title in the meta title or title tag.
Give your web page a title, using the relevant keywords so that when people search for that particular title or topic on the internet, Google can easily show them your web page.
Have A Blog
Blogging is one of the SEO techniques in 2021 that marketers use to drive traffic and improve Google search engine ranking. By blogging, you will share relevant content with your audience, which will give them good reasons to remain on your web pages.
Some of your readers may even recommend their friends and family if they think that your content will be of great value to them, and this will expand your readers and traffic. For many business websites worldwide, blogging is one of the best ways to improve google search ranking.
Social Media Presence
One of the best ways to improve google search ranking is that social media is a good marketplace for business. That's why digital marketers are emphasizing the need for businesses to be present and active on social media channels. One of the SEO techniques in 2021 for driving traffic and converting sales is to engage people on social media and drop a clickable link to their business website. This SEO strategy will bring in more traffic and possibly an increase in the conversion rate as well.
Also, always make sure to install social media sharing buttons to your website content so that your visitors can easily share with others. Social media shares like Twitter, Facebook, LinkedIn, WhatsApp, Pinterest, etc., are excellent for organic SEO
Easy Navigation And Aesthetic Design
Delightful user experience on web pages is significant for any website's success, which means that easy navigation and the website design are some of the best ways to improve your website's search engine ranking.
Marketers and web owners should always prioritize and implement the SEO techniques they intend to use for their websites. When your visitors find it very easy to navigate through your web pages, enjoying the site's aesthetic design and structure, they will not be in a hurry to leave. They would surely be eager to come back to your website for more information and a refreshing experience.
Interactivity
In 2021, Google has announced three metrics to measure the user's feelings on a page and use the reports to rank the websites. Interactivity, in this case, is the time it takes for a web page to respond and carry out a task whenever a user clicks a button. Therefore, one of the best ways to improve your website's search engine ranking is to optimize your web pages to interact better and faster with users. A good interactivity score on a webpage should not exceed 100milliseconds. If your web pages interact as fast as that, your SEO technique is superb, and your site will get a good ranking.
Visual Stability
Another tangible way to improve your website's google search engine ranking is to ensure that your web pages have visual stability. It means there will be no unexpected shift of layout and content when the user is on the web page.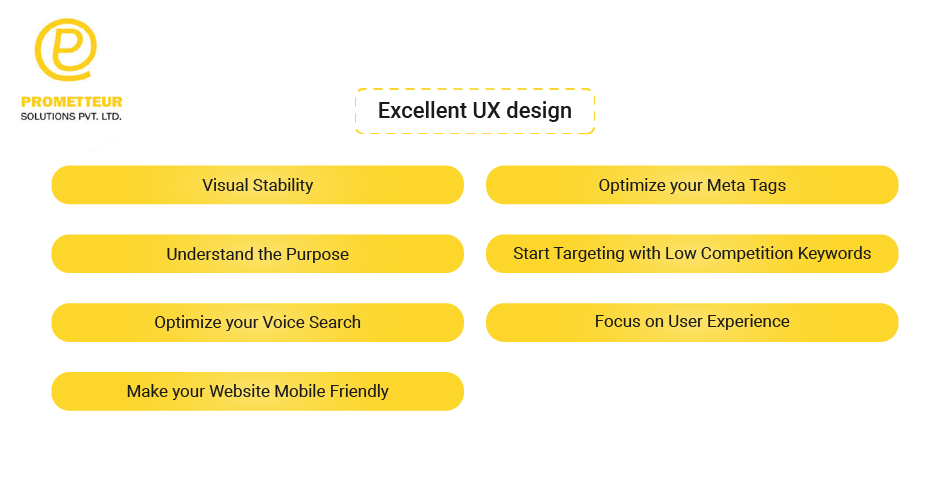 Unexpected shifts of layouts and contents get the user lost on the page and give them a lousy web page experience which google will use in ranking your site. Therefore, make sure to optimize your CSS and JavaScript to avoid loading of contents and layout that will cause unexpected shifts and negatively affect user experience.
Optimize your Meta Tags:
Titles, Descriptions, and URL: A unique and meaningful title, catchy description, and well-formatted URL will help you to get a better ranking on a search engine.
Understand the Purpose:
It is always beneficial to refer to PRD (Product Reference Document) to implement and simplify your ideas. This document is designed to guide you through the process of fully defining the purpose of the mobile app project. By answering questions like who is the targeted audience? What type of problem can you solve with it? To answer these types of questions product definition can help you.
Start Targeting with Low Competition Keywords:
When you initially launch your website and simply target highly competitive keywords, you might not rank and consequently will not get organic visitors in the initial days. If you start targetting with low competitive keywords then there is more chance to rank with them.
Optimize your Voice Search:
Voice search technology improves and becomes more accessible on mobile devices. Use geo-targeted keywords i.e optimization for local searches. Nowadays, more than half of searchers are using voice search for basic online searches, so to get a good position on search engine's results you need to create high-quality and voice search optimized FAQs.
Focus on User Experience:
According to an update of Google's algorithm, RankBrain is the third most important ranking factor and it is very important in 2019. RankBrain observes how users interact with search results and rank the results based on that. If the user clicks on search results, land on a particular website, and immediately left from the site, the site will lose ranking. But if users click on search results in a mobile app or website and spend more time on a particular site, the site will start to gain ranking. So, user experience is the most important factor for any search engine.
Make your Website Mobile Friendly:
Google has introduced a "mobile first index", that is used for indexing mobile websites. If your mobile site is currently using "m." "Eg: m.xyz.com", for this Google recommends switching over to a fully responsive site.
Improve your Website Loading Speed:
According to Google, page speed is a ranking factor, yet many webmasters don't optimize their websites for speed. Google always provides searchers with the most accurate results in the fastest possible way. The websites which have fast loading speed improve the user's experience and it's important to factor to engage the visitors. According to experts, if a website loads less than 4 seconds then on the mobile app it will get a better rank in search results, get more page visits and get more conversions.
What you can do?
Follow these three simple steps:
a) Test your website with Google Mobile-Friendly Test and implement their recommendations for making your website mobile-friendly.
b) Content (videos, images, text, links, etc) of the mobile site should be equal to the desktop website. If your website is already mobile app friendly then it's not an issue.
c) Test your website with Google mobile speed test and take all necessary actions to improve your speed as much as possible.
Always remember that positive user experience is MUST.
These are some basic search engine optimization techniques to improve your search rankings. The above tips are simple but at the same time, they are also very important.
If you are running an online business, blog, eCommerce store, or any service-based website and you are not getting organic traffic from search engines, then you need to implement the above tips correctly.
Conclusion
Using Search Engine Optimisation (SEO) tools for organic traffic remains the best way to improve your website's search engine ranking. It is efficient for generating traffic, building credibility, and converting sales. However, it is not always a smooth journey as it can take some time before the needed result begins to visualize.
Need help with your marketing strategy and online business? Let's have a cup of coffee!!

1544
0
0
cookie-check
PROVEN TIPS TO IMPROVE SEO RANKING OF YOUR NEW WEBSITE