Search Engine Optimization (SEO) has many benefits, which are very good for the growth of businesses. The necessity of SEO in a growing company comes from the fact that it plays a significant role in the marketing strategies of growing small businesses through various marketing campaigns, content, and user experience optimized for improved website ranking on search engines. In this article, you will be learning a lot about why your business needs SEO for substantial growth.
What is SEO?
Search engine optimization is the process followed to increase the quality traffic on your website and to improve the ranking of your website on various search engines like google, yahoo, being, and so on.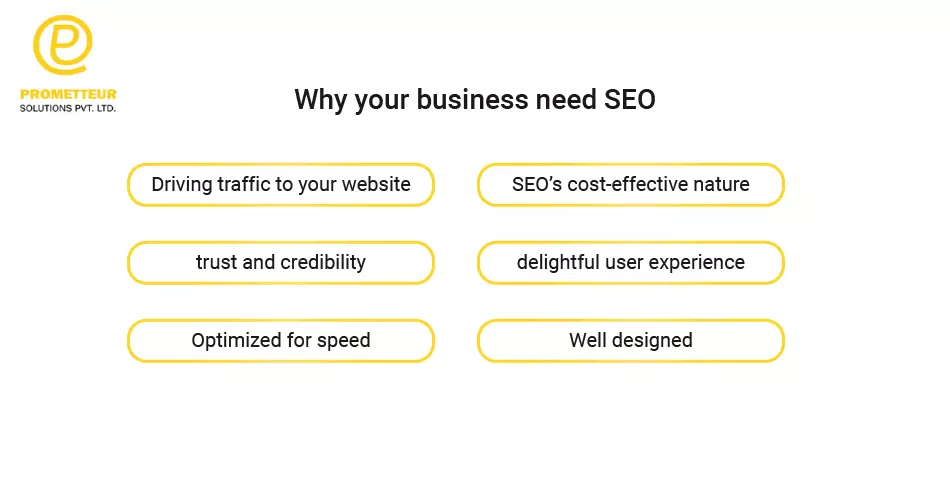 SEO helps you to reach a higher position on a search engine with the app development company. To attract new readers from the search we need to use rich content on our website using SEO-friendly tricks. SEO-friendly content includes good keywords, organized URLs, rich titles, mobile-friendly websites, and so on.
Here are several reasons for the necessity of SEO in a growing company
SEO Increases The Traffic to Your Website:
One of the importance of SEO for small businesses is the increase of traffic to the business website. An increase in traffic is an important goal for all marketers who are targeting promotional campaigns for business growth. The following are some marketing strategies to use in order to enjoy some of the benefits of SEO.
Use the Social Media:
There are billions of people on social media, every day, the numbers keep increasing. This makes it an essential tool for SEO. Therefore, ensuring you engage your audience through social media content with a strategy that directs them to your website will help grow your business. The use of social media is one of the most active tools that companies use to rip the benefits of SEO. This strategy is used by many businesses that manage and engage their audience on various social media platforms like Facebook, Instagram, Linked In, YouTube, Twitter, and Pinterest.
Engage your audience with content:
Always create excellent reader-engaging content to engage your audience with. You can use social media, email marketing, mobile application, or even YouTube. You should always research what your customers or social media community frequently discuss, raise questions on, and create good content around those topics. This will make your audience to be engaging in reading the content thus, driving traffic to your business website.
Increase the loading speed:
People don't like slow-loading web pages. That's a turn-off for users, and they will rate your website low, which will affect the SEO of your business. Therefore, optimizing your website for increased speed will put your business in a position to benefit from a good user experience which usually translates to increased traffic.
Initiate fan base giveaway programs:
People love to appreciate kind gestures such as giveaways. It could be as little as using your social media channels to organize a question and answer session where sure winners get to receive gifts. This will increase the number of people engaging with your marketing campaign, which will drive traffic to your website and, in turn, grow your business.
Use SEO tools:
To drive to your website, you would need to use some search engine optimization tools built to help businesses drive traffic to their websites and improve their rankings on search engines. This is a perfect reason why your business needs SEO.
Engage Online Influencers:
Aside from initiating exciting programs like giveaways, question and answer sessions via social media platforms, you can engage influencers to promote your brand. Some social media influencers have huge fan pages numbering millions. If you can get some of these people to share some of your content on their social media handles, it would generate a lot of traffic and drive sales for your business website.
Improve search engine ranking:
Once your website reaches a higher ranking it will definitely boost traffic on your website, and it will help you to promote and boost the organic growth of your business. High ranking gives you many features like internal linking and anchor text. When someone is visiting your website, then they can explore the hyperlinks available there which can automatically generate more page views, more traffic, and more promotion.
Aware of people about your brand:
Visibility creates more popularity for your brand. Presenting your business on the top of the search engine provides large numbers of visitors, and it will increase awareness of your brand.
Engage your customers:
Customer engagement is more important for any product or service. When your website or blog is search engine optimized, you will get a better chance to engage your customers efficiently. And get invaluable insights to improve your product or services and app development company. When people see their opinions being practiced, they connected to develop a sense of friendliness, which will further boost your return.
SEO Increases Conversion rate:
The importance of SEO in businesses is also seen in increased conversion rates. Yes, since SEO improves website ranking by increasing its visibility on search engine results, it means more traffic and ultimately an increased conversion rate necessary to grow any business.
SEO Builds of Trust and credibility:
Every business needs to win the trust of the public. People should be able to say to their family and friends that "yes, this is a credible business; you can trust them to deliver." Hence, it is very safe to say that one of the importance of SEO in businesses is that it ensures trust and credibility.
All the points mentioned earlier put together will do an excellent job in generating traffic to your website. Driving traffic to your website will always be one of the most important reasons why your business needs SEO.
Importance of SEO for business
To survive today's competitive market, SEO is important for businesses. The search engine serves million of QAs per day. Users who found your website on a search engine are more useful than to promote your business on social media like Facebook, Linkedin, Twitter, and so on. Users trust a search engine, so having your website on top of the search engine page will build trust for your website.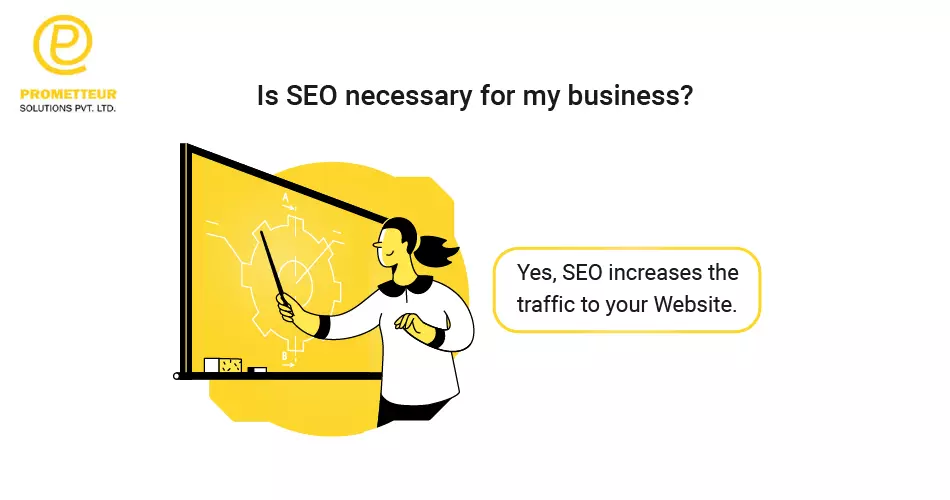 How does SEO help to grow business
The popularity of the search engine is increasing day by day. Peoples hugely using google as well as social media, so that many companies are investing their time and budget in Search Engine Optimization. because if they don't, then the competitor will overtake his business to the next level.
Each business will get the opportunity to upgrade and reach the next level. Also, this is a huge platform to promote our business with the right targeted audience. Just we need to follow the SEO-friendly tricks.
however, people are different, and it will take different marketing campaigns before you can win the trust of a large number of people. Still, suppose your business is optimized for SEO, which means it will be available and always at the top search engine results. In that case, people will trust it more and drive a lot of traffic to your business website. Building trust and credibility are two good examples of the benefits of SEO for a growing company. In other to achieve trust,
Setting up a vital customer care supporting system to efficiently and empathetically handle customer complaints, attend to their queries, and reply to them as quickly as possible.
Having a solid social media presence where you can engage your customers. Communication is critical here, so you need all the tools to ensure that your audience's communication is very smooth and healthy enough for them to trust your brand.
So yes, trust and credibility are two good reasons why your business needs SEO.
SEO Generates More Led:
The more your business's website appears on search engine results, the more traffic and sales you are likely to make. There are over 5billion using the internet. If your website continuously appears on their searches, you enjoy good search engine ranking and organic SEO. The increased led generation can be achieved by using the right keywords and phrases in your content. led generation is how SEO improves website ranking.
SEO Is A Cost-Effective Marketing Tool:
As a growing business, you want to avoid huge expenses that may end up affecting or even crashing your business, so you should always go for cost-effective services that will produce meaningful results. One of the importance of SEO in your business is cost-effectiveness. One of the cost-effective marketing ways of growing your business is SEO, unlike online marketing and paid marketing campaigns. SEO campaigns are relatively cheap, and the results are unbelievably fantastic because the results are substantially over a long period.
SEO launches your business on different platforms and search engines, making your business quickly found and patronized. It is perfect for doing your business to have more visitors and sales. For every growing business, SEO's cost-effective nature is a good reason why your business needs SEO.
SEO Improves Brand Image:
Another importance of SEO for small businesses is that it improves the business brand image to a larger audience. This is a great reason why your business needs SEO. The more people see your brand, the more they believe in your product and patronize you from anywhere. SEO helps to improve website ranking, so it is an excellent tool for managing a brand. For your brand to stand out among others, your business must be optimized for SEO.
SEO Ensures Delightful User Experience
Seriously, if you are asked this question, "why does your business need SEO?" Say this with your chest, "It needs it for a delightful user experience."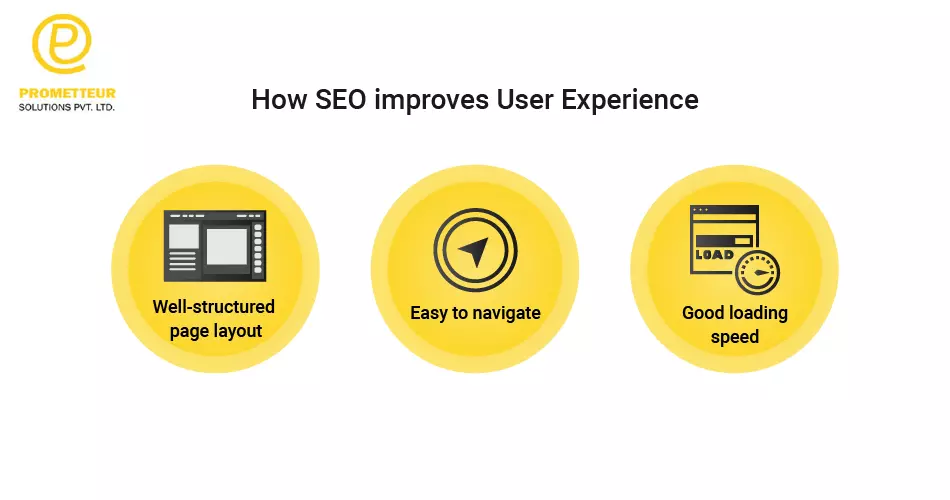 Delightful user experience is one of the importance of SEO for small businesses because it plays a significant role in improving the website ranking on different search engines. User experience goes beyond using keywords to ensure online visibility and gaining more visitors to your website.
There are other interesting reasons why your business needs SEO. Users love to visit and spend more time on websites that are well designed and optimized for speed. Nobody likes to spend time on a webpage with a slow loading speed or shifting layout that gets them lost while navigating through the content.
Therefore, a website optimized for SEO must have a good user experience – well-structured page layout, is easy to navigate and has a good loading speed. All of these will give your users the best experience, making them easily spend more time on your web pages, which will improve the website search engine results. With all that has been discussed, a good user experience is one of the importance of SEO for small businesses.
The Results Are Long Lasting
Unlike online marketing campaigns, search engine optimization results place your business at a market advantage running into several months. In other words, one of the reasons why your business needs SEO is to be optimized for a search engine for an extended period. Although SEO campaigns may take some time before they start yielding the right results, you should remain patient and consistent with your efforts. When the results begin to flow in, the profits will run into months, and your business would be at an outstanding level of success.
Summing up everything
For all the good reasons why your business needs SEO, do not that using SEO to grow your business doesn't always yield immediate results; sometimes, it takes several months before you will begin to see the gain in your website. Therefore, learn to be patient while you maintain the hard work. In the end, all the importance of SEO in business will be seen manifesting on your website, and Google will rank you very high on search pages.
To enhance your website presence, you must consider SEO marketing today, just set up your SEO friendly website is not enough. Your website has to mark and promoted well to be present everywhere. A large part of web traffic is driven by search engines like google, yahoo, and so on.
At Prometteur, we believe that Digital Marketing is more than connecting our clients with their customers; it is about allowing your brand providing assessable and visible results that help you to stand up in today's marketplace to achieve your goals. We offer our services as you required and whenever you need it.
1534
0
0
cookie-check
Why Your Business Needs SEO