Are you looking for an Angular JS development company in India? Angular JS is one of the widely-used front-end frameworks for simplifying development and testing processes, which is practiced by developers around the world.
Angular refers to itself as the 'Superheroic JavaScript framework.' And it is undoubtedly the latest hit in the application development universe.
Angular JS was developed by tech giant developers Google Inc. It is presently the preferred choice for expert web developers worldwide. AngularJS simplifies or reduces the complexities of development processes and testing.
Within a few years of its inception in the development world, AngularJS has become one of the most widely-used frameworks. The framework introduced the Bazel compiler in order to make changes in the coding.
Google Inc. has recently launched Angular 7 and comes with several features like Angular Elements, ng compiler, Application performance, aiStore, and new @angular/mine. This latest version is user-friendly with testing and several other things covered in these versions.
As a result of these features, Angular has gained immense popularity in the development of web applications.
India is presently an IT developer hub and is home to several Angular JS development companies ready to provide Angular Development Services across industries worldwide.
Why Angular JS Development?
It is vitally essential for the digital universe to adopt or develop applications with advanced and highly interactive functionalities in today's world. Angular JS is widely adopted for building highly interactive applications and for developing any web application.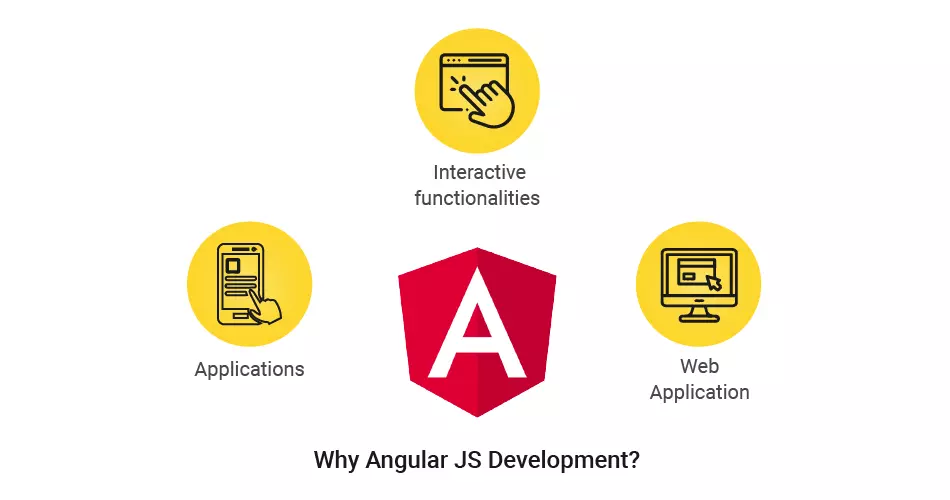 This is the primary reason brands like Google, Netflix, weather.com, Upwork, etc., use Angular JS.
To develop applications with advanced and interactive functionalities, it is essential to master AngularJS development. This is why organizations look for mobile app development companies or Angular JS development firms to create customized apps.
Finding a reputable Angular JS company in India is not all that challenging. But picking the best one that will meet all your requirements and listen to your suggestions and implement them can be a daunting task.
This is why you will come across a list of the top Angular JS development companies and software development companies you can work with, in the next section. You can choose any Angular JS company in India as long as they can meet your requirements and are budget-friendly.
Top Angular JS Company in India
Without wasting time, here is the list of the top Angular JS development companies with in-depth and extensive knowledge of this remarkable technology. They are well-known for their respective diverse range of Angular JS development services and have proven their excellence by providing top-notch Angular react services.
Techuz
Techuz is a leading Angular JS company in India that offers the best quality dynamic applications for clients worldwide. It was founded in 2013 and had 101-250 employees. The company thrives on the diligence, enthusiasm, and overall perseverance of its experienced app developers.
Techuz offers complete mobile and web application development services. They are highly respected for meeting the needs or requirements of their clients. Here are some of the services that Techuz offers:
Single Page Application (SPA)
Real-time Application Development
Web & Mobile Applications
Angular JS Consulting
MobiWeb Technologies
MobiWeb Technologies is a leading Angular JS company in India that delivers high-quality products for clients from every part of the world. If you are looking to build a mobile app based on the AngularJS framework, MobiWeb Technologies is the firm to opt for.
The app development company has innovative developers whose diligence, enthusiasm, and perseverance have taken the company to the height it is enjoying today, thus establishing its super-strong foundation.
MobiWeb Technologies is the go-to company for anyone who wants to create several Angular JS-based web applications.
Angular Minds
Angular Minds is a prominent software development company founded in 2011 with 51-100 employees. The company has created several innovative web applications based on front-end technologies like Node.js and Angular JS.
With the help of its experienced Angular JS developers, Angular Minds leads apps developed in a highly optimized way. The company's developers are passionate about providing extraordinary mobile, web, and cloud solutions to international clients that embrace the next-generation technologies in order to meet the needs of their respective customers.
Angular Minds offer the following services:
Angular JS QA and Testing
Single Page Application (SPA) Development
Angular JS App Design & Development
Angular JS Cross-Platform Development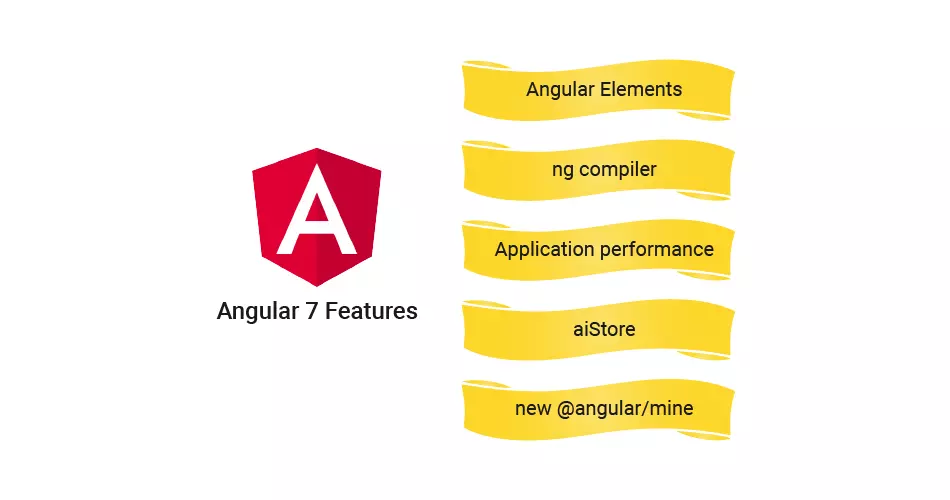 Appnovation
Appnovation is known for delivering Angular JS development services. The firm's developers can create a wide variety of mobile, web, and cross-platform experiences. It enables the extensive one-stop option for generating several features to excellence.
Appnovation believes in long-term relationships with clients around the world.
Clarion Technologies
If you are looking for one of the top-notch Angular JS developers in India, Clarion Technologies is the company to visit.
Since then, Clarion Technologies, founded in 2000 with 250-499 employees, has been in the IT software development industry. This cost-effective and reliable Web & Mobile development company is dedicated to providing services for small and medium enterprises.
The company has proficient developers that help deliver complex web applications for sectors like games, logistics, IT and healthcare, etc., using advanced frameworks like Node.js, Angular JS, etc.
Clarion Technologies offer the following services:
Angular Web App Development
Angular Framework Plugin Development
Angular QA and Testing
Single Page Applications
Angular Framework Plugin Development
ThinkSys Inc.
ThinkSys is a web development company with expertise in frontend development. The company relies heavily on the use of the Angular JS framework for building rich HTML-based web applications.
The developers have robust or solid experience in delivering advanced web & mobile solutions in different sectors. The company also works with diligence on every project, thanks to its innovative app developers.
Noto Solutions
Noto Solutions is a tech company founded in 2007 and has 50-249 employees. It delivers the best Angular JS app development, thanks to its experienced and highly proficient development team.
The professional Angular JS company in India focuses mostly on fulfilling the requirements of their esteemed customers. Its highly experienced developers unfailingly provide astounding results when it comes to entire Angular JS development.
Noto Solutions provides services such as:
AngularJS Custom Solutions
AngularJS Web Development
Angular JS Mobile App Development
AngularJS Frontend Development
AngularJS Web Application Development
Fugenx
Fugenx is an Angular JS Development company in India, a highly reliable outsourcing partner in mobile app and game development. The firm was established in 2008 and had 250-999 employees, provides a diverse array of app development solutions.
Fugenx's developers are experienced in iOS, Android, and web application development services. It delivers the best services to clients worldwide and is proficient in the following:
Angular JS Video & Audio Portal Development
AngularJS Website Development
AngularJS Web App Development
Angular JS Mobile App Development
Code Brew Labs
Code Brew Labs is considered one of the best places for developing highly effective solutions using the Angular JS Development framework. The firm helps its clients at every phase of their business growth, which is why they remain one of the most sought-after companies in India.
IndiaNic
IndiaNic is a top AngularJS development company founded in 1998 and has 250-999 employees. It is famous for building advanced and innovative Angular JS solutions for businesses or organizations with advanced front-end needs.
The firm's Angular developers help enterprises gain scalability and the required control with application development services.
IndiaNic delivers 360-degree solutions to all their projects and ensures the seamless deployment of complex tasks within an enterprise-level environment while providing Angular JS/Angular react development services.
Brainvire Infotech Inc.
Brainvire Infotech Inc. is one of the global IT services companies that offer comprehensive IT solutions to organizations or business owners looking to embrace the latest frameworks and technologies for business development.
Brainvire Infotech offers robust AngularJS development services in a cost-effective way to their numerous clients.
Konstant Infosolutions
Konstant Infosolutions is one of the top-ranked Angular JS development companies in India that provides seamless, state-of-the-art Angular JS mobile app development services. The company has a team of highly competent developers that help businesses build customized mobile applications.
Algoworks
Algoworks is a top Angular JS company in India founded in 2006 and has 500-249 employees. Its developers are skilled in all the latest frameworks and web technologies. It has a transparent business process that guarantees the delivery of each project on time and within the budget of the client.
Algoworks is most famous for having a wide variety of tech specialists under one roof. This firm is known for delivering Complete Frontend Development, Single Page App, MVC Architecture Development, Angular JS 2.0, etc.
Mind Inventory
Mind Inventory is one of India's best Angular JS development companies, with offices in Australia, the United States, Chile, and Scotland. The company, founded in 2011, has a hands-on experienced, and dedicated tech-savvy team that ensures every Angular JS development project is handled with care. They create software and build apps that stand out from the crowd.
ValueCoders
ValueCoders is a firm that generates brand-new navigating ideas that help in developing feasible solutions on the Angular JS development framework. The company works with several technologies, but the Angular JS framework is the most vital they face, and they handle projects with professionalism with excellent outputs.
ValueCoders is the Angular JS company in India that develops fully-featured apps that enable users to utilize the system flawlessly since it is developed on the Angular JS framework.
WeblineIndia
WeblineIndia is a company that provides web-proven Angular-powered solutions. Founded in 1999, it currently has 50-249 employees with extensive Angular JS experience. They understand every client's requirements and strive to reap the Angular JS framework's top-notch benefits.
WeblineIndia's development team is highly adept at staying up-to-date with the trends in technologies across all industries. The company also provides customized solutions thanks to its Angular JS specialists.
The Angular JS company in India provides services like Angular JS Migration Services, Angular JS Web App Development Services, Enterprise App Development, etc.
Codiant
Codiant is a tech company that provides customized solutions for mobile and web application development. Founded in 2010, Codiant has 250-999 employees who work together to deliver premium Angular-powered solutions for a wide range of businesses across several industries worldwide.
Codiant brings together the most talented Angular JS developers, web designers, quality assurance engineers, and business analysts in one place in order to ensure their clients acquire all they need on a single platform.
Codiant offers the following services:
AngularJS Web App Development
AngularJS QA and Testing
Single Page Applications
AngularJS Version Migration
AngularJS App Design & Development
AngularJS Framework Plugin Development
Finding the right Angular JS company in India is pretty challenging. But this guide of the top Angular JS development companies should help you decide which firm to go for.
These companies have teams well-versed in Angular react, Angular JS development, etc. And they are also some of the top mobile application development companies in India today.
So, what are you waiting for? Seek out the best Angular JS Development Company in India and get started today!
2898
0
0
cookie-check
Angular JS Development Companies In India