Introduction
The importance of new technology to augment and optimize human activities, especially after experiencing the adverse effects of the Covid-19, a global pandemic that disrupted processes and businesses, cannot be overemphasized. As people retired to their homes, they depended on technology for many of their daily needs. This new development prompted a tremendous increase in the use of new technologies and the Future in digital marketing to augment human lives and carry out business activities.
The lockdown showed that the future in digital marketing significantly depends on new technologies as marketers had no choice but to derive new innovative ways of leveraging the new technologies, finding their ideal audience, and engaging them with compelling content that drives traffic and converts sales. However, as the year 2020 faded and 2021 kicked in, marketing strategies changed, and new technologies emerged as the essential tools for digital marketing. Indeed, the pandemic would shape and enforce a marketing style that would be the future in digital marketing.
What is Digital Marketing?
Digital marketing is any marketing that leverages the use of electronic devices and online technologies to promote its brand, products, and services, measure its impact in the market and drive traffic and convert sales.
In other words, any marketing that has to do with the use of digital technology can be referred to as digital marketing.
What Is The Top Digital Marketing Trend In 2021?
As so many businesses have now moved online to meet up with recent changes and trends, marketing has not only gained relevance in driving the success of many businesses but has found innovative ways of integrating new technology into the Future in digital marketing.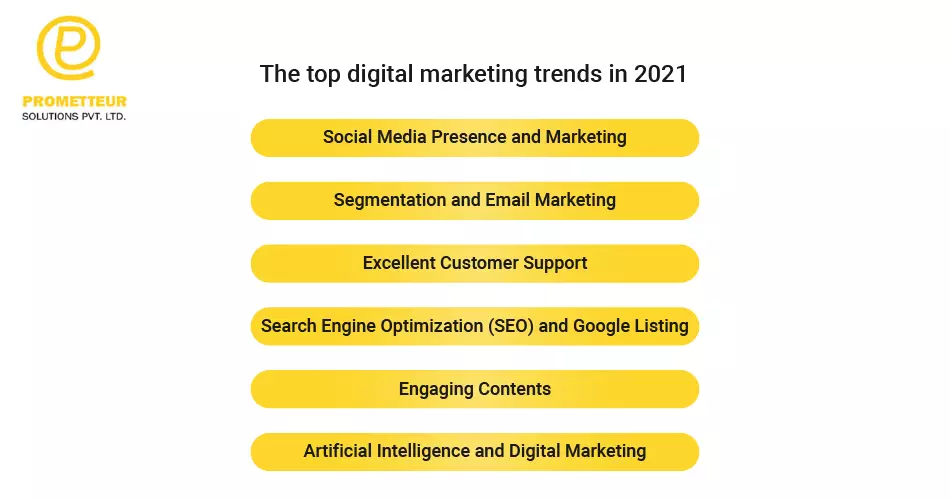 What are the top digital marketing trends in 2021 that businesses need to keep growing their audience and ensuring customer satisfaction?
1. Social Media Presence and Marketing
One of the top digital marketing trends in 2021 is social media. Social media marketing tools like Google ads+, Facebook ads, Twitter ads, YouTube Ads, etc., are top digital marketing tools for engine customers in 2021.
They are excellent for creating content and engaging the right audience who need your products and services. Also, social media marketing tools such as Facebook, LinkedIn, Twitter, Telegram, Pinterest, etc. for businesses to easily group their customers according to their needs, where they can share vital product information about their brand and product with them, drive traffic to their business websites and convert sales. Leveraging the social media tools to reach a large audience and achieve business growth is a business move that keys into the future in digital marketing.
Social media platforms such as Pinterest, Facebook, Twitter, Instagram, Telegram, YouTube, LinkedIn, etc., have all proven capable of playing vital roles in driving Future in digital marketing.
While businesses leverage social media to market their products and services, they optimize their marketing strategies and approaches with other relevant technology tools. With those tools, they can efficiently use relevant keywords to plan and create engaging social media content that drives traffic to their websites and convert sales. The tools also help them consistently shape, project, and maintain their brands' good image on different platforms and have a deep voice.
Businesses to create chatbots that will interact with customers in their preferred social media channels, e.g., Telegram bots, WhatsApp bots, Slack, etc.
As one of the top digital marketing trend in 2021, social media will keep evolving to be a core part of the driving force of the future in digital marketing
2. Segmentation and Email Marketing
Segmentation and Email marketing also fall among our list of the top digital marketing trend in 2021. With AI making it possible to collect user information, group the users according to their peculiar behaviors, and reach out to them based on their online actions. Such email marketing, which is triggered by specific user behavior, produces more results because personalized content is designed for specific readers.
AI email marketing also helps digital marketers to interact with their audience at the right time using the analyzed data to create relevant content. This is one of the best ways to retain customers and ensure that they are up to date with your business activities, products, and services.
3. Excellent Customer Support
One of the top digital marketing trends in 2021 is your business's customer support strength and efficiency. It is very crucial to have loyal and increasing customers. Do not keep queries from complaining customers unattended for long. That will turn them off, and they will not be happy to recommend other people to patronize your business.
You can use chatbots to avoid such issues. AI chatbot application is undoubtedly part of the future in digital marketing. The new technology is transforming customer relationships by shifting from the usual customer care support experience of one to one system to optimized customer support of one to many with swift 24 hours response to customers in different places at the same time. Its efficiency makes it possible for
4. Search Engine Optimization (SEO) and Google Listing
One of the best things you can do for your business in 2021 is to optimize search engines and enjoy a good ranking by Google. Since most customers and businesses moved online because of the pandemic's effect, SEO became one of the top digital marketing trends. SEO and good Google rankings will improve your business visibility on different search engines and will draw many visitors to your website that may end up being your loyal customers and ultimately make your business successful in the long run. Google My Business listing will give your business some credibility by making important information about your business available online. SEO is also crucial in the future in digital marketing.
5. Engaging Contents
What is marketing without content? Moreso, marketing is better with engaging content. Therefore, it is only fair to say that engaging content is among the top digital marketing trend in 2021. Developing and sharing engaging content about your business is a good business strategy. The contents should also keep your customers informed about what is to come, what you are working on, and available. You may also come up with some exciting exercises where winners will be gifted prizes. Social media is a viable tool for such activities. This will help build a good relationship with your online audience and emotionally attach them to your brand.
6. Artificial Intelligence and Digital Marketing
Gone are the old days when marketers ignored AI's application to their digital marketing strategies for getting optimal results. Today, AI plays a key role in SEO and has become a top digital marketing trend in 2021. Recently, the world of marketing has seen the significant adoption and relevance of AI in transforming Future in digital marketing strategies by leading businesses like Spotify, Google, and Amazon, Microsoft, Facebook, etc. AI is one of the best new technologies used by marketers to collect user data, analyze them and use the results for advertising only relevant content based on their online activities.
Digital marketers are also exploring AR, VR (two visual technologies), and AI to transform consumers' experience. Visual technology is an essential feature and Future in digital marketing as it plays a significant role in connecting customers to their ideal brands, products, and services, which is very good for managing customer relationships and brand identity.
AI, big data technology as well as Customer-Relationship Management (CRM) can be combined for better collection and analysis of online user behavior (web searches, online purchases, visited pages, etc.), which is very significant for pointing out the next most efficient marketing strategy for creating content, ads, and sales.
Other Top Digital Marketing Trends in 2021 Are
Cloud Computing
After the announcement in 2019 that big companies like Amazon, Microsoft had made a whopping sum of over a 70billion dollars from offering cloud services to businesses, digital marketers picked great interest in exploring the services for optimizing business sales, Cloud Computing has become popular and has joined to become a top digital marketing trend in 2021. One can even claim that cloud service technologies like Paas and Saas are excellent tools for a successful future in digital marketing campaign. With cloud computing, digital marketers get easy access to customers' data, use those data to understand their needs, demands, and expectations, and then create viable goods and services that meet their exact needs.
Digital marketers in 2021 are also taking advantage of cloud computing's various analytic tools by analyzing random customer data, generating and tracking leads, evaluating new markets and new marketing channels to determine the most rewarding digital strategies to deploy for driving traffic and converting sales. Digital marketers are also using cloud computing to accurately create top-notch content and social engagements with every necessary information that captures the attention of their target audience.
While content is significant in digital marketing campaigns, cloud computing empowers digital marketers to control marketing operations and processes better. These enhanced operations and processes go a long way in ensuring a high level of productivity. A few examples of these include email marketing, web analytics, PR marketing, and automation.
The 5G Network
5G is a top digital marketing trend in 2021 and the technology is really shaping the future in digital marketing. The rise and spread of 5G technologies will transform communication worldwide, and businesses will leverage the new technology for optimized marketing advantages since AI and automation power it and accelerate marketing activities online. One is processing a large amount of data within splits of seconds and optimizing fundamental time marketing strategies. This is one of the good reasons why it is among the top company which have Future in digital marketing trends in 2021
5G makes data processing and user experience faster and more delightful, thereby increasing the number of people with mobile internet connectivity as more and more people are connecting to the internet. As the users grow with the significant adoption of the 5G network, marketers will be having access to more data on human online behaviors, which are being explored for improved digital marketing campaigns powered by AI for personalized ads. With the 5G network, the future in digital marketing is bright and promising.
5G's data and file sharing efficiency make it one of the new technologies in top digital marketing trends in 2021. It enables more marketers to use video ads to carry out their digital marketing campaigns since video consumption is now on the rise as technology makes the watching of online videos more accessible and faster. Online users now enjoy watching video and video ads on web pages. This makes advertising more interactive and engaging to users since low loading speeds of video ads on web pages are faster; video ads no longer affect user experience on web pages.
Augmented Reality (AR), Virtual Reality (VR)
Other than increasing streaming and transfer speed, 5G technology enables marketers to use Augmented Reality (AR) in the most optimized ways. They are among the top digital marketing trends in 2021 which gives a great Future in digital marketing. Marketers are using holograms, high-quality images to carry out advertising campaigns on car dashboards, walls, and other surfaces. 5G network analyzes online user's data, predicts how they feel, and then uses the reports to show relevant ads on their webpages as they interact on the internet.
How is the Market in 2021?
Did most businesses shut down as a result of the pandemic? Has the market become more difficult to penetrate and are new technologies useful to businesses? Really, it's worth asking, how is the market in 2021?
The lockdown forced people to retire to their homes and leverage various social media tools to keep up with global trends and business activities. The development led to an explosion in social media users, which positioned social media to find their ideal customers and convert sales. And social media marketing became a more common tool for carrying out digital marketing campaigns.
The future in digital marketing brightened as new technologies like Artificial Intelligence (AI), Cloud Computing – Augmented Reality (AR), Virtual Reality (VR), 5G technology as well as social media channels (such as Facebook, Instagram, Pinterest, Telegram, WhatsApp, etc.) responded by improving their algorithm and software, optimizing and making them excellent for Future in digital marketing.
How is the market in 2021? Today, we are dealing with a market where businesses and marketers have to leverage the use of top social media digital trends in 2021 and other marketing tools to set and meet various marketing goals to ensure that their businesses survive and thrive. New technology is the driving force of the future in digital marketing. Their efficiency in analyzing data and performing automated tasks makes them disposable in marketing.
Why we need to invest in digital Marketing
Because Digital marketing will always be instrumental to business growth. It makes your business stand out among your competitors and gives it a solid stand in the marketplace. Future in digital marketing enhances your business and sets it up to keep up with top trending business technologies and marketing strategies necessary for sales and growth. It leverages new technologies to collect and analyze vital user data for improved production and is excellent for business success. Using the right digital marketing tools to achieve business success is why we need to invest in digital marketing
What Is The Future In Digital Marketing?
Digital marketing will continue to evolve and gain more relevance as long as there is a need to perfect businesses and marketing strategies in line with local and global trends. Marketers will continue to play leading roles in expanding and building the credibility of businesses.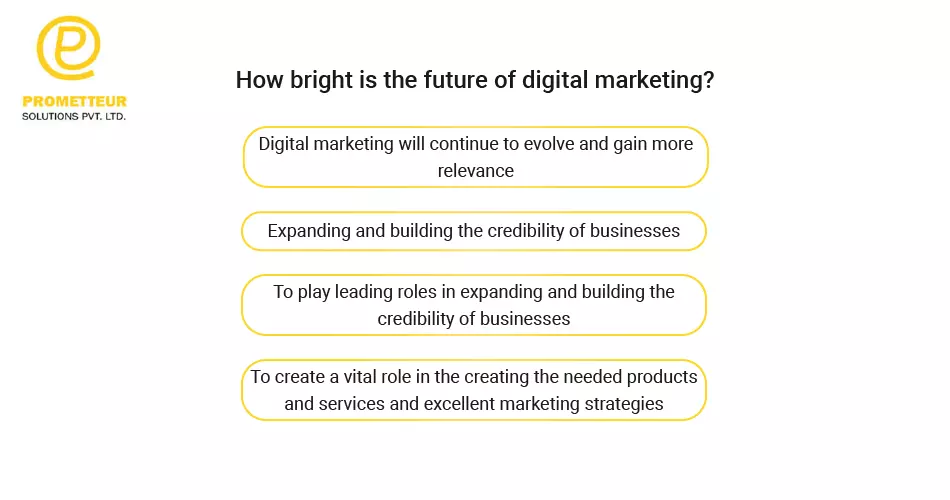 As technology evolves, so will new technology continue to play critical roles in the future in digital marketing, one of which is dominating the top digital marketing trends. The integration of new technology into digital marketing for better and improved methods of collecting and analyzing data will continue to create a vital role in creating the needed products and services and excellent marketing strategies.
3432
1
0
cookie-check
New Technology And The Future In Digital Marketing