WHAT IS AN APP MAKER?
An app maker is a mobile app development that enables you to successfully build a mobile application with either a low code or without writing a single code. Since mobile app development has become costly and complex, mobile app makers have found a way to enable a cost-effective platform where non-coders and small business owners can build, design, and launch their mobile apps to optimize their business and meet other needs. There are several mobile app-making platforms out there, out of which the most popular is Google App Maker. However, this does mean that other mobile app platforms, also known as Google app maker alternatives, are not efficient for you to use in creating the ideal mobile app for your business.
WHAT IS GOOGLE APP MAKER?
Google app maker is a low code mobile app development tool that was founded, developed, and launched by Google Inc. Which means you do not need a bunch of coding skills to be able to use the platform in building a mobile app.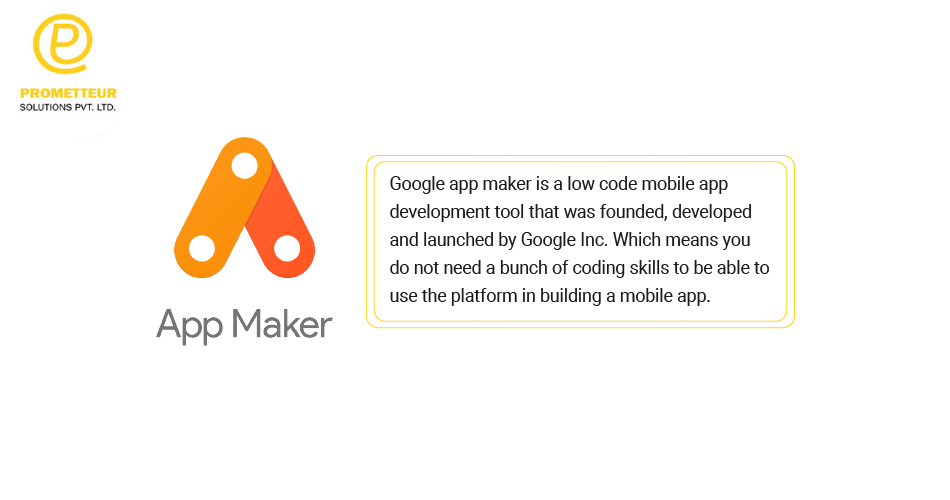 The app development tool, which was launched in 2016 as part of the G-suit family, was birthed out of the need to simplify the job and task of mobile app development as well as allowing other tech-savvy individuals to successfully create, use and launch custom mobile applications on the website with little mobile app development experience.
Google app maker makes it possible to use the drag and drop method and writing small codes to build an app. However, the mobile application built through drag and drop can be further customized using Google's material design visual framework, CSS, JQuery, and HTLM.
With the google app development tool, you can build and design your mobile application by simply dragging and dropping widgets into built-in templates.
GOOGLE APP MAKER EXAMPLES
Here are some example apps you can build on Google app maker.
1. You can build a Store Order App.
You can build an online store order app using a Google app maker, google sheets. With this app-making tool, you can create a store where certain groups of people, say, for example, members of an organization can place orders for items online. The store, which would accept and process orders, can have some fantastic features like the shopping cart and an automated email notifier that sends an email to the buyer to keep him or her informed about the order's status.
2. E-training app
Google app maker google sheets allow you to create an application for online training courses. You can build this app by allowing users to join by their complexities, topics, or creating a new class. You can add folders and links containing images from google drives, videos from YouTube, or any google documents. Students will therefore have access to those resources by clicking the links.
3. Travel Apps
Google app maker google sheets are used to create apps used to book and update travel approvals. Here, intended travellers can book by using dates, destinations, cost validation. The app is automated to either reject or approve their booking requests after validating them. Upon approval or rejection of the booking request, the app sends an email to the intended traveller to let him or her know about the request's status.
4. Project Management App
You can use the google app maker google sheets to create project management tools to assign project milestones with tasks and sub-tasks, including project due dates. It also provides an update on the job progress and job completion. It allows for group creation where different project groups are created, and different teams are allowed to collaborate while working on a project.
Google app maker google sheet allows you to use a faster approach in building simple apps such as apps used for approvals, financial reporting, travels, and project management, among others. These are some of the best Google app maker examples that can be possibly built with the google app maker google sheets. However, google app maker is not the only app building platform as many others are existing no code and low code mobile app development platforms in the marketplace.
GOOGLE APP MAKER ALTERNATIVES
Google app maker is not the only efficient no code or low code platform where you can use the drag and drop mobile app development method to build your ideal mobile app. In this article, there are other platforms we like to refer to as google app maker alternative platforms for building a no-code mobile application.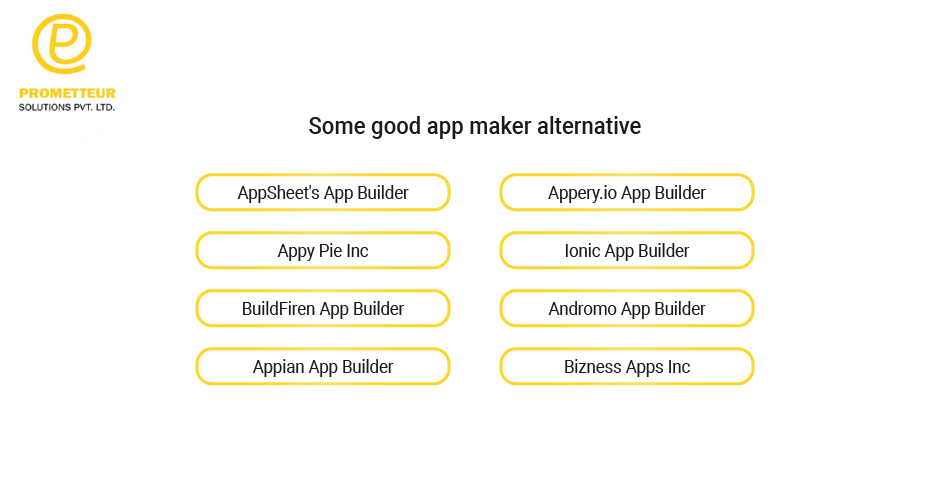 In no particular order, here is our list.
AppSheet's App Builder
Reviewers testify that AppSheets is an intelligent no-code mobile app development platform built to save your time and talent with the no-code app development and automation.
AppSheet's is enabled for anyone, even without any coding or programming skills, to make and automate the processes and functions of a mobile app. You can also deploy your apps to multiple platforms in real-time.
AppSheet's has a robust user experience which is evident in its unique features. Since its launching, it has successfully created and launched over 3 million mobile application software. Mobile apps developed on the platform can be easily uploaded on the App Store and google play for downloads.
Appy Pie Inc
It is a google app maker alternative that happens to be a good platform for the no-code mobile app development category. Regardless of your technical and app creation skillset, you can easily create an app using Appy Pie. Mobile apps developed on the platform are easily uploaded on the App Store and Google Play for downloads.
This google app maker alternative, Appy Pie, is ideal for people who want to create simple mobile apps for Android and iPhone devices without writing a single line of code. Its simplicity is overwhelming because all you need to do is select your preferred template, choose and add your features, and then go ahead to publish your mobile application. Very simple indeed.
Appy Pie has the following mobile app feature for your convenience.
Social media tools and functionality
Customer engagement programs
App analytics
Easy to install on PlayStore and Google Store
Publishing assistant
Multilingual support
Push notifications
Optimized photos and videos
BuildFiren App Builder
BuildFire is one of the most powerful software for the no-code mobile app development project. It is excellent for mobile app development projects suitable for Android, iOS and PWA.
The google app maker alternative enjoys global usage from people worldwide and is distinguished from other no-code mobile app development platforms for its popularity and versatile features. Its versatility is impressive as it is very efficient for creating any mobile application without a single line of code.
Regardless of your development and coding skills, you can easily use the platform to come up with a beautiful mobile application to suit your business's purpose. You can also easily add new features as all you need to install a feature that is always available in the BuildFire extension marketplace.
Another fantastic feature of this google app maker alternative tool is that it's developer-friendly, which means you can customize your mobile application's features and functionalities. The mobile apps developed on the platform can be easily uploaded to the App Store and google play for downloads.
BuildFire is excellent for building several mobile applications, including eCommerce mobile apps, health and fitness apps, and content and media apps. Other are internal employee communication mobile apps, event managing mobile apps, business apps, etc.
Appian App Builder
Appian is not a no-code mobile app development platform; it is instead a low code mobile app development platform. Meaning you need to know a little bit of coding skill to use the platform to build your ideal mobile application. Web development companies commonly use Google app maker alternative to complete mobile app development projects and meet short deadlines.
Its advantage and uniqueness are that it instantly makes any built mobile app on its platform available without any delays. Suppose you decide to add additional features and functions to your already launched and widely used mobile application. In that case, your users get to use those features and functions instantly as you launch or update them accordingly. This process is automatically done in fast and effortless ways. Plus, there are no resources needed.
Appian has several other features that make it fantastic for mobile app development projects.
It uses the drag and drops function for mobile app development and design
It is optimized for instant deployment
It has the automated workflow function
It is highly scalable
Easy uploading to App Store and Play Store
It has the features and functions of tracking, analyzing and adapting to changes
It is enabled for faster mobile app development
It has very high security
Appery.io App Builder
This is a low code mobile app development tool that has grown to become famous as over 10,000 mobile applications have successfully been built on the platform. Appery is a multipurpose mobile app development tool that requires you to have a bit of coding skill set to take advantage of its resources to build your ideal mobile app for your business.
Some of the fantastic features and functionalities of Appery include
A straightforward low code mobile app development tool
Easy to deploy
Easy upload to App Store and Play Store
Mobile backend services
Cross-platform
Administrative tools
Visual tools
One of its unique features is its collaboration tool, making the team easily collaborate while working on a project. Apply tool makes it possible for you, your users, customers, designers, and developers to collaborate.
Ionic App Builder
Mobile app development teams love Ionic for its simplicity, speed, and UI components. It is a no-code platform that promotes innovativeness without the use of codes. It has inbuilt UI elements that its users can choose to design their ideal mobile application. You are thinking of building a high-quality mobile app that is very fast and runs everywhere. We recommend that you settle for the Ionic app builder.
Ionic has several integrations and Plugins Galore, for example, Firebase, Couchbase, Facebook, Instagram, Aws Angrily. With ionic, you are sure of enjoying the following features and functionalities; high-level security, Payment systems, Testing tools, mobile-optimized UI tools, high interactivity etc.
Ironic App Builder has developer-friendly tools that make it very easy for you to take advantage of the Ionic CLI in creating, building, testing and deploying your mobile application software. Also, mobile apps developed on the Ionic platform can be easily uploaded on the App Store and google play for downloads.
Andromo App Builder
Andromo is a no-code type of Android App development platform where you can easily create your choice's Android app. Andromo has features and functions that allow anyone to build unlimited numbers of Native Android Applications, customize them for ads and earn from them.
Andromo is a successful google app maker alternative platform with over 1 million people using their mobile app development project. It has enjoyed over 2 billion downloads of its mobile app. The mobile app builder has also launched over 800 thousand applications on Google Store and earns over 10,000 dollars a day.
Andromo App development platform has about 12 features you can choose from when using the platform to build your mobile apps. The features include,
Reviews for getting customer feedback
Signal Push notification for all announcements
Surveys to receive suggestion and client feedback
Social media tools
Easy to upload on App Store and Play Store
Video and audio content
Polls and ads features
Multilingual features
User engagement programs like fun trivia quizzes
Tools for the monetization of your app
With Andromo, you can quickly build an app for different continents, countries and audiences with different languages thanks to its multi lingua feature. The google app maker alternative has a language translation feature that can translate up to 24 languages.
Bizness Apps Inc
Bizness Apps is one excellent google app maker alternative tool for drag-drop building of mobile applications. Drag and drop app building techniques are easy and convenient, and with Bizness, the experience has never been better. We would recommend this mobile app development tool for the building of mobile apps for small businesses.
Bizness is software that serves as a good platform for building your android mobile apps, iOS mobile apps and PWAs. Many businesses such as companies, restaurants, hotels, schools, real estate companies and lifestyle businesses, among others, use this Business tool for their mobile app development and management projects.
The features of the Bizness platform are,
Mobile ordering feature for ecommerce business design
Aesthetic design
Social media tools features
Push notifications features
Easy to upload on App Store and Play Store
Customer review features
Excellent content management platforms like community forums
Customer engagement programs
Its customers testify this google app maker alternative tool to have unique features and many other valuable functionalities available to optimize your mobile application. Business is a highly recommended no-code mobile app development platform because of its easy-to-add. It uses features and functionalities that are significant for the growth of your business.
3438
2
0
cookie-check
GOOGLE APP MAKER AND CUSTOMIZATION