Amazon the internet giant announced Amazon Go a revolutionary technology in mobile application, the cashier less physical store, which will open next year in Seattle, Store offers customers to purchase goods by literally taking the item off the shelf and leaving the store. Amazon named the system as "just walk out". Where items are automatically charged to users Amazon account. If or when that trend trickles down to traditional retailers, it'll cut the time of shopping in half.
The store is in testing stage now and only available for few amazon employees. The underlining technology seems to be routed in terra firma, large no of cameras, microphones, computer vision, deep learning algorithms and massive servers used for cloud computing and power digital assistant Alexa.
Amazon declined to talk about technology behind such brilliant concept but a patent filed by the company in 2014 and published within a year may disclose some process.
According to patent statement, When customer enters in store they would be tagged, customer need to tag their amazon mobile application in their smartphones while walking in the store. Store surveillance system then identify each unique user and can track them as they shop through the store. Cameras pic up images when customer stops in front product shelves, when they picked up any item, whether the item is placed again in the shelf or in customers basket. When users hand is removed from inventory location, multiple images are captured of the users hand, then with deep learning algorithms it is determined whether item is purchased or placed back. The tech is similar to what's used to allow self-driving cars to navigate the world.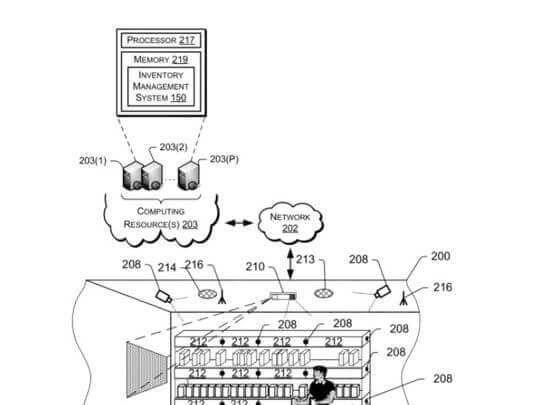 (Image Source: Amazon patent)
The cameras would even know skin tone of customer's skin; image analysis then may be performed to distinguish between different users reaching for items on same or adjacent shelves. Despite color tone is very individual, the frustration it could cause shoppers of color has the potential to erase that value, as many people on Twitter pointed out.

With Alexa voice control system, Amazon can trace location of customer inside store. System sends sound files of spoken commands to Amazon's cloud computing network, where they are identified, converted to digital commands and sent back to echo device after answering. In fact, It even tracks customers by noticing the time difference between the audio signals received by each microphone in the store. Other sensors like infrared, pressure and load used for deciding whether item is placed back or purchased.
Amazons built such powerful system with best combination of deep computing and sensors to track where everything and everyone, in store at any moment.
Has Amazon come up with the secret sauce?
The power of information might be the another source of revenue that will open after launching his concept, tracking the customer from the moment they walk through the door, could be hugely useful to a company to analyze purchasing power, style and category.
To make the shopping process better all the data collected and analyzed can be used for advertise and future purchase assistant for customers.
Amazon could also license the technology to other supermarkets and hence cross selling for AWS cloud computing services also possible with selling of just walk out technologies to supermarkets.
Challenges and demand for mobile development
While the concept of just walk out is brilliant, whether or not it works in real life will come down to how much it costs to implement.
Many players in the industry had thought something like this would happen through the use of tiny RFID, tags. These send out a constant "I am here!" message, allowing the system to track whatever they're attached to. The real challenge is how to make it cost effective?
Mobile application industry is extremely innovative and rapidly growing in all types of domain from dating to money wallets. "Just walk out" will be the new challenging domain for mobile application industry with huge market potential.