Amazon the internet giant announced Amazon Go a revolutionary technology in mobile applications, the cashier-less physical store, which will open next year in Seattle, Store offers customers to purchase goods by literally taking the item off the shelf and leaving the store. Amazon named the system "just walk out technology". Where items are automatically charged to users' Amazon mobile app development account. If or when that trend trickles down to traditional retailers, it'll cut the time of shopping in half.
The store is in testing stage now and only available for few amazon employees. The underlining technology seems to be routed in terra firma, large no of cameras, microphones, computer vision, deep learning algorithms and massive servers used for cloud computing and power digital assistant Alexa.
Amazon declined to talk about technology behind such brilliant concept but a patent filed by the company in 2014 and published within a year may disclose some process.
According to patent statement, When customer enters in store they would be tagged, customer need to tag their amazon mobile application in their smartphones while walking in the store. Store surveillance system then identify each unique user and can track them as they shop through the store. Cameras pic up images when customer stops in front product shelves, when they picked up any item, whether the item is placed again in the shelf or in customers basket. When users hand is removed from inventory location, multiple images are captured of the users hand, then with deep learning algorithms it is determined whether item is purchased or placed back. The tech is similar to what's used to allow self-driving cars to navigate the world.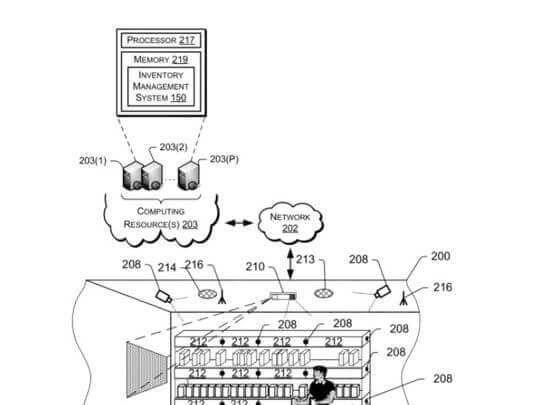 The cameras would even know the skin tone of the customer's skin; image analysis then may be performed to distinguish between different users reaching for items on same or adjacent shelves. Despite color tone is very individual, the frustration it could cause shoppers of color has the potential to erase that value, as many people on Twitter pointed out.

With Alexa voice control system, Amazon can trace location of customer inside store. System sends sound files of spoken commands to Amazon's cloud computing network, where they are identified, converted to digital commands and sent back to echo device after answering Mobile App Development. In fact, It even tracks customers by noticing the time difference between the audio signals received by each microphone in the store. Other sensors like infrared, pressure and load used for deciding whether item is placed back or purchased.
Amazons built such powerful system with best combination of deep computing and sensors to track where everything and everyone, in store at any moment.
How does Just Walk Out technology work? This is one question that business owners want to be answered.
The retail industry has seen several advancements in technology over the years, and there is no sign it will slow down anytime soon. Machine learning, Artificial Intelligence (AI), 5G connections, etc., are full of potential as the future of retail, even as more technologies emerge.
And in this period in which there is stiff competition by eCommerce retailers, these technologies help improve the retailer's ability to efficiently deliver a personalized and seamless shopping experience.
According to Statista, eCommerce is expected to reach up to $1.2 trillion in sales in 2021. But despite this astronomical growth, brick-and-mortar stores are not being neglected even in this tech upheaval. This is one of the reasons why the Just Walk Out technology was invented.
In this post, we'll be looking at the Just Walk Out technology and its impact on shoppers.
What is Just Walk Out Technology?
Amazon introduced a new retail concept known as Amazon Go which utilizes 'Just Walk Out technology.' Just Walk Out technology – which makes use of a combination of technologies to eliminate checkout lines – enables you to enter a store, grab any product you want, and just go.
Bear in mind that there are precisely 2 types of Amazon Go stores in the United States:
Amazon Go: Serves breakfast, lunch, as well as all sorts of snacks that are ready.
Amazon Go Grocery: Ready-made dinners, produce, as well as household essentials.
Amazon Go has been steadily investing in Computer Vision, Deep Learning, and IoT technology to replace the traditional and usual checkout-with-a-cashier experience. This is much different from self-checkout stations that litter almost everywhere.
Retailers now have the permission to leverage this innovative technology in their stores to help bring convenient and super-fast checkout experiences to even more shoppers.
Just Walk Out technology leverages the same combination of technologies used in self-driving vehicles: sensor fusion, computer vision, and deep learning. These technologies make the checkout-free experience a reality for users.
Since the eCommerce giant launched Amazon Go several years ago, retailers worldwide have expressed a collective interest in offering similar checkout-free shopping experiences to their numerous customers.
The first stores to implement the Just Walk Out technology were Amazon Go and Amazon Go Grocery. However, if you want to shop at these locations, you need to create an Amazon account. Amazon is presently licensing the Just Walk Out technology to retailers, even though they will not be able to establish their own Amazon Go locations.
Now, retailers can leverage this technology from Amazon in their stores as long as they can procure weight-censored shelves, an assortment of cameras, as well as smart shopping carts comprising Amazon Go directly from the eCommerce giant. By extending Just Walk Out technology in the United States and internationally, more and more customers will delight in this experience as they can take whatever they want and walk out without the need to stop at a checkout desk.
How Does Just Walk Out Technology Work?
Any store with enabled Just Walk Out technology is convenience personified. You can enter the store via a turnstile using your credit card. You don't need to create an Amazon account or even download and install an app from any app store before you can access the cashier-free stores.
So, how does the Just Walk Out technology work? It swiftly detects what products you take from or return to the weight-censored shelves. It also helps to keep track of those products in a virtual cart.
When you're done shopping, you can walk out, and your credit card – which you used to enter the store – will be charged for those items in the virtual cart. If you need a receipt, you can always visit a kiosk within the store and enter your email address. A receipt will then be emailed to you for this particular trip.
If you use the same credit card to enter this Just Walk Out technology-enabled store or any other one in the future, a receipt will be automatically emailed to you.
This means that shoppers can dash in and out of a Just Walk Out technology-enabled store in seconds, even if the store is packed. They can grab whatever they want and be on their way without wasting too much time. No more painful experience of standing in a line to pay for products, etc.
Amazon provides retailers with Just Walk Out, the proven technology that has functioned remarkably well with high accuracy and reliability for several years.
According to the eCommerce giant, they are enabling this technology in retail stores with their selection, merchandising, as well as store associates to provide shoppers with the exceptional ability to just walk out using Amazon's technology.
According to the eCommerce behemoth, Just Walk Out technology has broad applicability across industries and even store sizes since it tackles the problem of how to get convenience in physical locations, especially when most people are hard-pressed for time.
Just Walk Out Technology: Behavioral Data
Major tech companies have a well-known penchant for obtaining customer data. And this makes many individuals wonder exactly what data would be collected as well as what this may mean for their potential personalization and data.
According to a job board website, consumers or shoppers should not worry too much about their data. Amazon's Just Walk Out technology will not significantly impact data collection. The technology is only designed to collect only the most crucial data to generate an accurate receipt. And that is one thing that many convenient stores already had in the past.
But even if the eCommerce titan won't be collecting lots of additional data, retailers that license the Just Walk Out technology from Amazon will have a few brand-new insights to draw from. For instance, store owners will be able to determine the exact number of shoppers that take products off the shelves and return them without buying them, etc. According to research, this is the kind of data that can significantly impact this industry.
Where Can You Find the Stores?
There are presently more than 25 Amazon Go Stores in the United States. This includes the much larger Amazon Go Grocery, which many believe is a somewhat smaller concession in a Macy's.
The eCommerce titan has also launched the first store outside the United States that uses the Just Walk Out technology. You will find the store in Ealing, the United Kingdom, and is known as Amazon Fresh, which matches the brand Amazon is presently using for online grocery.
Other rumors point to stores in Notting Hill Gate and Oxford Circus even before the Ealing store surfaced.
Several reports report that as many as 30 stores could be launched in the United Kingdom. Rumors say the launch partner could be Morrisons. This seems to imply that the Amazon Fresh store carries an extensive offering of Amazon-branded grocery products which may have originated from that particular source. Morrisons and Amazon are already partners as they work in concert on the Amazon Fresh online delivery service.
The Benefits that Just Walk Out Technology Brings to the Table
There are lots of benefits associated with the use of the Just Walk Out technology. For example, and as mentioned earlier, using Just Walk Out technology eliminates friction at checkout Amazon Go stores. And the stores have earned up to 50 percent more revenue than the average convenience store.
According to estimates, the average Amazon Go store makes nothing less than $1.5 million a year.
The use of cashier-less technology has more pros than cons. But then, despite this, consumers still have several factors to consider as they second-guess their next visit to a Just Walk Out store.
For example, one of the most widespread concerns regarding the innovations in most automated retail is the outright elimination of jobs for cashiers and other floor staff. This may imply the elimination of low-skill employment, low wage, etc. It also means that this new retail purchase technology could result in the creation of high-skill, high-wage jobs.
A professor at Dalhousie University does not believe that the introduction of Just Walk Out technology would lead to a massive loss of jobs. According to the professor, AI will not kill jobs or cut them. Companies, especially grocers, will probably need the same number of employees but with a wide variety of skill sets.
Some economists view new technological innovation – especially that of the Just Walk Out technology – as an excellent transition for the economy in the long run as employees get even better jobs.
The use of cashier-less technology is of immense benefit to the retailer as well as the customer. As designed, Smart Carts and Just Walk Out technology will gather and secure the shopping habits of consumers, thereby providing retailers with highly valuable data that will enable you to fully understand consumer psychology.
You will also be able to minimize clutter in your grocery store and also efficiently optimize inventory levels. In a natural sense, every technology designed to track every shopper's move within the store must protect them and their children's identities.
But this is where the trouble is: trusting too much in the system. Another hurdle that retailers that implement the Just Walk Out technology or leverage it will face is that they must convince their customers that the entire system is trustworthy and secure enough to use it.
Another minor challenge that retailers will need to contend with have to do with issues concerning the false accusations of accidental purchases, shoplifting, and kids picking up items without parents knowing about it, etc. However, there are several easy ways to conveniently alleviate these growing concerns.
Like how most self-checkouts have several associates positioned at the cluster of checkouts, you can also have a worker or an employee stationed at the store exit before or upon charging for the procured items to resolve any issues the shopper may be experiencing.
The employee would also need to be ready if the shopper requires additional assistance or has a purchase dispute.
Moreover, employees can also be present to sell products, answer questions about the products on the shelves, etc. This means that as a retailer, you will be expected to invest in the associates who will assist you to boost your numerous customers' shopping experience further.
As more forward-thinking retailers invest in this cashier-less technology, more organizations are also looking at the various ways they can advance or enhance the customer experience.
After the customer selects the items they want to buy, the next thing most customers want to do is dash out of the store without wasting time by waiting in line. This is the primary benefit of Just Walk Out technology or automated retail technology: a more efficient, faster, and seamless shopping experience for every shopper or customer.
What Retailers Must Do to Cash In
As a retailer, you must be willing to invest heavily (financially) in innovations, which can be somewhat costly. For instance, according to reports, the first Amazon Go store or location generated up to 50 percent more revenue on average than regular convenience stores.
However, for that to happen, the location needed over $1 million investment, just in hardware alone. Morgan Stanley estimates that Amazon would have to spend nothing less than $3 billion to open up to 3,000 Amazon Go stores.
Heavy investments are usually required to make highly disruptive technology happen. It is then unlikely that most customers will see the same savings they experienced in the first Amazon Go store as a lot of money is currently needed to make the 3,000 stores happen.
The growth and proliferation of Just Walk Out technology in stores worldwide is still ongoing, with no sign of slowing down. The web development universe is looking to tap into this growing trend.
And any savvy eCommerce store owner should waste no time. This is the time to look for the best mobile app development company that will build a great mobile application that can tap into this emerging trend in the eCommerce or even brick-and-mortar store industries.
Has Amazon come up with the secret sauce?
The power of information might be the another source of revenue that will open after launching his concept, tracking the customer from the moment they walk through the door, could be hugely useful to a company to analyze purchasing power, style and category.
To make the shopping process better all the data collected and analyzed can be used for advertise and future purchase assistant for customers.
Amazon could also license the technology to other supermarkets and hence cross selling for AWS cloud computing services also possible with selling of just walk out technologies to supermarkets.
Challenges and demand for mobile development
While the concept of just walk out is brilliant, whether or not it works in real life will come down to how much it costs to implement.
Many players in the industry had thought something like this would happen through the use of tiny RFID, tags. These send out a constant "I am here!" message, allowing the system to track whatever they're attached to. The real challenge is how to make it cost effective?
Mobile application industry is extremely innovative and rapidly growing in all types of domain from dating to money wallets. "Just walk out" will be the new challenging domain for mobile application industry with huge market potential.
1597
1
0
cookie-check
How Amazon Go's "just walk out" technology might work?