What is Magento?
Like WordPress, Magento is free to install on the computer. Also, it is an open-source platform. The difference between Magento vs Shopify is that it uses paid hosting, security, and other useful extensions for the optimization of your web app.
Magento is a powerful platform that is best used for web app development projects by skilled web app developers. In other words, it is required that you know how to code if you want to work with Magento.
Magento is rated to be excellent for enterprise-level businesses because of its use of use, sales features, help, and support, and you are guaranteed to get the value for your money with Magento.
What is Shopify?
Shopify is a platform that is very easy to use to build any online shopping store. It also demands a monthly fee subscription and it has great support for both high-volume and small businesses.
Which is Better, Shopify or Magento?
Let us look at its feature;
Themes
Themes templates are very important for your online store because they form a core part of the structure and aesthetic look of the store. You must be using the best theme templates for an online store that give your user a refreshing user experience. In this category, which is better; Shopify of Magento?
Here is our comparative view.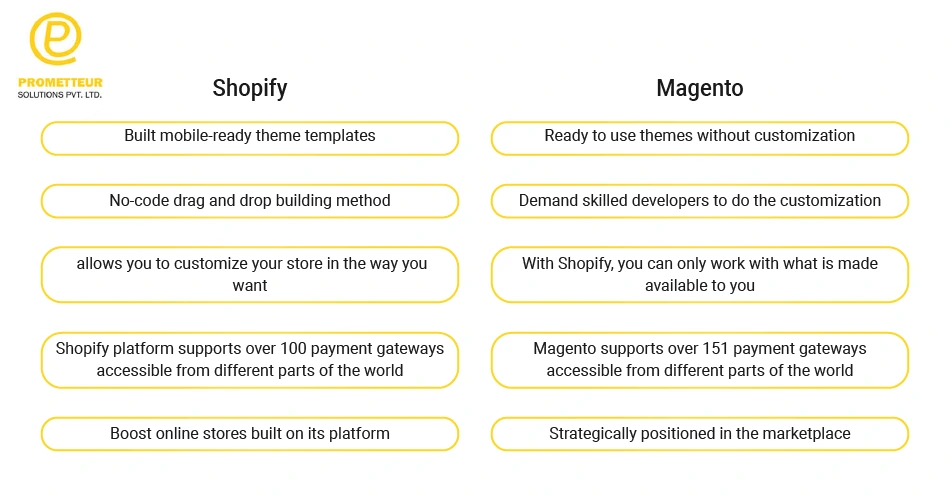 Shopify has about 64 premium theme templates and 10 free theme templates, all of which are responsive on different devices. In other words, Shopify has already built mobile-ready theme templates. All you have to do is to choose your most preferred theme and customize it to suit your taste and the nature of your online store.
You can customer the colors, the font size, and font styles, move and resize some elements, add new pages, add more features and functionalities like social media tools, etc. all these are possible and can be easily done with a no-code drag and drop building method.
With a Shopify theme template and the drag and drop method, you can set up your online store within a very short time and start selling your products immediately.
Magento on the other hand offers two categories of themes; the ones that are ready to use themes without customization, and the ones that demand skilled developers to do the customization. Magento has limited themes in comparison to Shopify.
So, on themes templates and customization, which is better; Shopify of Magento?
There are more easy-to-use Shopify themes than what Magento offers. Plus, you don't need any specialist developer to customize them as they are no-code drag and drop customizable theme templates. With Shopify's customized themes, no code, and then drag and drop design approach, the building of your online store would be cheaper, faster, and easier.
Ease of Use
It is a dangerous move to use a platform that is not easy to use to create your website. It is even more dangerous when you do this for your eCommerce store. It is a move that will only end up causing serious damages to your brand's image. So on, as regards the ease of use, which is better; Shopify of Magento?
The fact is that Shopify is an easier platform to use than Magento. Shopify's drag and drop website building tool makes it easier for you to build a customized store using movable elements and dropping them at the places you would like them to be. An extra attribute that makes Shopify easier is that both experienced and new developers can build a store with it while only developers can use Magento to create their desired web products.
Marketing and Sales Tools
Every e-commerce platform has sales tools. It can never be an e-commerce store without tools that handle sales. It is no different for Shopify and Magento, but we need to take a critical look to provide reasonable answers to the question, which is better; Shopify of Magento?
Shopify has the following Marketing and sales tools.
Shopify uses third-party integrations for its email marketing campaigns using tools like Klaviyo, Seguno, Constant Contact, etc. Shopify can also connect directly to Facebook, Pinterest, and Instagram for adverts and sales. Its multi-lingual support enhances it to sell in other non-English speaking countries. For sales, Shopify has the following features.
Multi-Channel Selling tool
With Shopify's multi-channel sales tools, you can sell your products on different platforms, including, Pinterest, Facebook, Amazon, and Instagram. It is indeed a wonderful tool because it's set up to take your online store to different marketing and sales platforms, which will, in turn, lead to an increase in sales.
Cart Recovery
Cart recovery is a sales tool that enables customers to be reminded via an automatic email about an uncompleted purchase on your store. It is powerful and unique because many visitors can quickly just log out of your online store after making a certain collection of products that they intend to purchase and then forget to return to complete the order. A reminder will boost sales.
Partnership
There is a partnership feature with DHL Express, UPS, USPS, and Canada Post which links your online store to some top courier service providers.
Magento also offers the following marketing and sales tools.
For marketing, much of its marketing tools are in the marketplace. So, it works with several extension marketing activities like email marketing. The marketing extensions are also not easy to install, so you need to hire specialist developers to do the job for your online store. For sales tools, Magento has the following,
Magento has an amazing inventory system. It has features like multiple product variants, total visitor count, bulk product import, and revenue reports
With a checkout, customization creates a bespoke checkout for your store.
Like Shopify, it has an abandoned cart recovery tool that sends an automatic email to remind a customer about completing a purchase.
Other features include set percentages and fixed price discounts. As well as, multiple channel selling options such as eBay, Instagram, and Facebook extensions.
Having looked at the marketing sales tools of Magento and Shopify. we can now conclude the question, which is better; Shopify of Magento?
Shopify's marketing sales tools are much more impressive than Magento's. Shopify's features rank among one of the best in e-commerce platforms.
Although the marketplace is where they mainly rely on for their marketing and sales, Shopify edges Magento because it has built-in social media features which save you the time and resources to hire a specialist developer to set them up for your online store.
So, when you use Shopify for your online store, you already have most of all the tools you would be needing.
Flexibility
There is a difference between using a platform to build your online store by just dragging and dropping than by actually writing the codes to structure the website. On flexibility, which is better: Shopify or Magento?
The answer is Magento. Although writing a code is trickier, slower, and harder than the drag and drop method, Magento allows you to customize your store in the way that you will love to have it, but with Shopify, you can only work with what is made available to you.
Payments Processors
We are still looking at the question of which is better Shopify or Magento? Let us continue our analysis by looking at the payment processors of both Shopify and Magento.
Payment processors are very important for online stores because it enables seamless acceptance of online payments.
Shopify and Magento both have the necessary features that make the connection of payment processors very easy. But we want to know which is better, Shopify or Magento?
For Shopify's payments, there are zero transaction fees
(except those charged by user's bank institutions). Shopify has three payment plans which are relatively cheap looking at the benefit. Shopify platform supports over 100 payment gateways accessible from different parts of the world. Some examples are Stripe, Apple Pay, PayPal, etc.
On the other hand, Magento supports over 151 payment gateways accessible from different parts of the world, with most of them, recommended for high-level business online stores. It has its marketplace where any of its collection of payment gateways can be installed from and integrated into the online store.
It also has an extension that allows online stores to sell their products on Amazon. Imagine reaching millions of customers on the Amazon platform.
So, in the payment processor category, which is better, Shopify or Magento? Well, looking at the Shopify and Magento payment processor features, Magento appears to be more powerful because it offers more options, a better marketplace. These give it an edge over Shopify.
Search Engine Optimization (SEO)
SEO plays a vital role in the amount of traffic inflow from various search engines to your online business. What this means is that an SEO-optimized e-commerce store will have more visitors and make more sales.
SEO is one marketing strategy that Magento explores to boost online stores built on its platform, It does this better than Shopify, which means online stores would be strategically positioned in the marketplace better when building with Magento than with Shopify. So, SEO-wise, which is better, Shopify or Magento? Magento has it!
Advantages of Magento Ecommerce Development
There are several advantages of Magento e-commerce development, we will be looking at a few.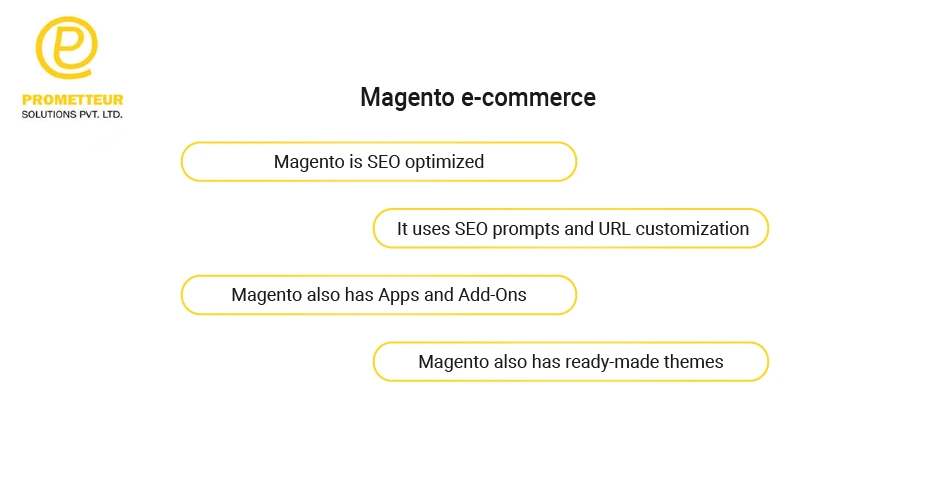 One of the Magento is SEO optimized. It edges its competitors with the SEO features that it is built with. It uses SEO prompts and URL customization for its SEO strategies. With Magento, you don't necessarily need to install other SEO apps to boost the SEO of your online store.
Magento also has Apps and Add-Ons which add extra functionality to e-commerce stores. Magento has about 5000 extensions of which about 30% are free. These apps and ad-ones are good for boosting marketing, sales, payments, catalog, etc.
The list of advantages of Magento e-commerce development continues with the quality of help and support that renders swift responses and useful guidance to developers and its users.
Magento also has ready-made themes which do not need the skills of a developer for customization as well as themes that need a specialist developer to customize.
Best Magento Ecommerce Development Company In INDIA
Now that we have given you all the facts on why we believe Magento is a good e-commerce store development platform for your business, let us look at the best Magento eCommerce development company in India. Please note these companies are highlighted and discussed in no particular order.
1. IndiaNIC Infotech Ltd.
IndiaNic has Magento specialist developers who can handle your projects with high efficiency. It makes the list of ranking as the best Magento eCommerce development company in India because of the innovativeness of the development team. They are amazing at;
Magento plugin installation
Payment gateways integration
Theme Customisation
SEO set up
2. Emizentech
Emizentech is a highly experienced e-commerce development company. Also, on the list as the best Magento eCommerce development company in India. They have an amazing record that shows that they have worked with over 250 clients from top countries like the UK, USA, Australia, etc.
They are dedicated to handling e-commerce and other Magento development projects including cloud services for companies and businesses in different parts of the world.
3. Codilar Technologies
Codilar Technologies also makes our list the best Magento eCommerce development company in India. They have an amazing expert Magento developers' number over seventy. These developers have all the experience needed to build the ideal Magento e-commerce store for your business, any day and anytime. The developers are outstanding at the following;
Custom Magento Development
SEO optimization of Magento e-commerce store
Marketing and sales tools set up
Performance optimization
A Quick look at Magento vs Shopify vs WooCommerce Trend
There are millions of websites and Magento, Shopify and WooCommerce are the major platforms that most of those websites are built on. This makes them the most successful e-commerce development platform in the world.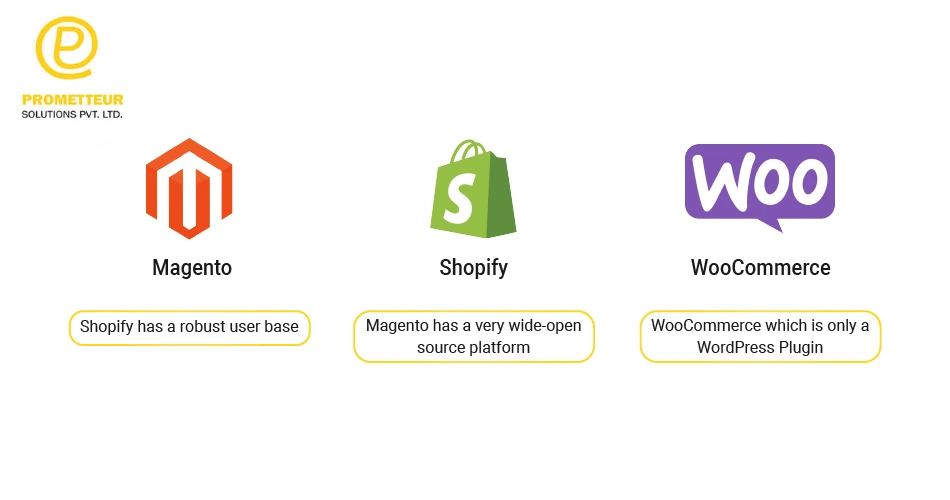 With a unique approach to the development industry, they have been able to penetrate the marketplace and optimize the art of building and enhancing online stores.
Shopify has a robust user base. Magento has a very wide-open source platform and they are also exploring cloud services and using their products to provide solutions to enterprises around the world. WooCommerce which is only a WordPress Plugin has stretched the e-commerce development world with its innovative features.
These technologies are like the highest-ranked platforms and plugins with a great ecosystem, strong community, and easy to install and use features.
3447
2
0
cookie-check
Analyzing Magento Vs Shopify: What Is the Difference?