According to a press release released on October 28th, 2020, Microsoft just launched Clarity web analytics. This project, announced in 2018, helps publishers fully understand how website visitors use a particular site. The GDPR-compliant user behavior analytics tool also reports on what is known as the 'rage click' metric.
What is Microsoft Clarity Web Analytics?
Microsoft Clarity web analytics is a free tool designed for both non-technical users and developers. It is designed to help website owners or managers understand how visitors use their sites.
Users of this remarkable tool will be able to readily identify areas on the site that needs improvement, including free heatmaps and session recording as well as insights. This is possible when website owners fully understand the behaviors of website visitors.
With Clarity web analytics, website managers can significantly improve the user experience of their visitors. This can only happen via the set of features that comes with this innovative tool. Website administrators can make highly informed decisions about every modification that needs to be carried out on their sites.
Clarity web analytics reveal the part of your website with the least and most engagement respectively. You will see real evidence of these outcomes. And you can make the right decisions without breaching your users' privacy or affecting data security. Moreover, Clarity web analytics is designed to be user-friendly on your site.
You will also have access to a valuable interface that you can utilize at any time for debugging. Building out this particular system on your own – just to get your hands on such pieces of evidence – can be time-consuming and incredibly complex.
What are the Main Features of Microsoft Clarity Web Analytics?
Clarity web analytics comes with 3 main or top-level features:
Insights dashboard
Session playbacks
Heatmaps
These 3 features don't require any configuration whatsoever after you install the tracking code. They are also always 'On.'
Let's take a more in-depth look at these features:
1. Insights Dashboard
The insights dashboard of this state-of-the-art tool is not really a full-fledged tool. Nevertheless, it is powerful enough to generate unique key performance indicators (KPIs) that other tools in its class cannot do.
The insights dashboard is also not yet a full-fledged CRO insights tool because it lacks several features. Nonetheless, it exemplifies an excellent entry point insights about user journey.
Moreover, the insights tool also comes with several user-friendly components, such as quick links into session recordings. This is right under every KPI it surfaces, thereby making it an exceptional tool.
The insights dashboard reveals some of these impressive KPIs:
Rage clicks: Highlights clicks on elements where users or web visitors click multiple times in quick succession.
Quick Backs: Sessions where visitors navigate to only 1 page and then return relatively quickly to the one they just left, i.e., the previous one.
Dead clicks: Clicks on elements that seem to do nothing for the web visitor.
Excessive Scrolling: Sessions in which users or visitors scroll further down the screen than it originally expected.
All KPIs in the dashboard – except excessive scrolling – allow you – as the website administrator – to view sessions where any of these user experience challenges occurred. This will enable you to start hypothesizing precisely how to solve them.
2. Session Recordings
You can re-watch user sessions one after the other via Clarity Sessions Recordings. Every recording includes more than a few metadata, such as the user's operating system, location, and browser. You will also access several session data such as time on site, the number of pages viewed, etc.
Within every recording, you will be able to see even more details of the timeline, such as time per page and a page-by-page list of main navigation events. You will even be able to neglect inactivity when watching back sessions in order to see those major click events you need to efficiently optimize for the future.
3. Heatmaps
The Clarity heatmap tool compares incredibly well to every other heatmap solution. It conveniently segments sessions by device and then combines clicks at this particular level.
And from here, you can navigate to a mobile, tablet, or desktop viewport in order to see the intensity of clicks onto every website element.
Users can see their most popular page elements from here as well as clicks on unlinked elements, and so much more.
Heatmaps currently include tap events and clicks. However, scroll events seem to be in the pipeline. And as soon as this is implemented in the interface, it will give room for free scroll depth reports. This ensures most web visitors see your most important content.
So in simple words, Clarity web analytics allows you to do the following:
See precisely what clicks with your web visitors using free heatmaps and session recording. Free heatmaps and session recordings are some of the critical capabilities of the insights dashboard. Heatmaps provide a visual method of examining vast numbers of user interactions in two distinct forms: scroll maps and click maps.
Utilize the insights dashboard in order to view overall website performance. This is where you get a comprehensive or in-depth understanding of the traffic on your website.
You will be able to see precisely how many users clicked on non-existent links, how many visitors scrolled down or up a particular page in search of relevant information they couldn't find, etc.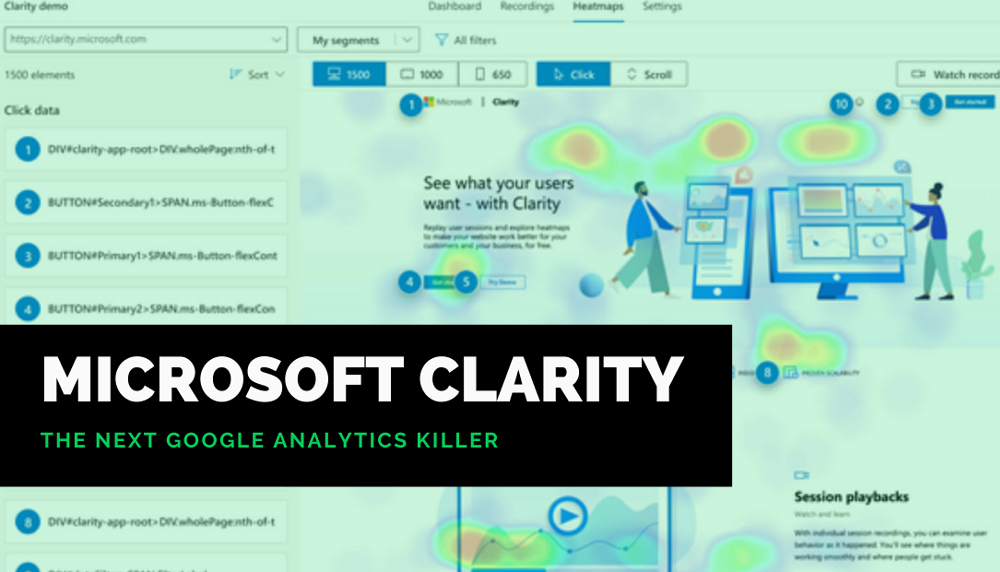 Align your expectations with any observations you make using session playback. You will have access to a filtering mechanism that allows you to slice recordings. This enables you to get as granular as you like about the recordings you want to select.
The developers have employed machine learning in order to discover patterns in session recordings.
As you can see, Microsoft Clarity web analytics comes fully featured and can be adopted as your primary or go-to web analytics tools. This is incredibly true if you have a very complex website with active marketing campaigns, multiple goals as well as several moving parts.
Why Should You Use Microsoft Clarity Web Analytics?
You should consider using Clarity web analytics because it is free. You don't have anything to lose but everything to gain when you implement it.
Microsoft Clarity web analytics works straight out of the box. All you need to do is install it on your site using a WordPress plugin of Google Tag Manager, and you are ready to deploy.
Here are some other reasons why you should consider using Microsoft Clarity web analytics:
No data sampling
Clarity web analytics does not make use of data sampling. This implies that you will always get massive data that you need to enable you to make significant, informed decisions for your site.
Unlimited
There are no traffic or website limits. This means that you can even leave it running on your site without worrying about the free heatmaps and session recording timing out.
Real-time data processing
Microsoft Clarity web analytics processes data in near real-time. This means that you do not have to wait for long periods for data.
Designed to be user-friendly and easy on your site
The developers have designed Clarity web analytics to be incredibly simple and user-friendly for techies and non-techie individuals. It is designed to have a shallow impact on page load times to ensure that users who navigate to a website won't have to wait for long periods just for a page to load.
Permission Levels in Clarity Web Analytics
There are virtually 2 roles available in Microsoft Clarity web analytics:
Admin: This individual has access to projects. There can also be more than 1 admin.
Team members: They have 'Read and Write' access to projects.
Here is a more detailed view of permission in Clarity web analytics:
| | | |
| --- | --- | --- |
| Actions | Admin | Team member |
| Change roles | Yes | No |
| Add a team member | Yes | No |
| Remove a team member | Yes | No |
| Delete a project | Yes | No |
| View Heatmaps | Yes | Yes |
| Delete Heatmaps | Yes | Yes |
| Save filters | Yes | Yes |
| View recordings | Yes | Yes |
| Access saved filters | Yes | Yes |
| Share Heatmaps | Yes | Yes |
| Update filters | Yes | Yes |
| View shared Heatmaps | Yes | Yes |
| Manage settings | Yes | No |
| View shared Recordings | Yes | Yes |
Comparison: Clarity web analytics vs. HotJar
If you are a savvy digital marketer or entrepreneur, it is highly likely that you have come across or heard about HotJar. HotJar is a user feedback and behavior analytics service that helps users understand each behavior of website users. Users of this service will be able to get feedback via tools such as free heatmaps and session recordings as well as surveys.
When you compare Clarity web analytics to HotJar, not much is left in it. The closest plan to the new kid on the block, especially in terms of features, is HotJar Business.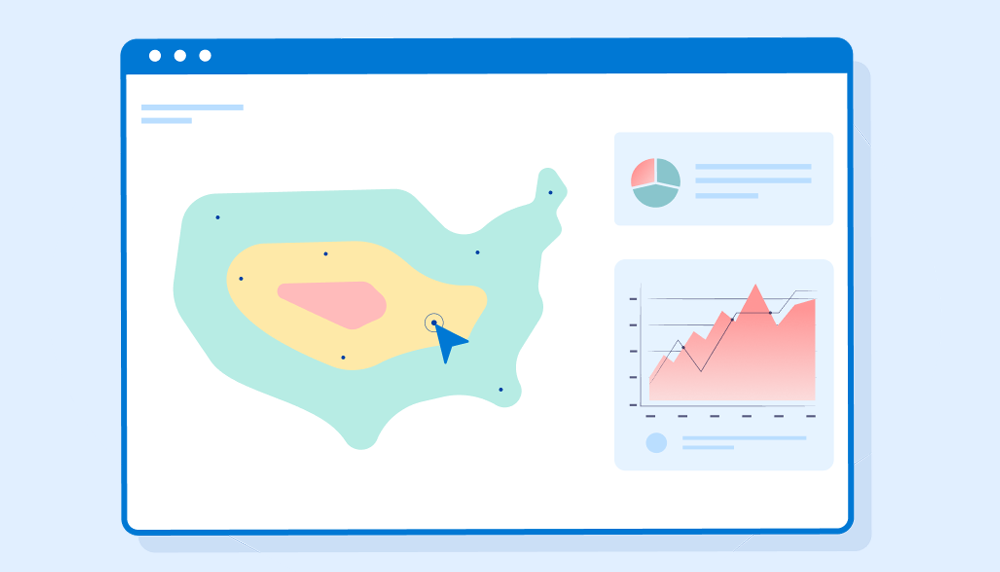 This plan offers the same continuous and unlimited heatmap and session replays as Clarity web analytics. The only bonus included is that the plan provides feedback widgets and user surveys. You may have to pay for that particular privilege as the HotJar Business plan starts at $99 per month.
Comparison: Microsoft Clarity Web analytics vs. Google Analytics
Both of them swiftly analyze user behavior. The only difference between them or what sets them apart is precisely how they analyze those user behaviors.
Google Analytics, the old-timer that has been in the game for a very long time, provides user behavior metrics. On the other hand, Microsoft Clarity web analytics only provides user behavior visuals.
When you combine these 2 sets of data, you can create an immensely powerful or robust website data analysis suite.
Do you know that you can connect your Clarity web analytics to Google Analytics? Clarity makes use of custom dimensions in order to pass session recording URLs to Google Analytics. This implies that you can easily attribute those sessions with low engagement to recordings in Clarity. This is amazingly great for understanding even more about user behavior.
Where Does Clarity Web Analytics Fit in The Marketing Technology (Martech) Landscape?
Clarity web analytics hit the market just when Google Analytics 4 underwent a thorough update. This contrast is rather astonishing due to a few changes.
For instance, Google has included machine learning in its reporting. But Microsoft leaned towards basic heatmap and page metrics in order to support its user-friendly formula. Nevertheless, both applications have great merit.
In terms of popularity among specialists, marketers, etc., a usage clash is not readily envisioned. Google has enjoyed massive success in building an ever-developing ecosystem around Google Analytics.
And the tech company has extended this tool's reach from digital ads at one end while Google Data Studio is at the other end. There is also an influx of a plethora of third-party auxiliary solutions positioned between those ends.
But in contrast, Microsoft did not integrate any other platform into Clarity. Yes, it may just have glided out of beta. But Microsoft lays much emphasis on simplicity by providing simple-to-use features well suited for straightforward UI tasks. There is no doubt that both apps will assist marketers in getting digital customer experience right.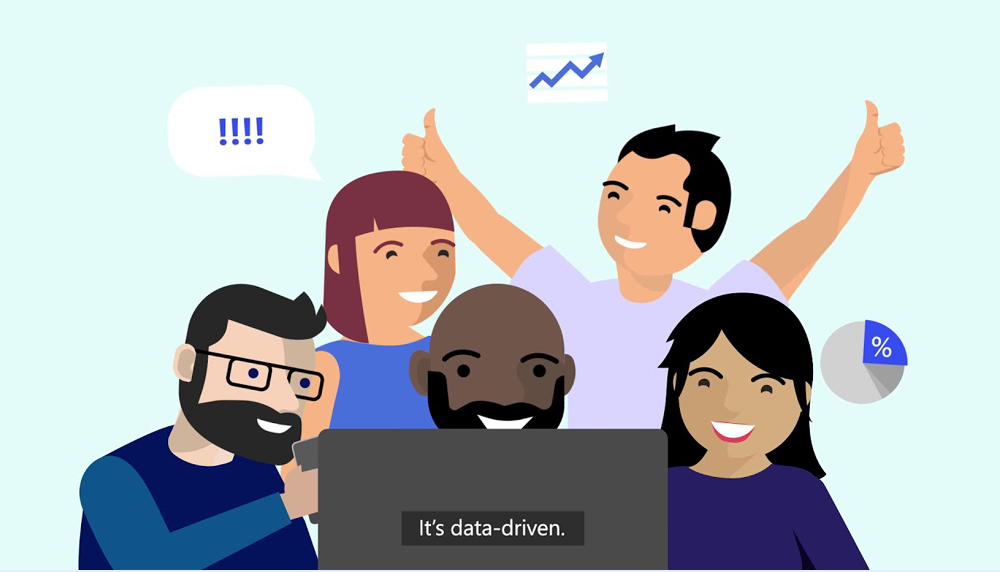 For any savvy marketer's Martech plan, Clarity web analytics may be used alongside Hootsuite or other simple dashboards in order to develop ideas that will refine activities related to a digital presence.
What is more, Microsoft Clarity web analytics is free. All marketers need to add a script to a particular page in a similar fashion to any other web analytics solution. Check the live demo on the Microsoft Clarity website in order to see precisely how the features work.
Some marketers still state that the Microsoft Clarity web analytics tool's current version is not powerful enough to replace its #1 rival, Google Analytics. Nevertheless, it is a fantastic extension to any existing web analytics platform you currently use.
From all indications, Microsoft Clarity web analytics is giving Google Analytics a run for its money. This is more evident as many other companies like Cloudfare, etc., are presently taking advantage of the web analytics market. Google Analytics needs to re-think its strategy and up its game in order to retain its hold on market share.
The best news is that Microsoft Clarity is free, and despite offering solid features, you can incorporate it seamlessly. Marketers planning 2021 strategies may be able to utilize these innovative features after a pandemic-laden 2020.
2022
1
0
cookie-check
The Launching Of Microsoft Clarity Web Analytics – Free Heatmaps And Session Recordings