About WordPress.
The beauty of WordPress is how easily customizable it is. Depending on the theme of the project, you can easily transform a blank WordPress template into a mesmerizing website. Of course, it's not as easy as it sounds, and while there are many WordPress tips and tricks online that will help you create a fantastic-looking site, you're better off hiring a web developer to save time if you have the budget. What's more, you can expect a user-friendly website without worrying about the tiny details of the development process.
About Prometteur Solutions
Here at Prometteur Solutions Pvt Ltd, we tailor amazing websites that encapsulate your brand's message. Our team of highly skilled developers delivers technology-empowered solutions, so you can entrust the heavy lifting to us. As an example, here's a Clutch review that we've received from one of our clients: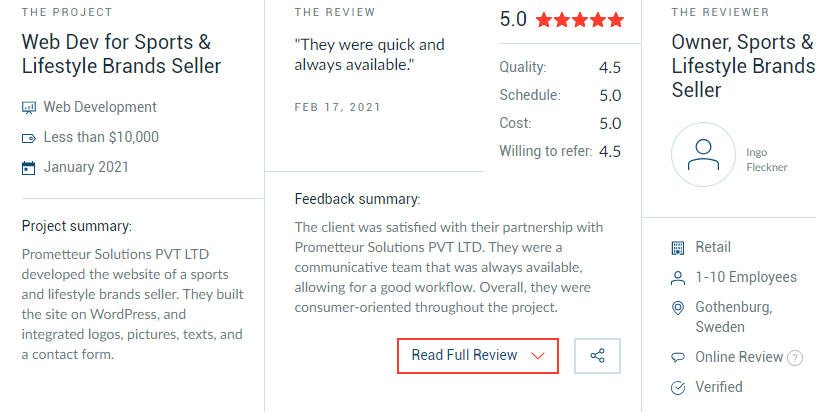 We've worked with a sports and lifestyle brand sales agency to create their website using WordPress. Now, before we discuss the details of this engagement, let's first get you caught up on what Clutch is. Essentially, Clutch is a ratings and reviews platform in the B2B space. However, unlike any other typical rating website out there, Clutch imbues the typical reviews process with a personal touch. Their analysts often speak with a company's clients directly, gathering feedback that is insightful and offers a true window into a partnership with that firm.
Clutch uses this research to organize the thousands of companies on the site into a directory with multiple shortlists, guiding buyers in their decision-making process.
In the review above, our client wanted a functional and presentable online hub. They knew they preferred WordPress, but with just a blank template, it was indeed a challenging task, so they asked us to handle the process for them. All in all, the deliverables include a comprehensive WordPress website, logo integration, pictures, text, and a contact form.
With the experience of our team, we were able to deliver the product in no time. Suffice to say, the client is satisfied with the results.
For more details about our previous and ongoing projects, check out our Clutch profile. Also, The Manifest, in connection with Clutch, is a company description site where you can find details about specific service providers in your chosen market.
Also, check our case-studies
Lastly, if you want to work with us, feel free to leave us a message.
2791
0
0
cookie-check
Prometteur Solutions Pvt Ltd. Earns First Exclusive Review on Clutch