Are you looking for a top Shopify Development Company for your business? If yes, then you are about to be regaled with several top-notch Shopify development companies in India. But why Shopify, you ask?
Brief Info About Shopify
Shopify is a cloud-based eCommerce or shopping cart solution. It is essentially a SaaS and enables businesses worldwide and across several industries to set up eCommerce stores to sell their products effectively and efficiently.
Shopify has emerged as one of the top eCommerce platforms within the digital domain. Users of this platform have been able to grow and manage their online stores efficiently.
Shopify currently has a 3 percent market share of the content management system (CMS) and up to 2.5 million sites powered by the cloud-based platform. Most sellers allege that Shopify is the best eCommerce platform for selling.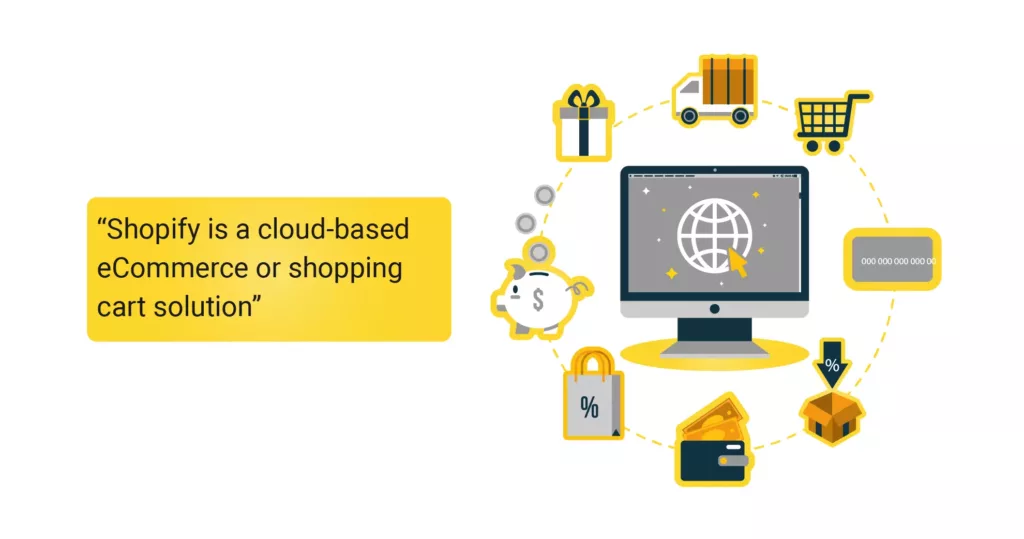 For instance, in 2020, Shopify became the second-most popular eCommerce Content Management System. It is increasingly popular, and there is no sign of slowing down.
Shopify has a drag-and-drop interface that houses several unique, eye-catching, or appealing themes and designs. This makes it easier for entrepreneurs, especially newbies or beginners, to set up the eCommerce website quickly.
Shopify remains an excellent option for one-click selling and even allows social selling as well as multiple channels. Websites built using Shopify takes moments to load on browsers. And it also provides POS for original brick-and-mortar stores, including the unique feature of mobile application payments.
One of the most appealing things about Shopify development is that the platform comes with several pricing plans with different sets of features that fit in remarkably well with businesses across industries and all sizes.
Many businesses have jumped onto the internet to sell their products via the Shopify platform. Some of the interesting and popular businesses include:
Watch Outfitter
The Candi Factory
Novo
The Economist
BBC
Zero Gravity
Wolf Circus
Penguin Books
Bulletproof
Heinz
If big brands can use Shopify to boost their online presence and do business on the internet, then it means you are on the right path of making the same impact.
Top Shopify Development Companies
To assist you in your search for a top Shopify development company for your Shopify project, a list of the best Shopify development companies located in India has been compiled for you.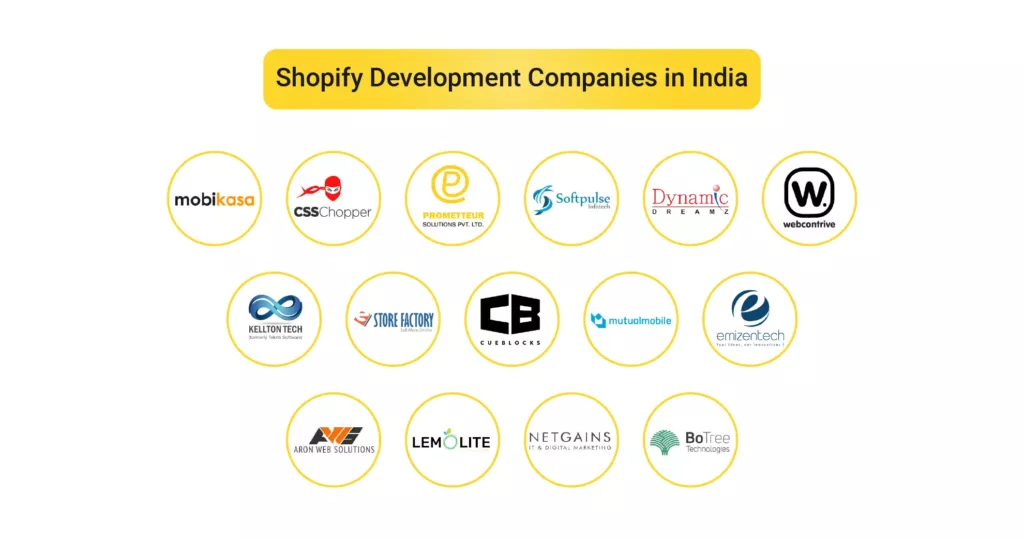 Go through their respective descriptions, customer reviews or feedback, as well as awards to find the most suitable company for your organization's needs.
1. Mobikasa
Established in 2008 in New York, Mobikasa has expanded its services to London and New Delhi, India. It offers á la carte and full-service solutions for web and mobile development, engineering, design, and eCommerce projects like Shopify app development, etc.
Mobikasa helped an eCommerce flower business hit the ground running by developing a Shopify site from scratch. And as soon as the Shopify development was done and the site launched, the flower shop was heavily inundated with massive orders.
2. CSSChopper
CSSChopper is a renowned conversion service provider established in 2009 in Noida, India, with an office in the United States. The team of 5 specializes in e-Commerce development, web development, as well as custom software development. The firm serves mid-marketing clients in the government, transportation, and business services transportation industries.
CSSChopper was able to develop a PHP site for a real estate startup. The team creatively designed the interface as well as numerous features and pages. They also created search engine optimized content, and overall, the client was visibly impressed with the team's work.
3. Prometteur Solutions
This is a well-established IT company with years of experience and a team of professionals in India. They handle not only Shopify development but also app development and content needs for websites and business owners.
The team of experts uses the latest technology coupled with innovative ideas to handle your projects from start to finish. They work with clients from different industries and niches with customization available to suit clients' needs.
They have delivered outstanding websites to clients in the fashion, luxury, tech, education, and legal backgrounds just to name a few. A brief consultation is all you need to kick start the execution of your project with this amazing company.
4. Softpulse Infotech
Softpulse Infotech is an IT firm that specializes in Shopify development, mobile apps, and eCommerce. It was established in 2011 and is based in Surat, India, with Windsor and Toronto offices in Canada and Munich, Germany.
Softpulse Infotech has a team of 10 resourceful and well-trained employees. The services they provide include web design, web development, and eCommerce development.
Softpulse Infotech was once tasked with building and designing a user-friendly website for a fashion store. The website was created successfully and gave the brick-and-mortar store an online presence as well as a brand-new way to engage actively with customers, thereby selling lots of products to all and sundry.
5. Dynamic Dreamz
Dynamic Dreamz is a web design and development company headquartered in Surat, India. It was established in 2004 and currently has a team of almost 60 highly-trained and professional employees that most work on small and mid-market businesses. The development company works primarily in the business services and consumer product industries.
Services that Dynamic Dreamz offer includes web design, eCommerce development, Shopify app development, mobile, and web app development.
Dynamic Dreamz is presently the development and design arm of a startup tech company in the United States. The team builds user-friendly websites for tech startups' clients using PHP and WordPress. It is an ongoing partnership that the startup has found to be highly beneficial due to Dynamic Dreamz's low cost, expertise, openness to feedback, and creativity.
6. WebContrive Technologies PVT Ltd
WebContrive is a digital agency based primarily in Surat, India. The company's team of 19 has been specializing in web and eCommerce development for businesses of every size since 2014.
WebContrive is most known for handling a Shopify development project for a design studio. The studio wanted a Shopify store and turned to WebContrive for help. And the digital agency did not disappoint as they went far beyond expectations, working on the functionality and design of the store, which is now loved and patronized by customers.
7. Kellton Tech Solutions
Kellton Tech Solutions is an international IT outsourcing firm established in 1993 and has its headquarters in New Brunswick, New Jersey. It also has technical and development centers in McLean, Va. Gurgaon, India, as well as Hyderabad, India. The firm has more than 850 employees, and its specialties include:
Custom software development
IT strategy
ERP
IT managed services
Kellton Tech Solutions once rebuilt a mobile and web app for a courier management software firm. It delivered a web-based host platform as well as native mobile apps. The new application ratings have significantly improved, and there are now very few performance issues since the firm was hired.
This is a testament to how versatile, innovative, and resourceful when dealing with clients' projects.
8. eStore Factory
eStore Factory is an eCommerce consultant with less than 250 employees and headquartered in Ahmedabad, India. The firm has a secondary office in Craigieburn, Australia and, was founded in 2014. eStore Factory offers eCommerce development, social media marketing, and SEO to clients in the eCommerce industry.
eStore Factory provided SEA and SEO services to an eCommerce firm. The client's goal was to achieve higher rankings on Amazontoo reach end clients. eStore Factory made the magic happen, and the client saw sales double and even triple within 1-2 months of service delivery.
9. CueBlocks
CueBlocks is a digital agency founded in 2005 and has its headquarters in Chandigarh, India. The agency has up to 45 employees that serve numerous eCommerce clients from around the world. It provides services for eCommerce development, UX/UI design, as well as graphic design.
CueBlocks recently completed a Magento 2 migration and even launched the website. Not only was the outcome visually appealing, but the agency generated up to 2 percent conversion within a niche industry.
10. Mutual Mobile
Mutual Mobile is a digital and development products company founded in 2009. It has its headquarters in Austin, Texas, and a satellite office in Hyderabad, India. The development company has more than 170 well-trained employees across locations. Mutual Mobile is known for offering AR/VR, IoT, web, and mobile app development.
The company once developed an iOS mobile application that allows children to track their screen time. The client is an organization that creates parental control solutions to help parents monitor the activities of their children online. And the organization is visibly impressed with the outcome of the initial internal testing as well as feedback.
Mutual Mobile delivers on time and within budget, which is why clients flock to the development company every year.
11. Emizen Tech Private Limited
Emizen Tech Private Limited is an eCommerce development firm established in 2013 and based in Jaipur, India. The firm has a team of 58 highly trained and experienced employees in eCommerce or Shopify development.
The eCommerce development company mostly serves small business clients in the retail, entertainment & music, consumer products & services,, and art industries.
Emizen Tech Private Limited once assisted a real estate firm by building a WordPress site and customized it using PHP coding. They also designed the graphics and logo for social media. They are presently providing an admin assistant who will be in charge of upcoming marketing campaigns.
12. Aron Web Solutions
Aron Web Solutions is a development firm that specializes in web development, Shopify development, and SEO. It has its headquarters in Mohali, India, and works principally with small businesses within the retail industry.
Aron Web Solutions developed and designed an SEO-friendly eCommerce website for a business catalyst firm. The platform featured database management and served as the business's key website in their portfolio, enabling them to earn referrals.
Aron Web Solutions delivered this service on time at a pocket-friendly price without skimping on their strong graphic art design skills.
13. Lemolite Technologies LLP
Lemolite Technologies LLP is an eCommerce development company based in Ahmedabad, India. The firm has a team of about 4 experienced employees that mostly provide Shopify development. They are versatile and can also handle mobile and web app development.
Lemolite Technologies LLP once developed an eCommerce store for a jewelry retailer. They branded the company from top to bottom, right from naming to logo design, etc. And then, they created a sophisticated marketplace that is presently generating massive sales daily.
14. I Love Fashion Retail
I Love Fashion Retail is a marketing and design studio founded in 2014 and based in Mohali, India. It has up to 5 employees specializing in mobile application development, eCommerce development, and UX/UI design services for fashion brands.
I Love Fashion Retail built an eCommerce jewelry online store for a fashion company. The firm was tasked with taking charge of the development and design of Shopify templates as well as site functionalities and customizations that readily displayed the brand's identity.
The design and marketing studio continues to provide maintenance and web development for their clients around the world.
15. BoTree Technologies
BoTree Technologies is a versatile development company founded in 2013 and based in Ahmedabad, India, with a satellite office located in Clarks Summit, Pennsylvania. The development firm has a team of nearly 60 employees and mostly serves startups and small businesses.
BoTree Technologies specializes in the development of cross-platform and hybrid apps as well as eCommerce sites on Shopify and Magento.
BoTree Technologies built groundbreaking influencer marketing campaign management software for a marketing software firm. The team used JQuery, Ruby on Rails, and Coffee Script to develop the platform. The project also included social media APIs and user-profiles, and the platform was hosted on Linux and AWS.
So, there you have it: the top Shopify development companies in India. As mentioned earlier, browse through their offers, descriptions, customer reviews as well as awards.
You should only opt for a Shopify development company that meets your needs and is budget-friendly. Since they already have a proven track record of success – or else they wouldn't be on this list – you can get in touch with their customer service.
This will help you gauge just how fast their response is when dealing with you or your organization. And you may end up learning a lot more about doing business using Shopify.
2895
1
0
cookie-check
Shopify Development Companies In India