Ruby on Rails software development is increasingly becoming popular these days. More and more Ruby companies are working on projects that require the use of this software. Startups, medium-sized businesses, and large corporations also focus on Ruby on Rails software development for some of their tech-related projects.
And this is because Ruby on Rails provides these businesses with quick, scalable, feature-rich, and marketable applications. This is why it makes a lot of sense to search for the top Ruby on Rails development companies for your next web or mobile app development project.
In the next section, you will come across the top Ruby on Rails development companies that you can get in touch with, hire, and work with for your next Ruby project.
Take note that these companies are arranged in no particular order and are compiled based on clients' feedback, the number of projects handled and successfully delivered, reputation in the industry, etc.
Therefore, without further ado, here are the top Ruby on Rails development companies today.
Top Ruby on Rails Development Companies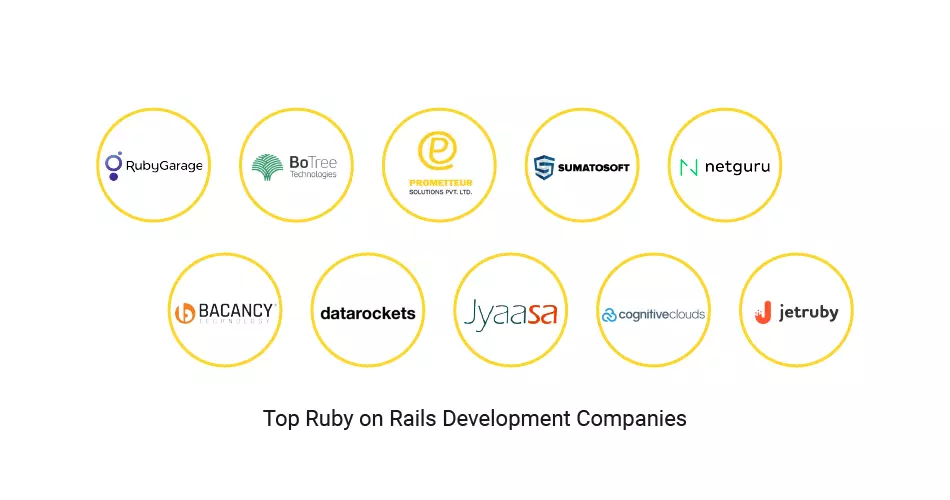 1. RubyGarage
RubyGarage is another professional Ruby on Rails development company operating in the tech domain for more than 7 years. The company builds feature-rich and visually appealing mobile and web Ruby applications. It also has a powerful presence worldwide with its exceptional and highly experienced in-house team of 60+ expert developers.
RubyGarage is one of the Ruby companies that build highly functional applications for businesses of all sizes. The company loves working actively with Ruby on Rails, and its official website showcases an excellent portfolio to be proud of. Clients can go through this portfolio in order to confirm the deliverability and authenticity of this tech company.
RubyGarage also has architects that work extensively with numerous high-load systems.
2. BoTree Technologies
BoTree Technologies is one of the most prominent Ruby on Rails companies with more than 10 years of experience working with more than 100+ clients in 10 different countries. The company has a team of 30+ Ruby on Rails professionals who have successfully built and delivered first-class Ruby apps for healthcare, eCommerce, insurance, entertainment, travel, finance, logistics, etc.
The overall competency of this Ruby on Rails development company lies heavily in its Ruby on Rails consulting. It guides clients like you through the entire software development process as well as delivers products within your desired or expected deadline.
BoTree Technologies is one of the best and top Ruby on Rails development companies that also build web applications. You can hire and work with the company's Ruby on Rails expert developers in India, Europe, the United States, Australia, Singapore, the UK, and Canada.
3. Prometteur Solutions Pvt. Ltd.
Prometteur Solutions Pvt. Ltd. is also one of the top Ruby on Rails development companies today. The company, established in 2013, has its head office in Pune, India, and provides services such as:
Web Development
eCommerce Development (Shopify, Oracle eCommerce, osCommerce, WooCommerce, etc.)
Web Design (UX/UI)
Mobile App Development, etc.
Prometteur Solutions provide workable Ruby on Rails solutions to small and medium-sized businesses as well as large establishments. They have provided exceptionally unique solutions to numerous industries – thanks to their highly experienced in-house team of developers – such as:
Transportation
Retail
Manufacturing
Real Estate
Education
Software/Technology
Art/Gaming and Entertainment/Music, etc.
Prometteur Solutions is proficient with the following frameworks, programming, and scripting languages:
Ruby on Rails
Joomla
Java
Laravel
Objective C
Drupal
PHP
Swift
WordPress, etc.
As you can see, Prometteur Solutions has all it takes to handle any tech-related project, especially if it is related to Ruby on Rails web and mobile app development.
4. SumatoSoft
SumatoSoft is a custom Ruby on Rails development company that provides a wide range of services such as:
UX/UI design
MVP development
Prototyping
Business analysis
Mobile app development
Web development
Quality assurance and testing
SumatoSoft also builds custom software and ultimately delivers turn-key projects to small and medium-sized startups and enterprises. It is a popular and trusted software development firm with pretty solid experience in providing high-quality, specialized solutions to multiple business domains such as Healthcare, Fintech, Adtech, Transport & Logistics, Education, Media, etc.
5. Netguru
This list of the top Ruby on Rails development companies will not be complete without mentioning Netguru. This company builds digital products for users to do things somewhat differently. It delivers these digital products for startups, Fortune 500 establishments as well as popular brands in order to help them solve real-world problems via software and product design.
Netguru has helped to scale startups as well as small-scale businesses. The company is a custom Ruby on Rails development company that makes use of the best frameworks for building your web apps that meet the product requirements of clients.
Netguru's clients have successfully changed how most people listen to music, learn languages, do banking, rent bikes, etc. And its product has been featured on Business Insider, TechCrunch, and Product Hunt.
6. Bacancy Technology
Bacancy Technologies is one of the top Ruby on Rails development companies globally and has its headquarters in Ahmedabad, India. The company is widely known for strictly following the best industry practices, the latest technologies, and building highly profitable applications.
Bacancy Technology has an in-house team comprising 40+ highly skilled Ruby on Rails specialists, coders, designers, engineers, and Ruby consultants who have successfully served more than 50+ clients worldwide. These professionals collectively work on web app development using Ruby on Rails.
This is one of the Ruby companies specializing in developing applications for industries like Entertainment, FMCG, Technology, Automobile, etc.
7. datarockets
datarockets is a Ruby on Rails development company that consists of 20 in-house and experienced developers working remotely from Eastern Europe and Canada. The company was established in 2014 and has successfully developed more than 30 high-quality and highly scalable custom software and apps for early-stage businesses or startups as well as medium-sized businesses.
datarockets' primary value is transparent and honest cooperation that results in long-term partnerships. The development company is not only an outsourced Ruby on Rails development resource, but it is also a dedicated product development company.
8. Jyaasa Technologies
Jyaasa Technologies is a versatile Ruby on Rails software development company. The company innovatively transforms ideas or concepts into real-time or real-life products, thereby giving all their clients the ultimate online experience.
Jyaasa Technologies has a professional Ruby on Rails team who are experts at building innovative, world-class mobile and web applications. They are highly proficient in React JS, Ruby on Rails, and React Native. The team also specializes in building exceptional digital products for early-stage businesses and startups.
Jyaasa Technologies is also passionate about building, designing, developing, or designing custom web and mobile applications that do remarkably well in the digital universe. The primary goal of this Ruby on Rails development company is to provide their clients with top-notch benefits and tools as well as environments to work in safely while staying sustainable.
9. CognitiveClouds
CognitiveClouds is one of the best Ruby on Rails development companies that focuses on assisting companies as well as startups by creating first-class Ruby on Rails apps. The team of Ruby on Rails experts at CognitiveCloud is highly experienced in web development. They help startups make products that enable the startups to raise millions of dollars in funding and achieve astronomical sales targets within a short period.
CognitiveCloud also serves clients in industries like Travel, Agriculture, Healthcare, etc. And the company's developers love building highly visual, powerful, and appealing Ruby on Rails web apps.
10. JetRuby
JetRuby is one of the qualified and well-established mobile and web app development companies that heavily use Ruby on Rails for nearly all development processes. The company is known for using disruptive technologies to serve clients' dedicated needs by building world-class Ruby on Rails applications.
JetRuby also builds first-rate Ruby on Rails web applications for industries like Hospitality, Healthcare, Entertainment, etc. It focuses solely on delivering highly valuable Ruby on Rails apps to small businesses, startups, as well as large-scale organizations.
Why Ruby on Rails is Still an Excellent Choice in 2021
Before revealing why Ruby on Rails is still an excellent choice for anyone looking to build a web and mobile application, it makes sense to answer the question: "What is Ruby on Rails?"
First of all, Ruby is a general-purpose, interpreted, and dynamic language for object-oriented programming. It is human-like and resembles the English language, which is why it can be understood by any person who doesn't even know how to code or program.
Ruby is the 13th most popular programming language in the TIOBE index. This index shows precisely how popular a particular programming language is, based on the SERP results.
But Ruby on Rails is a web development framework – written in the Ruby language – and is used for web and mobile app development. It was developed in order to make the programming of web applications faster and easier, thereby helping to create websites, irrespective of their complexity.
The framework came on the tech scene in 2005, bringing a fresh and innovative approach to building web apps.
Ruby on Rails is best used for the following projects:
Informational portals
Social networks
Ad platforms and dating
SaaS solutions
Stock exchange platforms
Online stores with sophisticated options
Non-standard complex projects
Ruby on Rails continues to be popular despite the increasing growth of Node.js, which is an open-source, cross-platform JavaScript environment.
Why Ruby On Rails Is Important
Now since all that is out of the way, here is why Ruby on Rails remains an excellent choice for your business in 2021: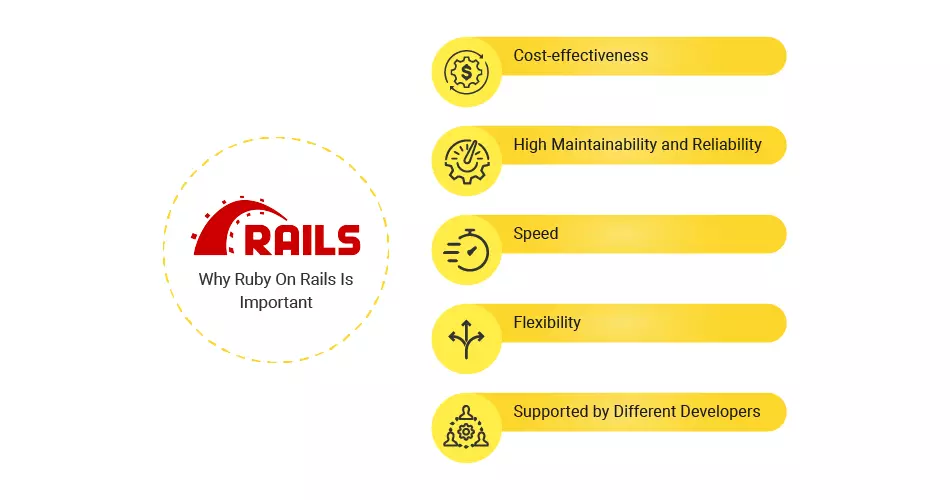 Development time is the client's money, and the more time development takes, the more expensive it will be. Due to the speed with which Ruby on Rails sites can be created and modified, less of the client's money is spent building and maintaining them.
Take into account that the app is appropriately designed and the entire development process is set correctly. Moreover, Ruby on Rails is an open-source framework which means the overall absence of licensing costs.
High Maintainability and Reliability
The stability attribute is highly crucial for most businesses. Ruby on Rails development generally uses the test-driven development (TTD) approach. And the toolkit always supports extensive testing capabilities.
This means that every Ruby on Rails-backed solution is maintainable and very stable. The framework itself is covered by automatic tests, making it highly reliable.
Ruby is a simple, logical, and clear programming language with a leaner code-base, which allows for fewer lines of redundant codes. This results in accelerated development speed.
It also helps developers save a lot of time while coding and providing much better solutions. Although it may require less code, the functionality still remains the same.
The Ruby on Rails framework is highly flexible and allows users to adapt sites to numerous updates related to the innovations within business processes. Ruby is a flexible and incredibly expressive language that makes it possible to figure out the same problem in several ways.
This gives developers a lot of opportunities and freedom to find the solution that is best suited for a particular project.
Supported by Different Developers
Ruby code is mostly self-documenting and readable. And since developers that use the programming language are now spared of the basic need to write even more documentation that they have to, they can easily pick up already existing projects on the go.
Over 90 percent of Ruby web applications that are written use the Ruby on Rails framework. This implies that Ruby on Rails provides a wide variety of integration in order to meet the requirements of any project.
Every project is usually well structured such that what new startups have chosen and developers can quickly get up to speed with the details of the project right from the get-go.
This means less downtime for your business, especially if you need to find a new startup development and Ruby on Rails developer for an existing web development project or hire new ones in order to expand it.
Settling on just any of the average Ruby companies out there is a recipe for failure. If you want the best Ruby on Rails app, it is highly essential that you search for the top Ruby on Rails development companies.
Get in touch with and hire any of the top Ruby on Rails development companies listed in this guide. And you will never have to complain about your Ruby on Rails product!
2910
1
0
cookie-check
Ruby on Rails Development Companies 202