Are you looking for any of the top VueJS Development Companies in India? VueJS is an open-source, progressive front-end framework used for creating single-page applications and user interfaces.
A basic understanding of CSS, HTML, and JavaScript will enable you to start building an app using the VueJS framework. It is one of the newest software technologies widely employed in the web development universe.
It is also a perfect choice for building healthcare applications, eCommerce stores, and financial software. This is possible because JavaScript, the best language for building responsive and elegant front-end applications, is widely utilized.
To build an awesome product, you need an amazing VueJS development team. This is why you need to work with any of the top VueJS development companies with an expert team of experienced VueJS developers. The developers must be proficient enough to create high-performing and highly scalable – yet lightweight – user interfaces.
The top VueJS development companies have professional teams that fully understand the potential of this remarkable JavaScript framework. Delivering an expected output with 100 percent satisfaction is their #1 goal each time they deal with any client from any part of the world.
Therefore, you should expect nothing less when dealing with VueJS developers that provide innovative solutions, thereby bringing smiles to your face. And since the developers cater to different business verticals, they should have no challenge bringing your ideas or concept to life.
Why Should You Choose VueJS?
VueJS comes packed with an overabundance of features and benefits that make it highly suitable for businesses across industries or of all verticals. The following are some of the benefits that VueJS brings to the table: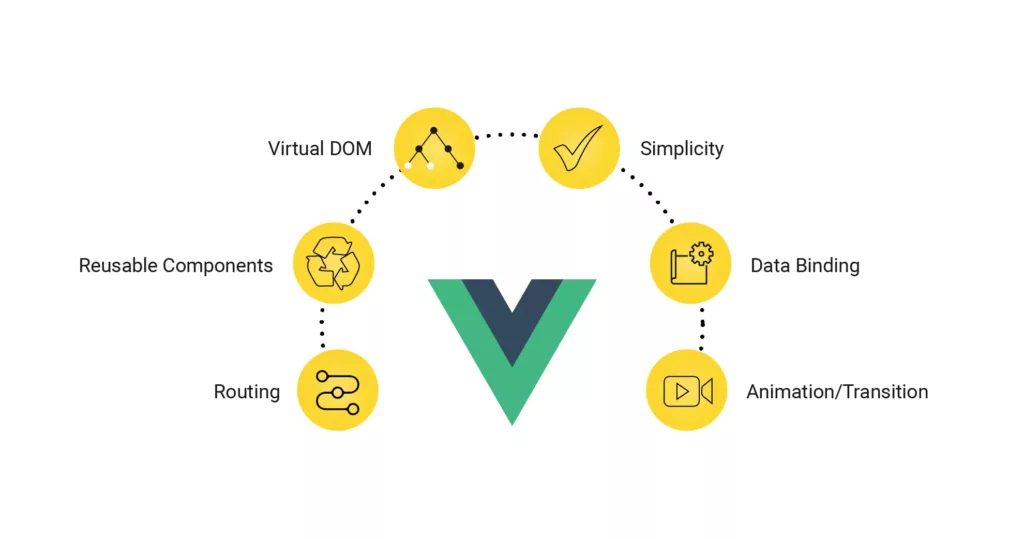 VueJS operates optimally via virtual DOM. This means that if you make any modifications during its development, it will never reflect on the DOM.
VueJS also allows savvy developers to play with its features and see the significant improvements in the UI design while handling every other thing economically.
Digital marketing agencies or companies find VueJS user-friendly and its documentation well prepared. This helps developers write easily readable but powerful code. It also provides simplicity and elegant architecture.
VueJS technology divides an application into several components which can then be used for providing the same functionality later on in the process.
VueJS makes web application development much quicker, free of bugs, and precise. And this means your project will be delivered within the specified period.
VueJS uses Vue-router as an artificial hash-based address package to enable connection sharing as well as bookmarking Single-Page Applications.
VueJS offers developers a wide variety of ways to switch over to HTML elements from DOM while updating or adding more simultaneously. The open-source framework also gives room for developers to add animated libraries obtained from third parties to the environment. This results in the creation of more highly interactive user interfaces.
Top VueJS Development Companies in India
The performance and versatility of VueJS appeal to businesses of all verticals, which is why they consider it for their next app development project.
Therefore, here is the list of the top VueJS Development Companies in India that are also versatile in UI Design and Development using the open-source framework. Take note that they are arranged in no particular order and does not imply that one VueJS company is better than the other:
1. Experion Global
Experion Global is a VueJS development company that offers custom development services designed to disrupt entire industries. Located in Kerala, India, this company with 500-1,000 employees has served several startups and large organizations, up to 300 customers in about 32 countries.
Experion Global has been in business for 14 years and always leaves their numerous clients much better than they found them. They achieve this by the value the company is based on which are:
Professional competence: Work or act to your best to deliver the best.
Integrity: Always do the right thing. Honesty is the most important virtue in business
Punctuality: Discipline is highly crucial in work while working as per the schedule or being on time is critical for business.
Empathy: Value the client as well as the employees
Respect for individuals: All differences and diversities need to be respected.
Emperion Global offers the following top-notch services:
Product Engineering: Product Development, UI/UX services, Mobile Enablement, Maintenance, Product Testing, Technology Modernization, etc.
Enterprise Software Development: Application Development and Maintenance, Business Intelligence, Independent Verification and Validation, Application Modernization, Technology Consulting, DevOps, etc.
Digital Transformation: IoT, Consulting Services, RPA, and Blockchain.
Data and Analytics: Data Strategy, Cloud, Data Management, Visual Analytics, etc.
UI/UX design: User Research and Analysis, Interaction Design, Wireframe Prototype, UI Design or Development, Usability Testing, etc.
Startup IT: Product Development, Maintenance and Support, Product Lifecycle Management Services, Testing and QA, etc.
Emperion Global received an award and was duly recognized by Clutch, INC 500, Deloitte Tech Fast 50, APAC CIO Outlook, and so many more. They offer the following development services:
Artificial Intelligence
Robotics
Cognitive Computing
Application Services
Internet of Things and Connected Devices
Product Engineering, Development & Reengineering Services
Custom Software Development
Web Application Development
Mobile Application Development.
The staff is versatile, conversant with, and skilled in VueJS jQuery plugin, Node.js, Electron, Microsoft.NET, HTML5, Python, PHP, Laravel, Angular, Meteor.js, React, Golang, etc.
Emperion Global's major clientele include Qatar Airways, Duracell, Shell, Bacardi, Speedo, Ford, Guardian Health, ASK Chemicals, etc.
2. Systango
Systango is a web and mobile application development company that delivers futuristic solutions for businesses across all verticals. It is located in Madhya Pradesh, India but with headquarters in London, they use the VueJS framework when developing these solutions, thereby making them one of the most innovative companies in India. Systango has 51-200 well-trained employees that help in providing the following services:
IoT development services
Web development: web apps, website, ERPs CRMs
Mobile development: iPhone apps, iPad apps with Objective C, Swift, Java, React Native, Android apps
Artificial Intelligence services
Systango believes that an excellent website is a gateway to attracting more prospects, customers, and ultimately more success. By combining strategic thinking, cutting-edge technology, and pragmatic work approaches, the company builds highly compelling apps that perform and shine with zero hitches
Systango offers the following development services:
Mobile Application Development
Enterprise Application Development
IoT
Web Development
Zoho Analytics
Chatbots
AR/VR
Blockchain
Machine Learning/AI/Natural Language Processing
Zoho Offerings
Systango's tech stack includes: Ruby on Rails, Django, PHP, Zend, CakePHP, Android, NodeJS, Struts, JQuery, CodeIgniter, iPhone, React Native, ReactJS, Scala, etc.
The company's major clientele includes Future Bricks, MGM, FlipTrip, Qrunkle, DrinkMate, Zealot, SmilePass, Deloitte, Target, etc.
3. Capital Number
Capital Numbers is the development company that provides businesses with a custom of skilled and experienced VueJS developers for web and mobile application development projects. An ISO 9001 and ISO 27001, it was founded in 2012 and has won multiple awards and several accolades from recognized institutions like Clutch, GoodFirms, CII, Financial Times, Economic Times, etc.
This VueJS development company in India has its headquarters in Kolkata, India with offices in Australia, the United States, and Sweden. They have 201-500 employees well-versed in the following:
SaaS applications
Financial services
Online retail
Travel and consumer
Business information and media
Software and hi-tech
Life sciences and healthcare, etc.
Capital Numbers offers the following services:
Custom software development
Enterprise content management
eCommerce application
outsourced product development
mobile application development
Testing & QA
chatbot development
DevOps
Web application development
Capital Number's tech stack includes VueJS, Yii, PHP, Ruby on Rails, Drupal, Android, Python, iOS, Laravel, Swift, Ionic, Django, ReactJS, AngularJS, WooCommerce, WordPress, Shopify, Node.js, etc.
The company's major clientele includes Grey Advertising, Boston Children's Hospital, Conde Nast, Thomson Reuters, Credit Sesame, AT&T, Land Rover, Dell, Mount Sinai, etc.
4. Affle
Affle Technologies is a global VueJS company that offers customized and robust enterprise solutions for the digital transformation of establishments around the world. it was established in 2005 and is among the top VueJS development companies in India due to its earnest assurance of delivering consumer engagement, transition, and acquisition via technology.
Affle, located in Haryana, India, has 201-500 employees that cover the following services:
iPhone Application Development
Smart TV Application Development
Cloud Infrastructure and DevOps Services
Web Application Development
MEAN stack
Enterprise & Consumer Mobile App Design & Development
MeteorJS
ERP and Workforce Application Development
Mobile Application Development (ReactNative, PhoneGap, Ionic, etc.)
Android Application Development
Affle has worked with and for several industry giants on strict timelines and deadlines. The tech company has experienced and skilled programmers that always make customer satisfaction their #1 priority.
Affle tech stack include: Swift, Kotline, PHP, .NET, React.js, Ionic, PhoneGap, Xamarin, Objective-C, HTML, Laravel, CSS, Ember.js, etc.
The tech company's major clientele includes Coca-Cola, Amazon, Alibaba Group, Etihad Airways, BMW, HCL, Sun pharma, Samsung, Mahindra Comviva, BCCI, Hathway, etc.
5. Impiger Technologies
Impiger Technologies is a VueJS development company that empowers businesses across verticals with digital innovation. The tech company, founded in 2004, offers solutions by implement Cloud, AI, IoT, Mobile, Web, RPA, and AR technologies.
Impiger Technologies has 201-500 employees and is a force to reckon with when it comes to providing an extensive range of services which include:
Robotic Process Automation
Enterprise Application Development
Artificial Intelligence
Strategy and Consulting
Digital Transformation
SharePoint Migration
Cloud Consulting and Migration
Web Development
Content Management Systems
SharePoint Development
Impiger Technologies has never failed in delivering top-notch services that delight its numerous customers. And this has led to an astonishing 90 percent retention rate. The VueJS development company has delivered up to 300+ mobile apps including iOS, Windows Mobile, Android, HTML5, etc., and has developed more than 200+ web and cloud apps across multiple technologies include SharePoint, Amazon Web Services, ASP.NET, Microsoft Azure, etc.
Impiger Technologies offer services spanning:
Strategic Consulting
DevOps
Cloud Strategy, Implementation & Migration Services
End-to-End Enterprise Application Development
Blockchain, RPA & Business Intelligence, AI/ML
Impiger Technologies' tech stack includes VueJS, C++, Swift, Java, Xamarin, Kotlin, Angular, Ionic, React, WordPress, SharePoint, .NET framework, Pimcore, Sitecore, Ruby on Rails, Python, PHP, etc.
And their major clientele includes PwC, AID Healthcare, Freshbenies, Chalk Mountain, CellGate, Cherry Coatings, Acero Crowns, Bank of Stockton, etc.
6. Squash Apps
Squash Apps is a world-class application development and software consultancy company that knows how to create and deliver any Vue jQuery plugin you want as well as any other digital solution for your business. The company, located in Tamil Nadu, India, is on a mission to create and provide scalable and innovative solutions for clients from every part of the world.
Squash Apps was founded in 2015 and since then has successfully taken on and delivered over 100 projects in every industry. The experts at this remarkable VueJS development company believe that communication is key to the success of any project.
The core principle that guides Squash Apps is to take utmost care of their numerous clients using best-in-class customer services. The company also likes to maintain full or complete transparency with their clients throughout their projects.
Squash Apps has 11-50 employees well-versed in the following development services:
Mobile Application Development
Desktop Application Development
Cloud Infrastructure
Architecture Consultation Services
Product Development
UI/UX Design Services
Serverless Applications
Quality Assurance Services
Squash App's tech stack includes Angular, VueJS, React Native, Electron, Ionic, Swift, HTML, Objective-C, CSS, etc.
The development company's major clientele includes Doodlio, Shelly Apps, PinnacleSeven, etc.
7. eTatvasoft
eTatvasoft is a VueJS company that helps enterprises from startups to large organizations with eCommerce, mobile, and application development, as well as digital transformation. This company, founded in 2001, has 100-200 employees that actively purchase new trends in the tech universe to stay competitive and ahead of the curve.
eTatvasoft, located in Ahmedabad, India, offers an extensive suite of value-added IT services, thanks to its team of experienced and skilled professionals. The VueJS development company offers the following:
Application Maintenance
Migration to Node.js
API Development
Package Development
Frontend and Backend Development
Real-time Application Development
eCommerce Development
Dedicated Staffing
Mobile App Design
Website Design & UI/UX
eTatvasoft's tech stack includes VueJS, .NET, iOS, Reactjs, Angular, PHP, React Native, PWA, Xamarin, WooCommerce, Android, Flutter, Symfony, Magento, Zend, etc.
And its major clientele includes Adirondack Chair, Sneakmart, Ground Booking, Palladium, WaWan Pro, etc.
8. Tudip Technologies
Tudip is a value-driven VueJS development firm that provides high-end solutions with digital, cloud transformation architecture, AI/ML, eCommerce, etc. Established in 2010, Tudip currently has 201-500 employees. And it is a place that acutely defines serenity, integrity, and innovation.
Tudip is currently CMMI level 3, ISO goo1:2015, ISO/IEC 27001:2013 certified and pride itself on being partners with AWS and Google Cloud. Tudip provides a bunch of high-quality development services such as:
Product Development
PhoneGap
ERP & CRM
Web Applications Development
Cloud Computing
Roku
Big Data
eCommerce Platform
IoT & Wearables
Artificial Intelligence
Testing (automated & manual)
Mobile Applications (Android/iOS)
Consulting across domains
AWS LAMBDA
Tudip has a proven track record of highly successful web design as well as development delivery. The team of developers at this VueJS development company is always updated on the ever-dynamic web development landscape – whether it is on programming languages, web development frameworks, protocols, data formats, APIs, HTML, and CSS, or browsers.
Tudip also cover services such as
Cloud Enablement
Mobile & Devices
Quality Assurance & RPA
Product Engineering and Support
Tudip tech stack includes: VueJS, Java, ReactJS, React Native, PHP, Drupal, Laravel, Angular, iOS, Python, Android, Ruby, WooCommerce, etc.
And the VueJS development company clientele includes AdviseStream, Akody, Asteroid Shooter, Blonde by Ceann, Dugal Health, etc.
There you have it: the top VueJS companies in India. They are suitable for any of the digital marketing companies out there looking for help with VueJS application development or Vue jQuery plugin. Most of these companies are versatile in UI Design or Development.
Get in touch with a few of them to determine their rates and their ability to interpret your idea and bring it to fruition. It is not just about working with any of the best VueJS companies in India today; it is about how versatile they are, whether or not they keep their communications lines open from the beginning of the project to the end, etc mobile application development company.
So, what are you waiting for? Get in touch with any of the top VueJS companies in India today!
2901
1
0
cookie-check
VueJS Development Companies In India