Welcome to our blog post on "web development company and the features of a good website"!
You are about to have an informative and inspiring ride on your journey to uncover hidden facts about the topic.
What Is A Website?
Websites are web pages with a domain name that you can view from one computer network to another using a web development company URL.
Techopedia sees it as a "collection of publicly accessible, interlinked Web pages that share a single domain name."
Websites have home pages that are usually the first page that users see when they visit the website.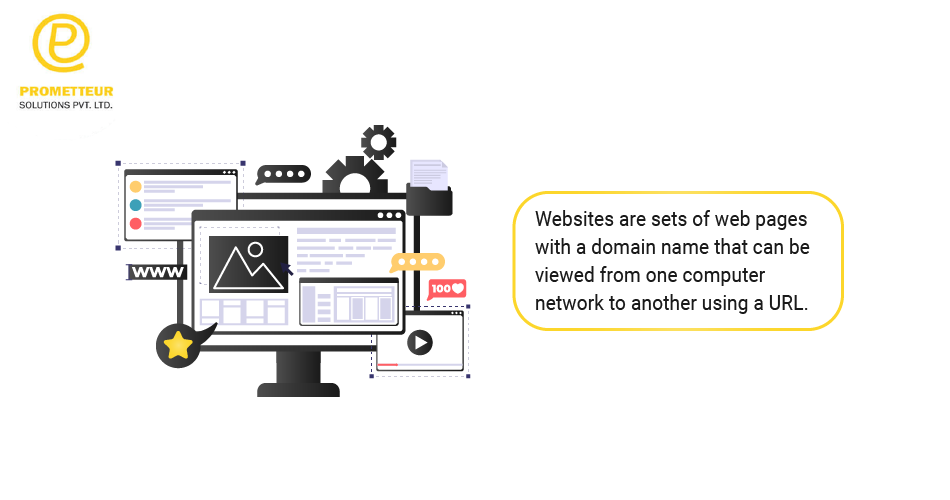 They have different website features and functions that people use for different reasons. The uses of websites cut across entertainment, music, politics, religious activities, crime, blogging, shopping, etc.
For best results, hire a top-ranked website development company to build your ideal website.
What Are Website Features and Functions?
While you are trying to get the best web development company to build your website, discuss your business's nature with the project manager. Centre it around why you need the website, and some of the things you wish to achieve with it.
This will help the company to suggest and propose some good website features and functions for your website. For you to make the correct picks, here are some website features and functions that are very good for websites.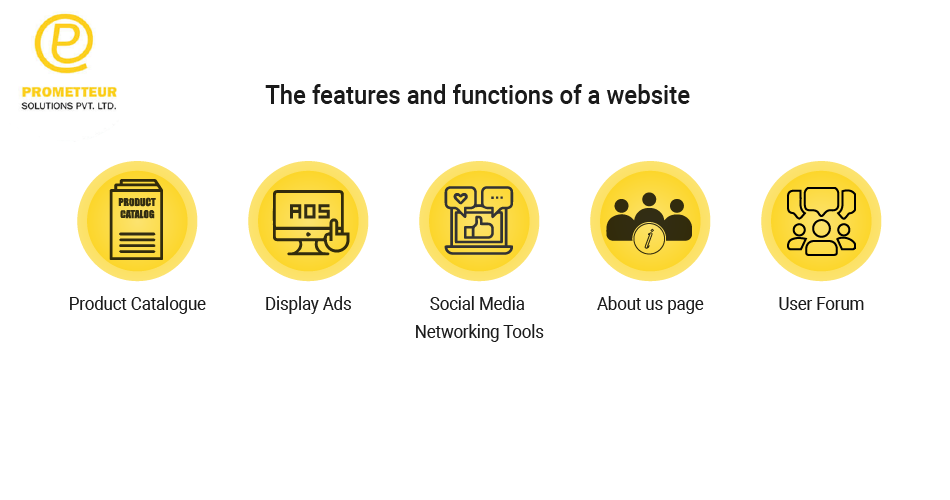 Features and Functions of a Website

For you to make the best picks, here are some website features and functions that are very good for websites.

Product Catalogue
This is one of the essential tools for eCommerce business websites. Once you consult any website development company for your website, eCommerce will surely be among the website development feature lists for your website.
Product catalogue, forming part of e-commerce website features lists, has aesthetic designs to attract users and give them a refreshing experience when using your website.
Their designs are for easy navigation and are searchable by either a product key or a product's name.
How does this feature benefit your website?
As an expert web development company, product catalogue offers three basic benefits to your website;
Improved user experience
Increased Sales
Efficient management
It will make it easier for your website users to easily browse through your website in search of products/services. This will lead to an increase in sales because now your website has a structure for product display.
Lastly, your business will find it easier to manage product displays and inventory. The combination of all these three will lead to an increase in user experience.
Display Ads
Include ad placement as one of your website features and functions. This will enable Ads display and or through affiliate marketing. Ads placement adds value to your website. It introduces visitors to other exciting products and services that may be of great importance to them.
How does this feature benefit your website?
Although this is not among the main functions of a website, it comes with some benefits for your website. Ads display feature benefits include;
Revenue Generation
Enhanced user engagement
Adds display can be strategic in keeping your users engaged. It can also be useful for affiliate marketing as well as increasing your income.
This feature is also important for enhancing user engagement. For example, your visitors can gain easy and quick access to new products and services.
Social Media Networking Tools
It is highly recommended to add some social media widgets to your website features list. There are billions of people who are always on social media. So, it will be an excellent place to explore for new customers, promote your brand, drive traffic to your website, and convert sales.
You can create various social media channels to share content to promote your brand, product, and services. Your customers will also find it more convenient to connect with you through social media Tornado Cash. The most common social networking tools to add to your website features and functions list are Facebook, WhatsApp, Instagram, Twitter, Telegram, and Pinterest.
How does this feature benefit your website?
This feature is important to the users and the business because it offers;
Wider reach
Brand promotion
Customer Interaction With the social media feature, your website will easily gain a wider audience because users can easily share. As they share your business on their timelines, they are automatically promoting your brand.
Lastly, in the course of all these, customers will love to interact with your brand to see things for themselves. This will help your business to build strong relationships.
About us page
A website without an About Us page looks very unserious, unprofessional, and incomplete. The page is one web page that visitors like to visit to learn more about your business and what you are offering.
How does this feature benefit your website
Trust Building
Highlight Your In-house expertise
Your users can easily navigate to this page to fetch important information about your business. This information on the About Us page will help them to trust your brand and be knowledgeable about your staff and talents.
Trust billing and staff expertise reveal the levels of transparency, credibility, trust building building trust. It will also allow users to easily access your company's your company's expertise, history, and mission
User Forum
A website user forum is like an online community comprising all users who are regarded as members or community members.
The forum brings together the online community to enable them to discuss, share ideas, expand their network, give feedback, and receive help and support from the website company if need be.
The website forum is regulated by the web development company which has the administration power of removing or deleting defaulting members in their ways.
Through this forum, the website company can manage a community interested in its products and services. They can also easily carry out marketing campaigns, share vital content and successfully initiate other marketing programs.
Adding a user forum to your website features and function list is suitable for marketing.
Benefits of User Forum to Users.
Community building
User Engagement
Market research
Community forums strengthen the bond between your business and your users. It gives them a sense of belonging and a platform to lend their voices and opinions.
In the forum, they can easily engage and discuss important needs and aspects of your business. You can also get relevant information and data relating to your business in the community forum.
Community forums allow you to leverage the platform for enhanced user engagement. You can engage users with upcoming events, quizzes, promos and offers. This will get them excited and more committed or loyal to your brand.
In the community forum, interactions are ongoing on a daily basis with a lot of useful data and information shared. This can be very critical in your research on how to improve your services and increase sales.
Examples of Websites Using Best Features and Functions
Here are examples of websites that use the mentioned website features and functions:
Product Catalogue – Amazon, AliExpress, Jumia, Konga
Amazon, AliExpress, Jumia, Konga, and many e-commerce stores use the product catalogue feature.
Amazon, AliExpress, Jumia and Konga feature a product catalogue with slick navigation and search options.
The essence of designing the product catalogue with these components is to offer users an effective and detailed product display page. Each product in the product catalogue has a detailed description, accompanied by images, customer reviews and ratings.
These are put in place to help customers make informed decisions about a product and have enhanced user experience.
Display Ads – Forbes, Binance, and Nairaland
Companies exploring these good website features include; Forbes, Binance, and Nairaland, among others.
They are exploring the Display Ads feature for increasing revenue generation through advertising. They do this by placing ads on strategic areas of their web pages (especially the most visited site pages).
Also, the ads are in a strategic position on the pages to offer advertising services.
Overall, using this feature enhances user engagement on the site page.
Social Media Networking Tools – Nike, Jumia, eBay, Walmart, Wildberries, and Pinterest
Businesses that are exploring social media networking tools:
The likes of Nike, Jumia, eBay, Walmart, Wildberries, and Pinterest, use social media widgets and relevant links to integrate with social tools. Nike's website, for example, uses social media widgets and links to different social media platforms.
These include Facebook, Twitter, YouTube and Instagram.
Like the other e-commerce stores, these integrations allow users to easily connect/share the brand's products on different social platforms.
About Us Page -Apple, eBay, AliExpress, Walmart, Rakuten, Wildberries, Amazon, Facebook, Jumia, BuyNow, KFC, Chicken Republic

Every e-commerce website, from small, to big, new commerce and those with the best features of a good website has an about us page.
Examples include Apple, eBay, AliExpress, Walmart, Rakuten, Wildberries, Amazon, Facebook, Jumia, BuyNow, KFC, Chicken Republic, etc.
Their About Us pages offer relevant information that convinces users that they are worthy of their trust, and patronage.
The page includes important information like their history, their vision, goals, values, teams, leadership styles, etc. You can simply read through them and identify with their brand.
There are thousands of website development companies out there. A lot of these are claiming to be the best choice for your website development project. If you are not careful, you may end up giving your website development project to the wrong web development company.
This will end up wasting your time, frustrating you, and wasting your hard-earned money. As such, get familiar with the essential things to look out for to make the best decision about choosing the right web development company for your website project.
So, what are the excellent features of a web deployment company to look out for?
The Good Features of a Web Development Company
In this section, we will be looking at the good features of the web development company.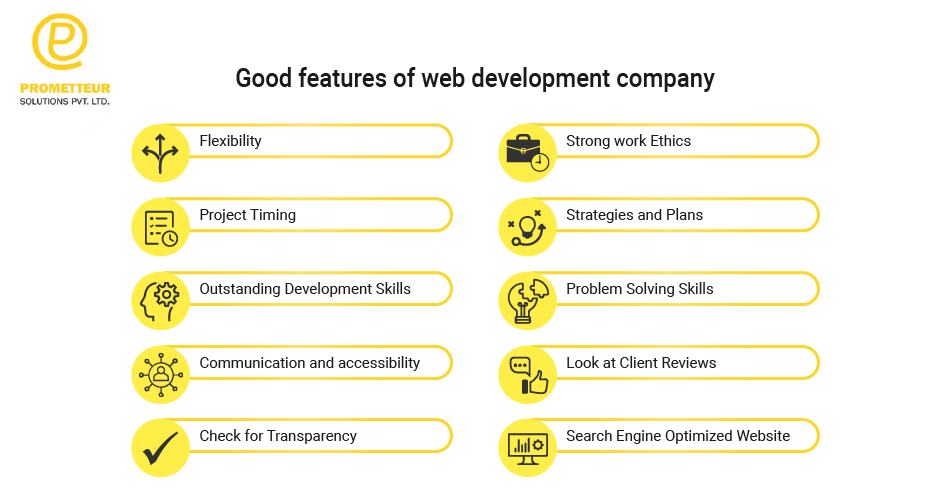 Flexibility
As a client, there is a high possibility that while your website is in the development stage, you may change your mind about some of the features that you initially thought you needed. Sometimes you may want more features added/removed for specific reasons.
This is where flexibility becomes very important. In this case, if flexibility is one of the features of the website development handling your project, count yourself lucky; if not, trouble!
Flexibility also means that the website development company is good at listening to their client's needs with a great sense of empathy.
They would be happy to make the necessary adjustments to suit your taste if they have such features. Patronizing such a company will save you a lot of trouble, pains, and regrets.
Project Timing
Every expert project manager would agree that it is only normal to set deadlines for when a project is supposed to be completed and delivered to clients. This is very important in a professional place of work, and it goes a long way in bringing out the status of the company's work ethic towards meeting up with deliveries.
The setting of deadlines shows excellent strategies, approaches, and time management skills. It also demonstrates the strength of the staff as well as their competencies.
A good website development company takes the client's convenience and needs into consideration when setting deadlines for projects. And if the client asks for more changes at a late hour, they should be able to make it work and still meet up with the deadline.
These are some excellent features of the web development company that a web development company must have before you should patronize them.
Outstanding Development Skills
One of the good features of a web development company to look out for in your search is the team of developers' experience and skill set that would build your website.
It is advisable to settle for a team where every individual is a professional, has relevant website development experience, and can collaborate well to deliver a great job.
Getting the information that you need about a company should not be difficult to do. You may contact the company and ask them about the strength of their staff, their level of experience and the approaches they use in delivering the creation of your website.
A reputable company will be honest with their responses. The ideal features of a web development company regarding their staff should be rated high, dedicated, very passionate about their job and a good job success score.
The team must be knowledgeable about new development skills and new technology trends in the marketplace and apply them to your project.
You may also demand the catalogue of their clients; how many websites have they successfully developed?
How many websites are they currently managing for clients? These are some excellent questions that, when answered, will help you in deciding the website development company to trust.
Under competence and skill, you may need to test their knowledge about different programming languages, website development features, different web designs, developing techniques, etc. The company team should have good knowledge of the highlighted points.
Communication and accessibility
If communication doesn't make the list of the good features of a web development company, this article would be incomplete. A website development company should communicate with its clients with the client's most preferred means of communication.
How well is their communication channel, and are they available on a 24-hour basis, or do they only operate from Mondays to Fridays?
You need to know all these in order to plan better and make the best decision. They should have extraordinary communication skills, and always be willing to fill you in on several project ideas.
Communication among the team of website developers on the project is also crucial. This ensures a better flow of valuable ideas, implementation of strategies, and ultimately project success.
Their customer support system's strength is one of the features of the website development company that demonstrates strong communication, support, and customer satisfaction.
Check for Transparency
You don't want to deal with a website development company that lacks transparency. Transparency is one of the must-have features of a web development company.
As the project web development team and project manager get all the customer information and business needs and features to be added to the website and start working on the project, you (the client) should be a part of the monitoring team's wish.
You can demand to see the website development features lists to enable you to pick some of the features that you would like to be added to the website. You may also be involved in brainstorming sessions, resolving some issues, and making suggestions vital for your ideal product.
Other Important Features and Functions of A Web Development Company
Strong work Ethics
Always go for a website development company with a team of passionate individuals who are always willing to go the extra mile to make the project a success. Such a group of web developers commits to giving their best on their job.
Strategies and Plans
Always know the strategies and plans that are used in delivering projects. Make sure that you are comfortable with them.
Good strategies and a plan of execution are good features of the web development company that show experience, knowledge, and competency on the job. They know the best ways to deliver the job.
Some website development companies begin by collecting and analyzing data to present different website development lists to the client. This allows them to choose the website's features before they start building the website.
Getting all the required data and putting all the necessary resources needed for the project before getting into web development is recommended.
It makes the process more straightforward and reduces calling the client several times before making certain decisions.
Problem Solving Skills
Several issues and problems may expand to a crisis if not well managed and adequately solved during the website development process.
Sometimes, failures to meet deadlines may happen, communications may not go well, and tensions may arise. Problem-solving skills will take care of such situations and avert damages that would likely come with the crisis.
Also, the website development company should always send you reports of progress made every week to keep you informed of the project stage. This should happen throughout the website development process.
Look at Client Reviews
The use of technology has made it easier to look up specific information about businesses to make the best decisions. One of them is client reviews or testimonials.
Client reviews are based on user experience after using certain products and services. If they are pleased, they will leave excellent reviews; otherwise, they will leave bad reviews.
So, look up the website development company's social media platforms (Twitter, Facebook, YouTube, etc.), the company's website, etc., to see what other clients are saying about their services and how they felt after patronizing them.
Bad reviews and testimonials are red flags, telling you to abort the mission. In contrast, good reviews are like green flags telling you to go ahead and patronize them.
Good reviews are features of web development companies showing that their services are satisfactory.
Search Engine Optimized (SEO) Website
The website development company should have outstanding knowledge about Search Engine Optimization (SEO) and optimize the website for different search engines.
One of the website development features lists should be SEO or increased sales. It should make more sales for your business through an excellent user interface, speed-loading pages, great content, and robust UX design.
These would undoubtedly boost your visitors and convert sales. However, it is only by allowing a good website development company to handle the project that you will achieve this.
Indeed, finding a company with all these good features of a web development company is difficult. However, they still exist and are out there if you do your homework well enough.
3435
0
0
cookie-check
Web Development Company: Features and Functions of a Website