As part of our efforts to be the number one go-to tech company for your much needed IT solutions, where the best technologies are deployed to help grow your business, we use the Refrens portal to expand and enhance many of our start-up activities and IT services, including invoicing.
With this development, Prometteur Solutions will offer business-enhancing IT solutions to clients across the globe in fashionable styles. Every step we take towards enhancing our IT services is inspired and shaped by our long-term experience in dealing with customers' complaints and business challenges by finding sustainable solutions that help grow their start-ups.
From the costs and delivery timelines to the quality of resources we are offering clients through the Refrens portal, our IT services have been optimised to meet customer demands and satisfy their thirst for the best of the best.
Refrens portals offer the following IT services to both freelancers and agencies;
Accounting with No Hassles
Free creation of limitless quotes, tax invoices, and purchase orders.
Take Down International Payments
Accept payments from all across the world.
Allow your consumers to pay with a credit or debit card. As a result, money is collected more quickly.
Project Management & Escrow
Make sure your money is safe by putting it in escrow. Review, approve or reject the milestone in an idiot-proof manner.
At the same time, you may create, manage, and monitor your client's invoices, payments, reports, and various projects.
Showcase Your Professional Profile
Portfolios are a great way to showcase your abilities and expertise by showcasing your most outstanding work.
Accepting payments via debit and credit card with little difficulty is an option. SSL-protected and very secure.
Accessible from any location
Mobile and desktop dashboards that are simple to use. Get real-time email updates.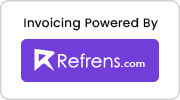 In their words, Refrens aim to create a network of businesses that help each other to acquire more customers". They offer top-notch services to freelancers and agencies who wish to grow their business by leveraging 21st century ICT tools available and accessible on the reverence portal.
The portal matches freelancers and agencies with the ideal clients and offers them relevant IT services, including Invoicing for their business.
The goal of Refrens is, by 2023, to provide new customers to 10 million freelancers and small enterprises. While the vision is for freelancers to focus on what they are strong at and not on anything else. Prometteur, as an exceptional member of this community, joins Refrens on this journey.
4630
0
0
cookie-check
Prometteur Solutions Colloborates with Refrens