Are you looking for the best React JS development companies in India in order to build a user-friendly and highly interactive web app for your business?
React JS is an open-source JavaScript library created by Facebook in 2013 for one primary purpose: to build dynamic user interfaces.
A developer who uses React JS for web development will efficiently manage the data and content of a website.
React JS can also be employed as a base for creating single-page applications or mobile apps since it is well known for fetching rapidly changing data in real-time.
The popularity of React JS app development continues to grow every day. It is one of the most flexible and simplistic frameworks a developer can get their hands. Developers love using React JS, which is why React JS development companies' demand keeps rising every day.
What makes React JS highly attractive to consumers is its ease when it comes to setting up a web application. This is the primary reason why React JS development companies are capitalizing on the framework. And many seem to come out of the woodwork overnight.
So you need to be careful when searching for React JS development companies in India.
This is why we have taken the trouble to compile a list of the top React JS development companies known to be highly reputable and have held their own in across numerous or different business verticals.
Features of React JS
Several features of React JS make it stand out from other frameworks. Here are a few of them: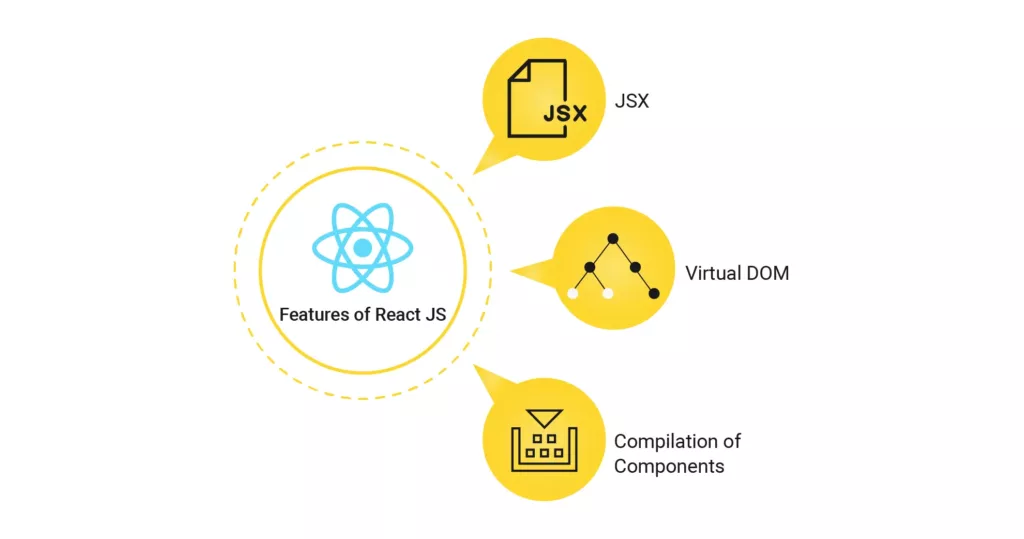 JSX – JavaScript Extension – is an extension of React JS that allows users to expertly write JavaScript that looks very much like HTML. In HelloWorld, for instance, the Render () function that looks quite like HTML is, in reality, JSX.
This simple JavaScript allows HTML quoting as well as utilizes HTML tags syntaxes in order to render subcomponents.
Virtual Document Object Model or Virtual DOM is another prominent feature you should know about. React JS creates an in-memory data structure cache and enumerates the changes made. Then it efficiently updates the browser.
This provides you with the ability to write code as if the whole page is rendered on every change, whereas the React JS libraries only render the subcomponents that actually change.
Compilation of Components
React JS is a collection of small units known as reusable components. Small components are usually defined and put together in order to form much bigger components. All components are reusable, irrespective of their size.
But no matter how small the component is, it is still a plain-old JavaScript function.
Top React JS Development Companies in India
Many React JS development companies are presently vying for supremacy. But some are better than others. Note that the list of React JS development or mobile app designing company is not arranged in any particular order.
Therefore, if you are ready, here are the React JS development companies in India:
PixelCrayons
PixelCrayon is a React JS Development Company established in 2004 and has delivered more than 500 highly successful React JS development projects for its clients worldwide.
The founder of the company, Parvesh Aggarwal, has a profound vision of offering premium software solutions with perfect integration of coding, design, etc. These fueled the company's vision, which is why they are currently at the top of this list.
PixelCrayons provides the following services:
Web App Development
Mobile App Development
React application development
Virtual Reality
Internet of Things
Augmented Reality, etc.
The company is highly flexible with its operations, meaning you can hire a development team dedicated to your React JS development project. Pixel Crayon has more than 500+ employees that operate from its head office in India.
GeekyAnts
GeekyAnts is another one of the React JS development companies based in Bangalore, India. It was established in 2015 and is well-known for creating mobile and web development apps using React JS, Angular, React Native, GraphQL, Node, Firebase, etc.
GeekyAnts has an open-source contribution such as the NativeBase – a UI components library created for ReactNative. This React JS Development Company also sells full applications, starter kits, UI themes, and animation on NativeBase Market.
The React JS development company even has its own product known as BuilderX, a design tool that can easily write React Native code.
GeekyAnts loves to be experimental, especially with new technologies, and this has led the React JS development companies to adopt Vue, Kotlin, and Google's Flutter. The company has 150+ employees and works with clients such as Property Sumo, Spring Tree, etc.
Prometteur Solutions Pvt. Ltd
Prometteur Solutions is a web and mobile app development company that always employs a human-centered design approach to all their clients' projects. The company always puts users' primary goals, which is putting users first, thereby delivering an excellent digital experience.
Prometteur Solutions has an experienced and proficient IT team highly skilled in creating, developing, and launching topflight digital solutions. This includes:
Website application development
Internet of Things (IoT)
Mobile app development
eCommerce solutions
Web design
iOS and Android
software development
Native and Hybrid Mobile frameworks
SEO
Prometteur Solutions, located near Popular Nagar, Warje, Pune in India, has offerings that span the IT lifecycle: right from Consulting through Custom, Packaged, and even Cloud Applications and a wide variety of Infrastructure Services.
The React JS development company is an ISO 90001: 2008 certified company as well as a proud member of The National Association of Software and Service Companies (NASCOM), a trade association of Indian IT (Information Technology).
DigiFutura
DigiFutura is an app development company established in 2015 and focused primarily on creating fantastic UX design digital experiences. The React JS Development Companies also builds highly scalable web and mobile applications for SMEs and startups.
It has a robust client base of organizations like Citrix, NetApp, BlueJeans Networks, Tintri, Bridge2Solutions, Coho Data, etc.
DigiFutura operates from Bangalore, India, and specializes in building minimum viable products (MVP) for startups. However, the company's React JS developers are highly exceptional or extraordinary when it comes to React app development.
The team of experts has successfully built and delivered scalable and exceptional apps using several technologies such as:
React JS
React Native
Python
Node
Meteor
Ruby on Rails, etc.
DigiFutura's developers also stand out with their VR, IoT, and AR app development services. It has 25+ employees and has worked successfully with clients like ShopX, Zoomcar, etc.
Resourcifi Inc.
Resourcifi Inc. is a React JS Development Company that has come a long way since it was established in 2009. With offices in India and the United Kingdom, the company has successfully completed and delivered thousands of projects over the years. This is made possible since it earned and worked with hundreds of ongoing clients.
Resourcifi Inc. has experts – approximately 500+ employees – that know how to handle all kinds of stuff, including React JS developers. All you need to do is ask for the specific kind of service you are looking for, which could be any of the following:
Staff Augmentation
Web App Development
Software Testing
Digital Marketing, etc.
And you will be introduced to highly skilled developers that will address your needs as soon as possible. The React JS Development Companies has worked with top clients such as Win-Win App, US Gaming LLC, Philosophy Talks, Stanford University, etc.
Inwizards
Inwizards is another React JS development company established in 2004. It is a US-based company but has an employee base in India. The company is a highly structured, customer-centric, performance-oriented digital solution provider for companies of all sizes.
Inwizards works right from a paradigm of sustainable development and aims to give rise to a change in the quality of business and services. The company utilizes unconventional approaches around things and caters to a unique niche of specific clients.
Inwizards may be a React JS Development Company, but it also offers a wide range of other services such as:
Xamarin development
Android development
Blockchain
iPhone app development
Odoo development
Node JS development, etc.
Inwizards has offices in the United States (Florida and Tampa) and India (Haryana and Indore).
Bacancy Technology
Bacancy Technology was established in 2011 and currently has 250+ skilled employees. The first project this tech company handled was a webcam solution for one of their clients based in the United States.
The company's experts developed a webcam software solution that takes pictures and records videos.
The project was part of a security system undertaking to monitor office premises, residences, or a retail stores.
Bacancy Technology is all about Agility's philosophy to bring velocity to businesses so that you can better respond to the changing needs of the digital economy.
Bacancy Technology categorizes its services into the following:
Digital Transformation and Product Development
Agile QA
Enterprise Application Management
Automation and DevOps
Digital Marketing
Although the tech company provides a plethora of services, its proficiency in React JS Development Companies can never be faulted, thanks to its rich team of developers that provide excellent service.
Mobiloitte
Mobiloitte is a full-service, premier software development company with a team of 500+ highly skilled workers. The tech company, established in 2005, specializes in services such as:
Blockchain Development
Internet of Things (IoT)
Native and Cross-platform Mobile Application Development
Artificial Intelligence
Big Data Analytics
Machine Learning
Video Reality
Augmented Reality, etc.
You can also check numerous other services it offers on its official website. This means that this tech company offers more than React JS Development Companies services. Mobiloitte has catered to companies like Zoomcar, ShopX, etc.
Mobiloitte works with enterprises of all sizes: startups, SME's, large organizations, Public-Private Partnerships, and even governments. It has completed over 5,000 projects over the last ten years. The company is also highly flexible, especially when it comes to adopting new and up-to-date technologies in order to stay competitive or ahead of the curve.
WebClues InfoTech
WebClues InfoTech is a React JS Development Company currently having exponential growth in projects, experience, workforce, and profits. This mobile and web application development firm was established in 2014 and provides successful and highly effective solutions for businesses of all sizes.
It is located in Ahmedabad, India, and is renowned for branding, cloud computing, mobile application development, web designing, and web development.
WebClues has 100+ employees and top clients like Laundrokart App, Barunni, etc.
CronJ
CronJ was initially a tech consulting firm with a highly proficient team of experts who provide supply chain IT solutions, video analytics, and product development. The company has grown to be a force to be reckoned with as one of India's top React JS development companies.
CronJ has skilled and very competent developers who are well-versed and up-to-date with the latest technologies with the primary goal of providing the best services for your organization.
CronJ strives to combine the latest technologies with exceptional expertise within the industry and management in order to help clients obtain the best outcome in every area. The React JS Development Companies has a knack for partnering with developed and even developing brands, thereby building profitable businesses.
CronJ, established in 2012, has 50+ employees as well as offices based in the United States, Dubai, and the Netherlands.
RNF Technologies
RNF Technologies started its operations in 2009 and has grown since then to be one of India's top React JS development companies. It has 600+ employees, and the rate at which this company grew can only be phenomenal.
RNF Technologies design, develop, and deliver top-notch services. The company's employees hail from other tech companies like AOL, Google, etc., which indicates the tech company's magnetism.
RNF Technologies does not only provide world-class React JS Development Companies services. It also provides the following top-notch services:
Web Application Development
Mobile Application Development
Product Development Consultancy
IT recruitment solutions
Hybrid Staff Augmentation
RNF Technologies is an ISO 9001:2008 certified organization and was initially based in the United States of America. But they now have a base in India, providing services to clients from every part of the world.
This is not, by any means, an exhaustive list of the best React JS development companies in India. However, the companies listed here were compiled based on their portfolios, customer satisfaction ratings, web and mobile app development costs, third-party sites, and testimonials. They have also proven to be highly proficient with React JS development.
To know more about React JS visit any of the notable companies listed above to get started and have them bring your dream project to life!
2904
0
0
cookie-check
React JS Development Companies in India