Mobile is the future. Smartphones are now more than just a way to text and call people. They've become an essential tool for staying connected, getting work done, and living our lives. Businesses that don't offer mobile apps are missing out on opportunities to better connect with their customers. Building a compelling mobile app for your company is crucial for success in today's digital age. With this blog post, you will learn how to build a customer-centric mobile app that's right for your business.
The mobile app is an app that can be used on a mobile device, such as a smartphone or tablet computer. Mobile apps are generally available as either free or paid and they are available for use on both Apple products and Android devices. A Customer-Centric Mobile App is a type of mobile app that is specifically designed to maximize customer engagement with a company's business objectives. This means the company would use this type of mobile application to offer its customer's personalized services and provide them with tailored offers based on their purchase history, location, browsing behavior, and so forth.
Why promote your business with a mobile app?
A Customer-Centric Mobile App, as the name implies, provides capabilities and UI/UX that help customers have a nice purchasing experience. By creating a tailored experience, it assists them in choosing the proper path and making the purchase. Customer-centric applications follow the popular outbound marketing trend of engaging with customers and providing customized services to satisfy their specific demands.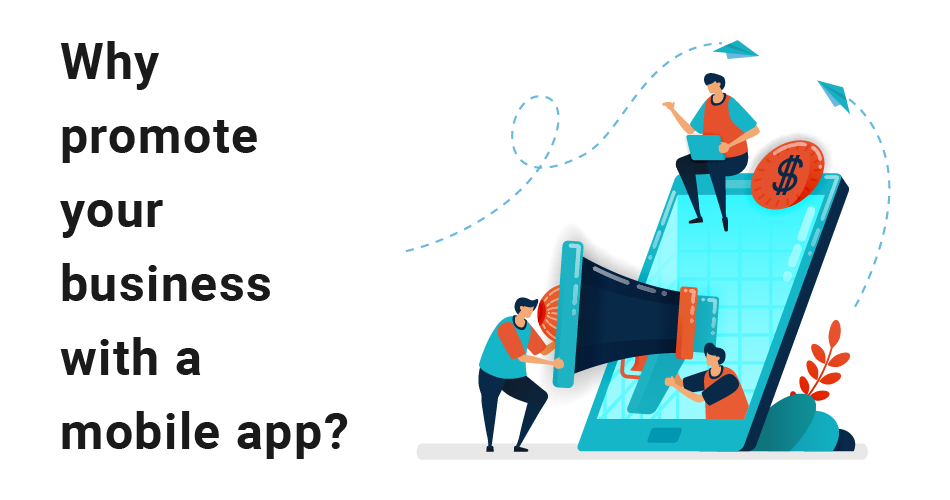 As businesses continue to grow, the need for mobile apps increases. Mobile apps are designed to simplify tasks and provide customers with a seamless experience. A company's app is an opportunity to connect with customers on a more intimate level by providing them with information specific to their needs. These days, people are always on the go and looking for new ways to make life easier. With Customer-Centric Mobile App, your business can make sure they stay ahead of the game. Here are some tips on building customer-centric mobile apps that can help you grow your business.
The majority of firms are in a rush to enter the mobile realm and capture the audience that exists there. The sole goal they have is to code and develop a working mobile app while doing so. But where does your target audience fit into this strategy? It's not enough to make a working app with a number of items and checkout, payment, and other basic functions. You must make certain that each feature you provide is focused on your consumers.
Understanding your buyer's persona is the first step in building a customer-centric mobile app. You must know where your consumer is, what he or she wants, and any other information that might influence their purchasing choice. Following that, everything should be painstakingly arranged to obtain positive outcomes, from banner placement and color scheme to content sections, contact us buttons, and so on.
Here are other reasons why
Having a mobile app increases revenue and expands your business
There is a smartphone app for everything nowadays, and companies are no exception. Because clients use mobile applications for a variety of reasons, it's a good idea to launch your own mobile app so that customers can access your services/products from anywhere, at any time. According to several studies, having your business app on a customer's smartphone will help them remember your brand and prompt them to make purchases every time they open the app.
Reach out to millions of people all around the world
Most firms' primary goal is to reach as many consumers as possible in the marketplace. Every entrepreneur knows that connecting with consumers through tangible printouts, leaflets, and brochures would never help them connect with people from all over the world. Marketers may quickly promote bargains, offers, and freebies to clients via a mobile app, and users can utilize the services/products without any problems because the app is available 24/7.
Customer loyalty programs, incentives, and freebies are all ways to add value to your consumers.
App alerts make it simple for your marketers to provide value to your consumers. You may create a loyalty program with a set of points depending on your customer's activities with the site, and then thrill them with bargains and offers if the eligibility requirements are satisfied. To keep existing customers and attract new ones, top firms put a premium on customer loyalty programs.
Attract and convince customers to take action
Customers will be drawn in by push alerts about attractive deals and freebies. If the products/services are of high quality, your app's fluid navigations, outstanding UI/UX, simple checkout procedure, and elegant layout will force consumers to take action. With the rapid evolution of in-app purchases, you may turn a user into a prospective customer in no time.
Through the app, you may respond to client complaints and questions
Your greatest option for resolving client issues is to use a mobile app. You can assist them to solve their difficulties, which will help them trust your business. The majority of customers want to offer their opinions and ratings about the applications and services they use from businesses. Customers will promote your brand to others through social media and reviews if you swiftly resolve their complaints. Your sales, performance, and customer engagement will all improve as a result of this.
You may also include features like preference-based suggestions, one-step checkout, and social network login; these are just a few instances of Customer-Centric Mobile App.
Customer-Centered Mobile App Features You Must Have
Compatibility
The two major trends are actually converging, with the rise of wearables, IoT, and VR. This is because these new technologies are bringing digital experiences to more of our interactions with the world.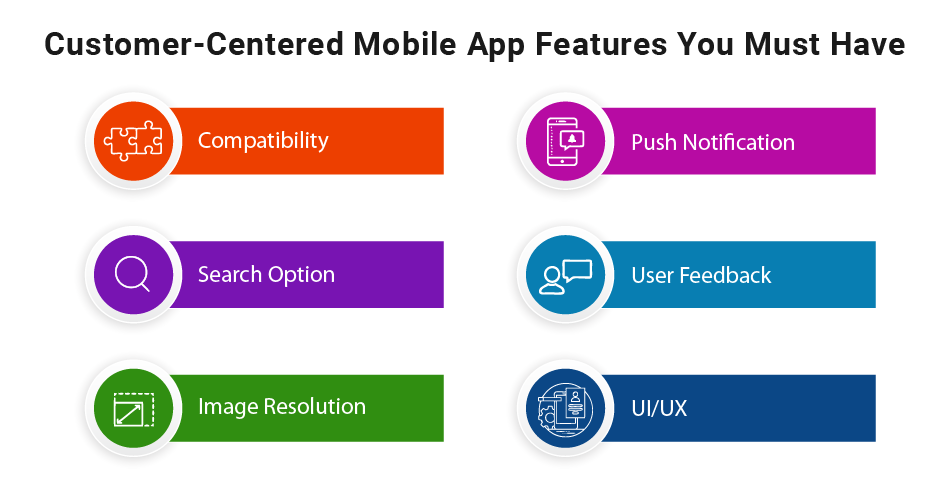 Many businesses are already exploring the use of wearable technology in their marketing campaigns by providing promotions or coupons to customers who can't make it to their brick-and-mortar stores. It is not just about grabbing customers who may be nearby. As these devices proliferate, they will open up an entirely new channel for marketers that would have been impossible before.
Your users might be at any location. It is critical to maintaining platform compatibility in order to reach them. iOS, Windows, and Android are the three primary operating platforms for mobile app compatibility. You'll be able to access a worldwide audience and increase your mobile sales as a result of this.
Search Option
For eCommerce marketplaces such as Amazon and eBay, a search option is a requirement for accurate data. eBay found that "products were being missed because we were not indexing them properly." A search option with relevant keywords is the most important feature of an eCommerce website. The ability to find products by keyword is also important for retailers like Amazon. A recent study concluded that if retailers don't optimize their site then they could miss out on up to 75% of their most profitable products.
Therefore, to make consumer browsing simple, they use sophisticated keyword search options. They give exact and near-match items so that users may locate what they're seeking quickly and easily.
Image Resolution
Neglecting and sacrificing image resolution in order to enhance mobile app performance Customer-Centric Mobile App might result in a poor user experience. As a result, you should be sure to utilize relevant and high-resolution photos that successfully interest your app visitors. This is especially essential for today's users, who want high-definition in every encounter. Customer engagement and revenue might be severely harmed by low-resolution pictures.
Push Notifications
How can you stand out in an era where everyone is using push notifications to promote their products? Push notifications are more than just a way to inform or remind your customers Customer-Centric Mobile App, they are a powerful tool to help you maintain your marketing edge. They help you engage with your customers while boosting brand loyalty and generating conversions.
Intelligent push notifications are more engaging and therefore more likely to end up in the inbox of your customers. They're also proven to be less annoying and less likely to end up in spam, so you get the best possible results for your marketing efforts.
A new type of email for your consumers, push notifications are a far more effective and time-saving method to communicate with them. These can be a mix of text, graphics, and emoticons that are less likely to end up in the spam folder of your customers.
Based on user engagement with your website, you may send both tailored and random push alerts. Businesses can use data to nurture leads and increase conversions through push notifications, resulting in positive outcomes.
User Feedback
Taking customer input is an excellent approach to demonstrate that you care. User feedback for mobile applications functions similarly to a survey (albeit it takes less time and effort) and may help you develop and create better user experiences. Every company strives to give value to its consumers, yet there are still people that are dissatisfied.
Taking feedback is a wonderful method to spot problems, figure out what people want, and put those ideas into practice in your company. This will not only assist you in creating tailored experiences but will also help you gain recognition for prioritizing customer demands.
UI/UX
A mobile app's UI/UX is critical in establishing customer-centricity. Here's a brief test to help you understand: Consider any page in your app and calculate how long it took you to get there from the main page. If it took you more than one click, your website's UI/UX needs to be reconsidered. If your software fails to offer what the client wants quickly and simply, there's a good possibility they'll go on to another. You should make sure that your consumers can simply access all of your pages. Here are a few points that should be made obvious to clients via UI/UX.
When they press a button, what happens? It might lead to misunderstanding and dissatisfaction among users if the links and buttons are deceptive.
In your mobile app, where can I find them? Customers should be able to comprehend where they are and what they can do at any given point in your app because of the UI/UX.
Simplicity: You don't need to make a sophisticated app with plenty of links, CTAs, and intricate designs.
This will only lead to confusion among your consumers. Simplicity is the key to effective mobile apps, and it has the potential to capture the attention of current consumers for a short period of time. Create clean, uncluttered, and focused displays that interact with your consumer's Customer-Centric Mobile App and offer them precisely what they want rather than everything.
So, are you ready to start your path to creating a fantastic mobile app? If you answered yes, you now know where to begin. These pointers will assist you in Customer-Centric Mobile App developing effective and result-oriented mobile app strategies that will increase your m-commerce ROI by a factor of ten. We really hope you enjoyed this article.
4202
0
0
cookie-check
How To Build A Customer-Centric Mobile App Improve Business Growth