With millions of downloads worldwide, apps like Mingle2, Tinder, and a few others have quickly become one of the most popular dating apps. Their user base is huge and you're bound to find the perfect match for you! Another popular dating app is PlentyOfFish. It started as a website in 2003 which now has over 40 million active monthly users.
Some of the features that Tinder app has are displayed below:
– It has a one-to-one chat function. This is useful for people who want to find someone with similar interests.
– For business owners who are looking for partners, it offers an opportunity to create a visible profile that can be discovered by other users in the area. This saves time and effort when networking.
– The app offers safety features for both the person who is looking for other business contacts and those searching for potential dates. It also provides the option to limit certain information visible on profiles.
– It also offers an inbuilt payment system which means that no money needs to change hands before meeting up in person.
Developing a Dating App? Here's What You Need To Know
Dating sites have taken over the mobile app business, and demand for the app is growing. There are numerous dating apps available in the Google Play Store and App Store, and we will review the finest one today. Mobile apps have made dating apps easier to use and have enticed users to spend more time on mobile applications.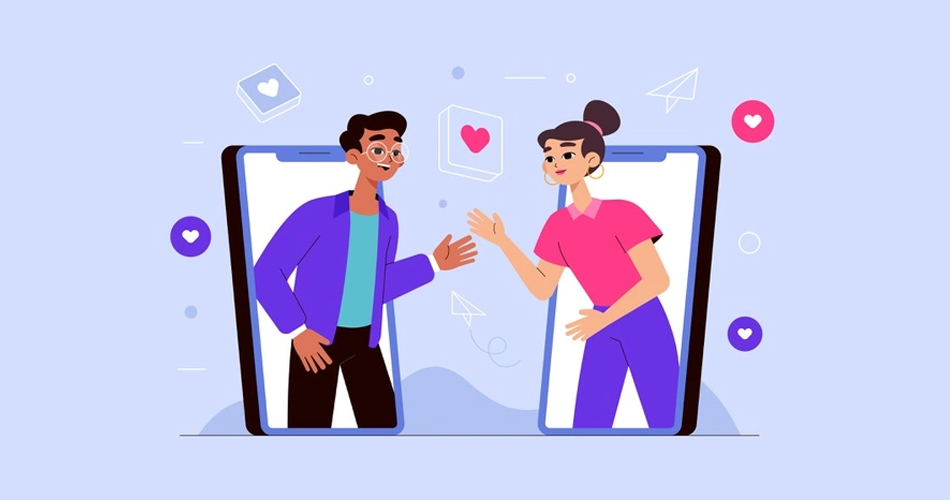 Tinder is the most well-known dating app in the world, and it is the first name that comes to mind when someone mentions dating applications. Tinder used to dominate mobile apps, but with so many wonderful dating apps available, it is no longer the sole option. If you're looking for mobile apps other than Tinder, you've come to the right spot. Because of the high demand, numerous leading app development businesses are producing dating apps like Tinder.
Tinder is a famous free dating app in India, has a large user base. A mobile dating app facilitates a quick interaction with a potential mate who meets your criteria. It enables users to register on the platform for free. These users can also establish profiles with their photos and a few phrases describing some of their likes and interests, and then leave the rest to the mobile dating app.
Tinder displays single people in your area and allows you to connect with them by simply swiping to the right. If individuals around you also swipe right, you will be able to connect. Its pro edition contains a plethora of additional fantastic features.
What is a dating app?
The term "dating" is a general one, and the apps mostly use this term. This can be described as an application designed for building relationships and marriages, and it is a very common term in the dating app market. However, there are several dating apps available that have nothing to do with relationships and marriages. You must use an app that is suitable for your requirements. As the use of dating apps is increasing, so is the variety of dating apps.
How do dating apps work?
The first step is to create an account on the app. Once the user created an account, they can choose the desired criteria, and select a match. Once the user clicks on the user profile link, the user will be taken to the profile. The user can start chatting with the other user immediately on the app.
What are the features of a dating app?
There are different features of dating apps for dating. If you are asking yourself "how do I create a dating app?" while keeping in mind that you need to hire a professional dating app development company, some of the important features to include are: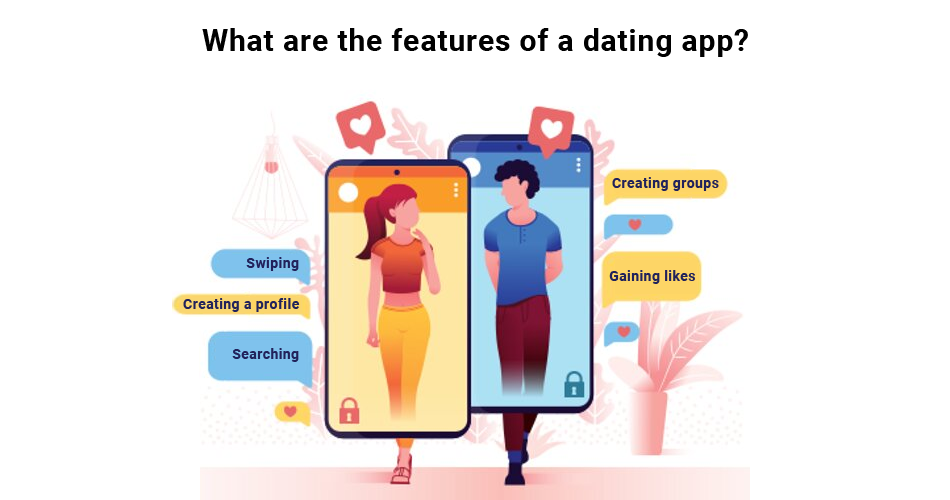 Swiping
It's difficult to find a good date in this day and age. With so many people, it's hard to know who to talk to or even where they are. You can spend hours on apps but still not find anyone you're interested in, and when you finally do chat with someone, you just want to get away because it's not going anywhere.
This is the reason dating apps feature Swiping — an app that automatically finds people who might be a good match for you. Dating app developers usually use machine learning and advanced algorithms so you never have to worry about having a bad date again!
Swiping is so much fun! It's so much easier to find someone you're interested in because you can swipe left if they don't catch your eye, and swipe right if you like them.
Swiping is fun when you're swiping on a dating app. One of the best parts of using a dating app is the ability to easily swipe through potential matches in your area.
The swiping feature on dating apps is so much fun! You don't have to worry about running out of new people to talk to or sending the wrong message because you can just swipe left or right.
Swiping is the way to go! It's fun, easy, and there's no need to worry about rejection.
Creating a profile
Creating a profile feature on your dating app is easy. You can start with answering questions like what you're looking for in a relationship, what age range you're interested in, and what you're willing to do.
Dating apps are overcrowded, so it's hard to stand out or connect with someone. People are always looking to find their true love, but it can be really difficult to find someone who is worth your time on traditional dating apps.
You can start by filling out your profile in minutes, then upload some photos for potential matches to see! One of the best things about using our site is that you can upload one selfie of you doing something you love, which increases your chances of meeting someone you really enjoy talking to!
Creating a profile on our dating app is the best way to find your future partner. It's so easy to fill out your profile and get started. You can also increase your chances by adding more photos, including one of you doing something you love!
Searching
Now you can find your partner in just a few seconds! With the search feature of our dating app, you can filter down by location or age to find your perfect match.
The searching feature is awesome! You can find the perfect person in just a few taps.
You can find someone so much faster with the search feature. You never have to spend time scrolling through endless profiles.
You can search by location, age, and even mutual interests to narrow down your choices.
Creating groups
Most dating apps are only good at matching you up with people who live far away or like totally different things than you do. You're used to struggling to find single friends and potential dates, and setting up things like group dinners ends up being a huge pain.
Your dating app should be your go-to place for meeting new friends, not just for hookups.
You can now create groups with friends and singles, and plan events with them too!
It's so awesome being able to create groups of people on this dating app! I can grow my social circle, find new friends, and meet new people all in one place.
Gaining likes
Whether you're experiencing an important life event for the first time or the tenth time, it's hard to feel comfortable and confident when you don't have people cheering you on.
Whether it's your first date or your hundredth date, gaining likes is a fun and easy way to feel confident and beautiful.
You can't stop scrolling through all of these hot singles nearby and it's such a thrill when they like you back. You want to show the whole world that you're looking for love and nothing can hold you back!
Why should one download a dating app?
A dating app is a separate application for dating. It has its own community of users to share interests. With this application, you can browse the profiles of people you like and flirt with them. In addition to this, the dating app offers tips and tricks for the users to improve their social skills and skills of the dating app.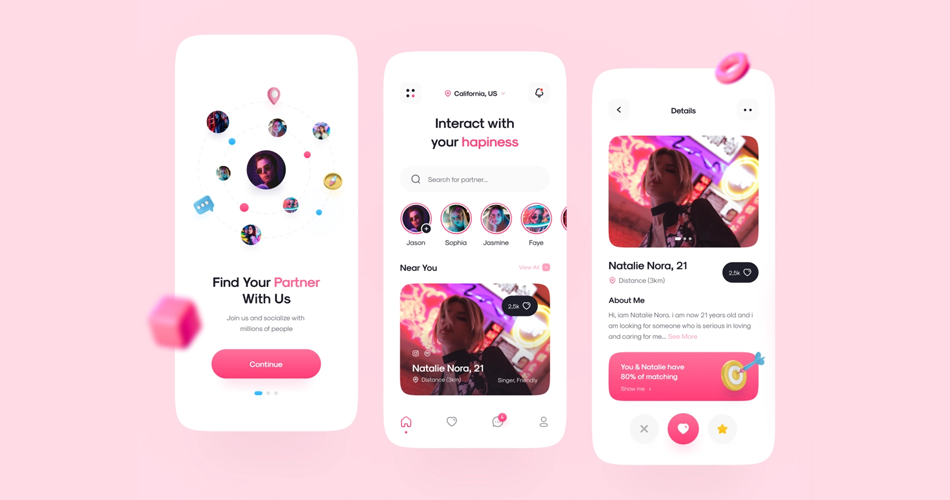 Which dating app should be used?
There are several factors that one needs to look at before settling with a dating app, and one of the most important factors is compatibility. After all, people need to fall in love in order to marry and live happily ever after. But is the compatibility enough for them to fall in love with one another? This question needs to be answered before one tries to pick the right dating app for themselves.
What Dating Apps Are There?
There are a variety of dating apps in the Google Play Store and App Store. The popular apps in the market are Tinder, Match, Happn, Bumble, and PlentyOfFish. Each of these dating apps has a different focus, but these dating apps are usually used as a dating app for hookups and casual dating. Another popular and pretty big dating app is Grindr.
What are the benefits of dating apps?
The benefits of using a dating app are numerous to mention. Online dating apps are for finding your soul mate. They allow you to connect with individuals of the opposite gender who are searching for love as well.
These dating apps offer flexibility to the users. You can choose the mode of interaction in which you want to go ahead and search for love. Online dating apps allow you to find the love of your life.
These dating apps allow you to connect to the other side of the world to meet new friends and acquaintances to have a meaningful relationship. It is the best thing that happened to the dating apps. It has gained more popularity over time due to the availability of new dating apps.
How to have a successful dating app?
The dating app is quite different from an eCommerce app. It is for people who are looking for a relationship, and also for those who are in a relationship.
In the dating app, the users can browse profiles of people and then select the ones whom they want to interact with. Once a connection is made, you have to create a group chat and message the other person using the other app.
The app offers various options to the users, such as personalized interests, photos, discussions, learning, events, and games.
There are many elements that will attract users to have success in this app, and one of these is, you can learn new skills, attend training, find experts, clubs, and various other activities, so as to increase your self-esteem, knowledge, and improve your lifestyle.
4179
0
0
cookie-check
Develop Dating App for Your Business-like Tinder