Currently, every business owner is always looking for cost-efficient solutions that not only drive the business forward but also have tremendous growth potential. The best hybrid apps development companies like Prometteur Solutions that are leaders in the hybrid mobile app development space are providing extensive mobile app development services at the best price. So, the next time you plan to start your own small business or you are thinking of outsourcing some of your client-facing tasks, feel free to contact Prometteur Solutions today to see how we can help you with our hybrid mobile app development services.
How Hybrid App Development Helps Your Business Grow Faster
Developing mobile apps can be time-consuming and expensive. Furthermore, there are so many devices to choose from that it's difficult to target all of them.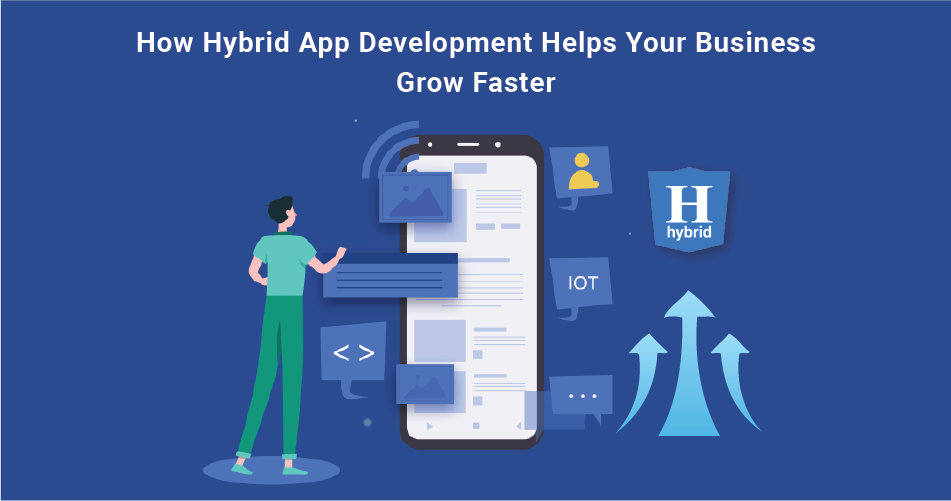 Companies are challenged to produce a mobile app that's compatible with all devices, which leads to tougher competition for customers, and more time wasted searching for the perfect app for growing a business.
The benefits of multiplatform app development have been significant as the number of mobile device users, the use of mobile apps, and the fragmentation of mobile devices have grown. Hybrid mobile apps are in the center of the native and web application spectrum. So, let's have a look at some of the key advantages of hybrid mobile app development for small enterprises.
What is a Hybrid Mobile Application?
We know you're excited about the potential of the app boom, but you're not sure if a hybrid mobile application is a right decision. You want to make sure that your app will be well-received and that it will meet your needs.
Wouldn't it be great if you could tell your customers about all of the benefits a hybrid mobile app offers? They'll love you for it.
A hybrid mobile application is a mix of both native and web applications. This creates a custom app for your business, which is more streamlined and satisfies the needs of mobile users. Mobile users love apps that are user-friendly, no matter what device they use, so this route is perfect for growing your business.
They have higher user conversion rates because hybrid mobile applications are easy to create and require less time to use.
Hybrid mobile apps improve user experience and bring your brand into the real world. Hybrid mobile apps offer integration with the business infrastructure.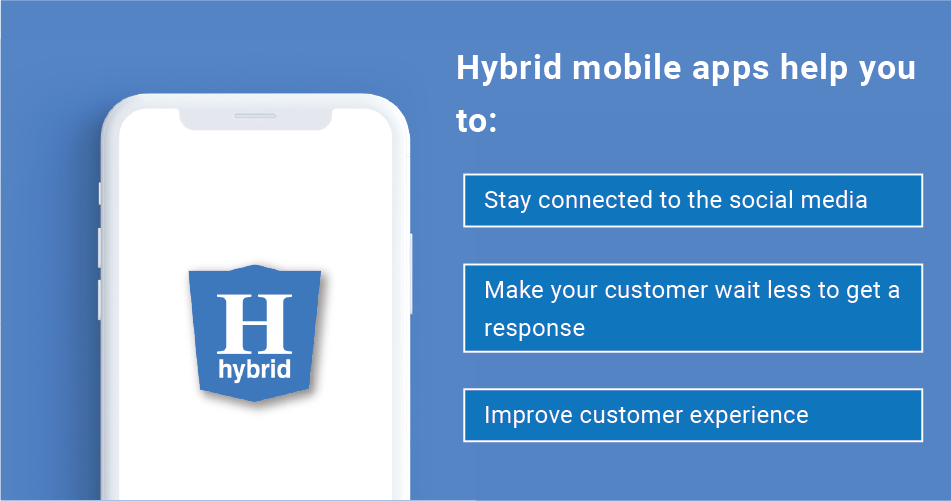 Hybrid mobile apps help you to:
Stay connected to the social media
Make your customer wait less to get a response
Improve customer experience
The Benefits of Hybrid Mobile App Development
The benefits of using Hybrid mobile apps outweigh the limitations because businesses get the flexibility to be accessible to their target users from multiple devices while using the best cross-platform frameworks and services available. This increases the chance of having a successful app launch and prevents major changes in one platform from affecting another platform. The right framework and service will let you achieve your goal seamlessly and easily with limited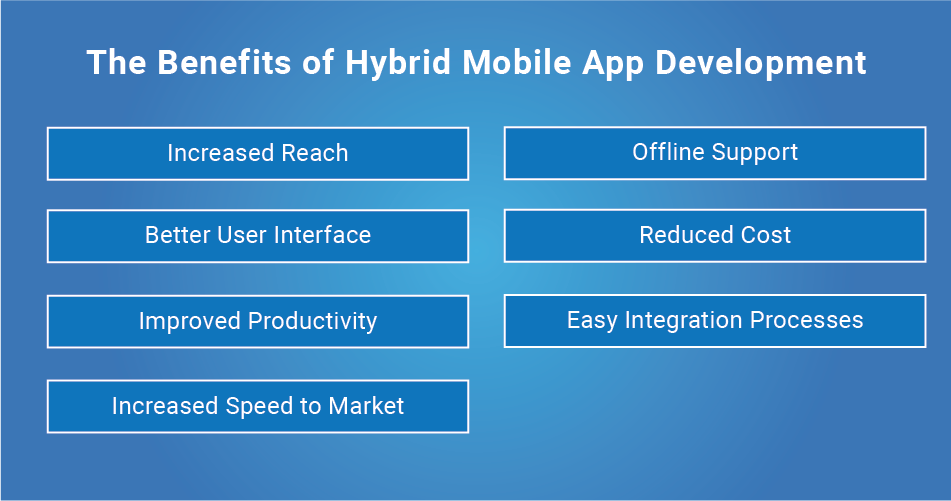 Smart mobile applications are useful in many ways. They are faster to develop and are mobile-friendly. Hybrid mobile app development allows your business to deploy them on multiple platforms like Apple App Store, Google Play Store, Windows Store, and more. It gives you the flexibility to be accessible to mobile users from multiple devices while using the best of cross-platform frameworks and technologies. This section focuses on the top benefits of Hybrid apps development platforms.
Increased Reach
It is important to note that small businesses are not limited by the borders of their local markets and often take on work outside their region. As a result, it makes sense to use a hybrid approach to develop a mobile application for your business. Not only will it allow your business to target all the big cities in the country, but it also gives your customers a chance to do business in their local language without any language barriers.
Better User Interface
One of the main reasons for hybrid mobile applications' high appeal is their enhanced UI/UX. It offers a unified user experience across all mobile devices. Every customer nowadays expects a mobile app that is quick to respond on multiple mobile devices and provides a smooth experience.
Hybrid apps, on the other hand, are founded on the concept that "knowledge is just a touch away." Furthermore, it shows data more quickly and automatically adjusts to the device's various screen settings. It also addresses the issue of varying data transmission capacities.
Another key feature is that it is lightweight, allowing the hybrid application's user interface to load graphics and high-definition material rapidly.
Improved Productivity
Using a hybrid approach to mobile app development, small businesses also get to make use of additional developers or developers from outside your organization who can handle local languages. This can improve the speed of the app development process and reduce the costs incurred while taking on this task.
Increased Speed to Market
With an increasing number of apps on the market, it is difficult to differentiate one from the other. Innovative app developers are faced with the dilemma of how to make their offerings stand out. It's hard to keep up with the latest trends and updates in technology. This not only generates more work but also increases the cost of app development.
The global app market has been growing rapidly in the last few years. This is because global users are adopting smartphones to shop, communicate, and watch videos. A hybrid apps development helps you save valuable time by letting you quickly integrate new features into your app.
Hybrid mobile app development can help you create a better-looking and more engaging mobile experience for your customers. Hybrid mobile app development lets you easily integrate new features that would be instrumental in growing your business.
Offline Support
With an increasing number of users on mobile devices, the need to conserve data has increased exponentially. It is now becoming harder for users to take advantage of an array of functions on their phones when they're relying on limited data.
With this "offline mode" feature, you can now adapt your app to ensure that it provides your users with continuous service anytime and anywhere, rely less on the internet, and avoid using up all their data.
Hybrid Apps offer 2-in-1 features for faster load time and better offline functionality. The artificial intelligence in the hybrid apps ensures that you don't use up your data or battery power while also ensuring that your application is always-on.
In order to save data offline, hybrid apps save the device API. It aids in the rapid loading of the program after it is launched by the user. It saves a portion of the data that users may access when there is weak or no connectivity.
Because most users desire to save money on mobile data while still having access to application data, hybrid apps can give offline access to the app without causing technical issues. One of the primary reasons why hybrid mobile applications are superior to native mobile apps and web apps is because of this.
Reduced Cost
Hybrid mobile app development has a couple of advantages over native app development. Native apps can consume resources like hardware, cost a lot, and sometimes a complete mobile device as well. These advantages of native app development can be saved if you choose hybrid apps development over native.
In comparison to web applications or native mobile apps, hybrid apps are less expensive and do tasks faster. Cost efficiency is important in today's competitive digital age, when "time to market" has become critical. It helps firms create and get their goods to market quickly.
You don't have to spend a huge amount on your mobile app development if you use hybrid mobile app development. In a hybrid mobile app, native and web interfaces will be used to build a robust mobile app.
Hybrid app development is particularly good for businesses where the use of hardware resources and costs are high. Hybrid app development reduces the costs of software development.
Mobile developers of hybrid apps can save time and money by using a collection of libraries and various mobile development frameworks such as PhoneGap and Meteor to speed up the whole development process and send the app to multiple app stores.
Easy Integration Processes
The need for hybrid applications arises due to the shortcomings of native apps. The fast-paced world of tech demands innovation, which is not possible with the limitations of today's native apps.
Today's limitations include performance, scalability, compatibility with other apps, and ease of use. Hybrid apps provide a solution to all these problems.
If you want to reach the limits of your device and produce innovation that will stay far ahead in the tech world, then use hybrid applications.
Hybrid applications, like native programs, take advantage of the device's inherent programming system through an overlay that aids in flawless synchronization with other compatible apps. Developers will have fewer integration issues as a result of this.
Hybrid apps always function well with the device's native programs, such as messaging, GPS, cameras, and so on, to provide a seamless user experience.
How to Implement a Hybrid Mobile Strategy for Your Business
Businesses no longer want to be at the mercy of the demands of their consumers. They want to meet those demands and exceed them, giving their business an edge over their competitors. They no longer want to keep up with the trends of technology. Instead, they want to set such trends and be ahead of such trends.
Businesses run on data and analytics; data that comes from every touchpoint the business has with its consumers, from website visits and app downloads to customer reviews and call-center logs. This data is essential for any business that wants to stay on top of its game and ensure that it can fully leverage new technologies (and those soon-to-be) in order to grow.
In other words, every business wants to leverage the power of technology and so, they are willing to invest and experiment with new technologies to increase their efficiency and ensure that their consumers get the best experience from their website or app.
This will include important aspects such as identifying target users, creating a mobile-first marketing strategy, and finally ensuring that the app is developed keeping in mind the best mobile user experience.
Hybrid apps are excellent for developing small businesses because of their many benefits. For example, these apps allow small businesses to create a good first impression of their services which attracts more users and increase conversion rates.
Final Words
Most small businesses don't have an in-house team to provide hybrid app development services, which causes a lot of headaches for owners. They're always looking for efficient, cost-effective solutions that can take their business to the next level.
Owners of mobile apps are also constantly feeling stuck with the same problems because they don't have the resources or funds to afford expensive help. Not to mention there are always deadlines looming overhead.
Prometteur Solutions, a hybrid mobile app development company is here to help. We offer affordable, efficient solutions to businesses that are looking for substantial growth potential. Whether you want a mobile website or hybrid app, the best teams have you covered!
3973
0
0
cookie-check
Grow your small business with a hybrid app