Everything is now possible from the comfort of one's own home, thanks to advances in technology. Today, everything is delivered to our door, whether we are ordering food, groceries, or reserving a taxi. When it comes to shopping, eCommerce applications such as Amazon, Myntra, Flipcart, and others have done an excellent job.
You may shop for home decor, clothing, accessories, shoes, kitchenware, and other items from the comfort of your own home. With people relying on technology and the world shrinking to the size of a town, everything is available online. Several vendors sell their items on the same platform, similar to how brands sell their products in a large mall.
What is Ecommerce app
An Ecommerce app is an online marketplace that is accessible through mobile apps. It can be big or small, and you can buy anything on it from clothes, mobile phones, laptops, etc. In general, an online store or store is an online retailer that offers products to customers from different vendors. They sell products from sellers like Amazon, Apple, Adidas, Dell, and Microsoft.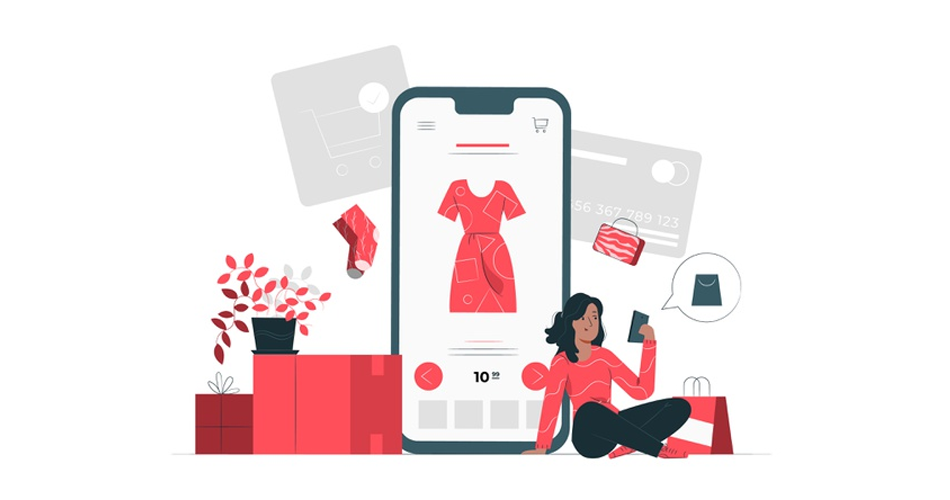 Ecommerce apps are a great way for people to shop for all types of products, from a traditional product to a rare or rare book, a memory card, etc. Currently, there are many types of apps that let you shop online. Apart from Amazon and Flipcart, which are the most popular eCommerce apps for the sale of all sorts of products, there are a few other apps.
Benefits of Using Ecommerce App
There are many benefits of using an eCommerce app. For example, it is easier to search for items, prices are more accurate, and customers can see what's available in stores. It also helps you find out what is in stock in your favorite store before you go shopping.
They provide an easy way to access product information, order supplies, and get information about all of your inventory in one place. But for customers, they offer ease of use and convenience.
With eCommerce apps, you can browse products online while on the go or purchase anything with just a few taps on your phone. With all of these benefits, it's clear that eCommerce apps are the future of shopping.
How to build the ideal Ecommerce app
App Concept Generation
It's important to stay relevant in your app services. It's also more effective when you target specific geographical areas on which your app will focus. You must decide whether you want to release your multi-vendor software in a general or specific niche. Once you've made your decision, you'll need to select the geographical area you'll be focusing on.
Cost Determination
Not knowing what resources to use in the development process can cause you a lot of problems with developing your ideal app. Devote a significant amount of time to coming up with a plan for your app idea. When you're trying to build an app, you'll need a team of professionals to lend their expertise and lend their expertise across different disciplines. What makes us special is that we provide the best set of resources in the market, from UI/UX designers and front-end coders to back-end coders and mobile developers.
Once you've decided when and where to start, you should start looking for resources. Know your current resources that could be useful and confirm the dollars you are willing to spend to create an app similar to Amazon's. You can also seek guidance from top app development firms.
Implement Quick Delivery
Often, even though order is made with a fast delivery option, it still takes days to arrive. This inconsistency means that customers are not confident in your ability to deliver their orders. Customers want to be able to count on the quickest delivery as a guaranteed thing. They're unsure as to why you can't deliver an order with a fast delivery quickly.
We know that the entire point of a fast delivery option is that it gets an order from Point A to Point B as soon as possible. We've learned from customer feedback and our own internal experimentations that a 2-hour turnaround time for small orders is more than adequate and really makes customers feel confident in your company's work
You can deliver an order with a fast delivery if it is possible, which only works on an eCommerce platform. However, with high tech, most orders can be delivered within 2 hours even though it is just 2 items. That is the reason that Amazon got huge delivery volumes and that is why it is called one of the best eCommerce platforms.
Your One-of-a-Kind Value Proposition (USPs)
A successful app experience must be well-designed and enjoyable, but sometimes it can get lost in the noise of apps vying for attention. Users are bombarded by ads, in-app notifications, and social media posts that constantly remind them to download apps or promote certain functions. It can be difficult to stand out in this noisy landscape.
There is a distinction between ordinary and remarkable. Determine your app's unique selling points (USPs), which will provide you a competitive advantage over others. Multiple orders, biometric payment, or Fastrack delivery are all possibilities. You should brainstorm and come up with features that will distinguish the software.
App Design Methodology
Creating an app like Amazon is no easy task. It takes months of designing and coding to finish, and even with strong design skills, it can be difficult to produce an app that is stylish and easy to use. So many people are still using Amazon because it's the go-to app for purchase needs, but you know the one thing Amazon doesn't offer is the ability to download music. There is really no good reason to come up with excuses that your next purchase can't be made on Amazon.
To make an app like Amazon is just as simple as adding this developer's design standards into your skillset. To make an app like Amazon, you must adhere to a design standard that is consistent with development coding. You must contact app designers who can create stylish and usable wireframes for your app, allowing people to use it without difficulty.
Coding
Coding and development are more than just a hobby, it's a necessity. With so many languages and frameworks to choose from, it can be difficult to know where to start and what languages to learn. Agitate:
For any developer, knowing the languages that best suit you will be important — but it's not that easy. Developers are constantly juggling multiple tasks, which means they need something that can offer them everything they need.
Coding is not as simple as it appears. Coding is done in two directions: front-end and back-end. You should guarantee that the functionality provided by the code on the back end is also available on the front end.
Obtain a Review for the App's First Version
You can't do anything more with your app until it is tested. You're probably worried that someone will find a flaw in your app and then you'll have to start from scratch or work even harder to fix it.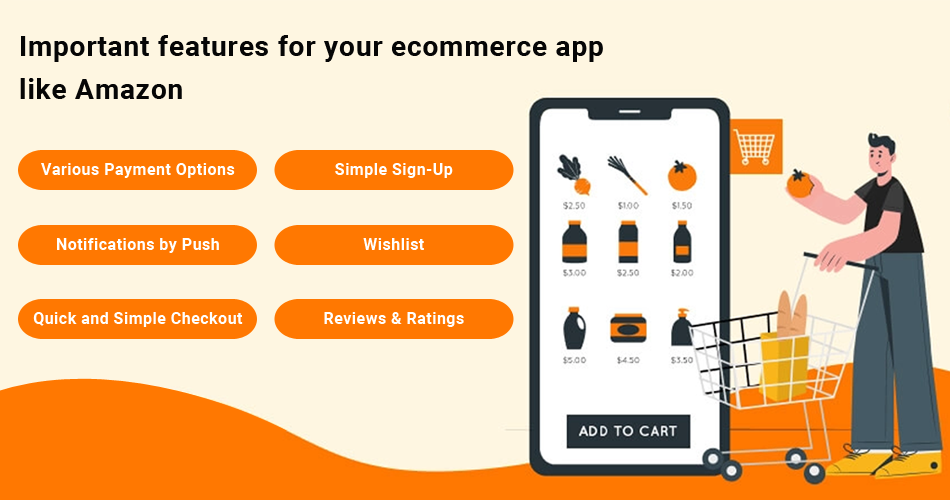 In order to avoid worries of this sort, it's a good idea to first test the app and gather feedback from those who use it. Your first rounds of testing might include short surveys to learn how users feel about your app idea.
When your app is finished, consider testing it or requesting that select individuals use it. Learn from their mistakes and strive to make corrections if necessary. You can even conduct short surveys to get quick feedback and responses.
Market and promote the app
Creating an app is insufficient. What if no one knows about your app? As a result, it is equally important to do marketing and advertising through digital mediums and newspapers to spread the word about your app.
Make your App Available
When you've finished developing, testing, and marketing your app, it's time to put it out there. After you've launched it, keep an eye on the app's maintenance and feedback.
Other important features for your ecommerce app like Amazon
Various Payment Options
Because it is an eCommerce app, it is self-evident that we must conduct transactions online. To accept payments globally, try integrating payment gateways such as Google Pay, PayPal, MasterCard, and others.
Notifications by Push
Users expect to be able to access information in real-time. Push notifications keep users up to date on the latest app activity. It might be a personalized statement about your recently placed order, such as packed, shipped, or delivered. It could be tied to some special offers and discounts that your app has made available.
A Quick and Simple Checkout Process
People like to shop online since it is convenient and saves time. Try to include that vibe into your app. The journey should be short and smooth, from placing the item in the cart to making the payment. Because if the process is too sluggish, it will have an influence on your business, as many others will provide you stiff competition.
Simple Sign-Up
The user should be able to simply log into the app. Even if it is their first time registering, the process should be relatively simple. Request that your developers include signing in using a social media platform or a mobile phone number.
Wishlist
Your software should provide a feature for storing items and saving them as favorites for later review.
Time synchronization
The admin panel, vendor panel, and user dashboard are all equally important for the app's smooth operation. Make your app good with logistics and management so that all three panels can function together in sync to provide a straightforward comprehension of the selected user.
Use of Social Media
Make your app compatible with sharing links or selected things on other platforms. This encourages greater networking, and your software reaches a wide range of consumers without incurring significant costs.
Reviews & Ratings
When a user sees honest reviews regarding a product, they should feel more at ease and confident about acquiring it. As a result, you must incorporate rating and review options in your app.
Shopify VS Magento
Shopify is a simple platform for creating online shops. You pay a monthly fee, and it may assist both new and established enterprises. The product is known as Shopify mobile apps.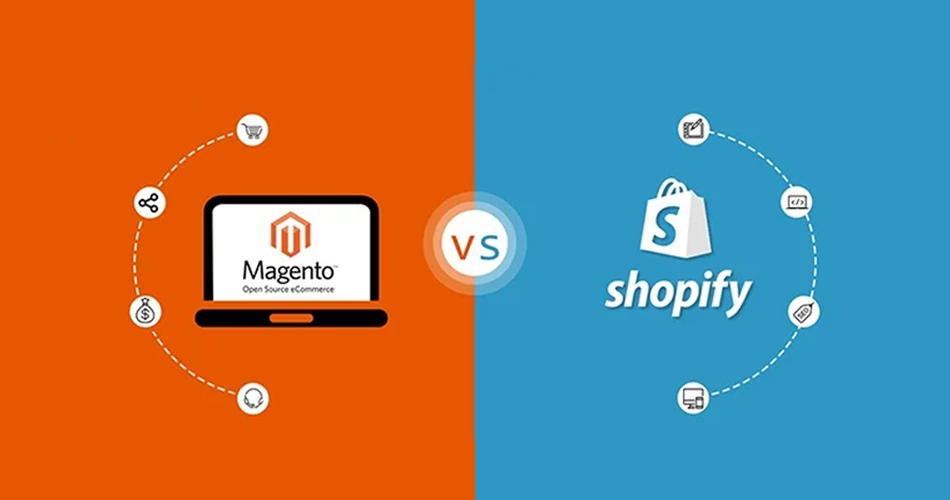 Magento is an open-source platform that, like WordPress, is completely free to download and install on your computer. However, you will need to pay for web hosting (about $10 per month), security, and extensions (similar to applications), which we will go over in more depth below. It's a strong platform, but without understanding how to code, you'll struggle to reach your eCommerce ambitions. It is more suited for enterprise-level companies with their own development teams.
4183
0
0
cookie-check
Complete guide How to create an ECommerce Application Like Amazon?