Do you know the web graphic design trends that can transform your business in 2020? If you don't, you need the assistance of the best graphic design company in Pune to help you stay in the game. Without graphic design websites to help, you may not be able to beat your competition in 2020.
Businesses must always be at the top of their game in order to compete favorably in their respective niches. One of the ways you can deploy as a business owner is the use of stunning graphics on your website, which sends a clear message to your target audience.
Graphics Design Trends
The year 2020 is also all about user-friendliness, intuitiveness as well as impressive graphic design techniques. Making creative mixes and the use splashing bold colors that have never been tried before is also among the new design trends for this year.
A handful of the web graphic design trends that were popular in 2019 may still be in demand in 2020. Therefore, it makes sense to create designs that are a combination of the 2019 and 2020 web graphics design trends.
These are the web graphics design trends that can transform your business this 2020:
Simplicity and Bold Colors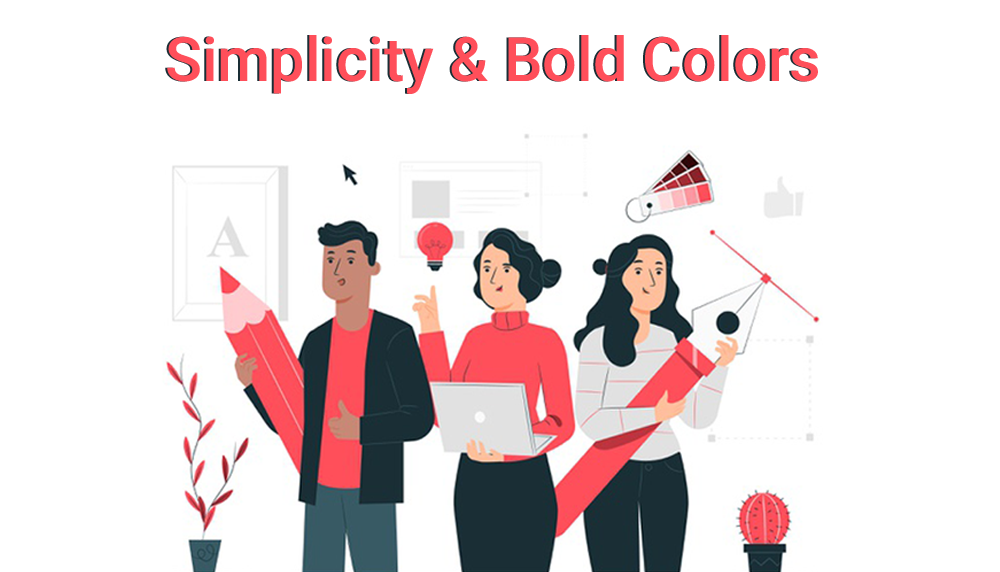 The use of bold colors or designs can make your brand stand out from the fierce competition in your niche. The vibrant color palette saw a lot of use or application by web designers and many who loved to do graphic design online in the previous year. There is no sign at all that this trend will slow down in 2020.
Many brands out there employ the use of immersive and vivid colors as compelling attention-grabbers. When combined with other graphic design concepts or ideas, bold colors contribute substantially to a memorable brand image.
Graphic design companies in Pune and Mumbai make use of bright color palettes when designing websites for their clients.
Dark Mode
Another major web graphics design trend to watch out for in 2020 is dark design, or what is popularly known as "Dark Mode."
Dark backgrounds or dark themes are easy on the eyes as they significantly reduce eye strain while improving visual ergonomics. They also make design elements stand out starkly. This creates a high contrast ratio when used with other colors.
Moreover, dark mode web designs look ultramodern, making them the preferred choice for users of smart devices with OLED screens. Dark themes also help in conserving power while significantly extending screen lifespans.
No one will deny the fact that a dark background significantly improves the visibility of other colors which makes for dynamic designs.
Furthermore, the dark mode of graphic design trends aesthetic likewise fits in perfectly with other prevailing web graphics design trends in 2020. This includes moody and dark color schemes combined with futuristic, dystopian, and dark cyberpunk styles along with glowing neons.
Animation and Interactivity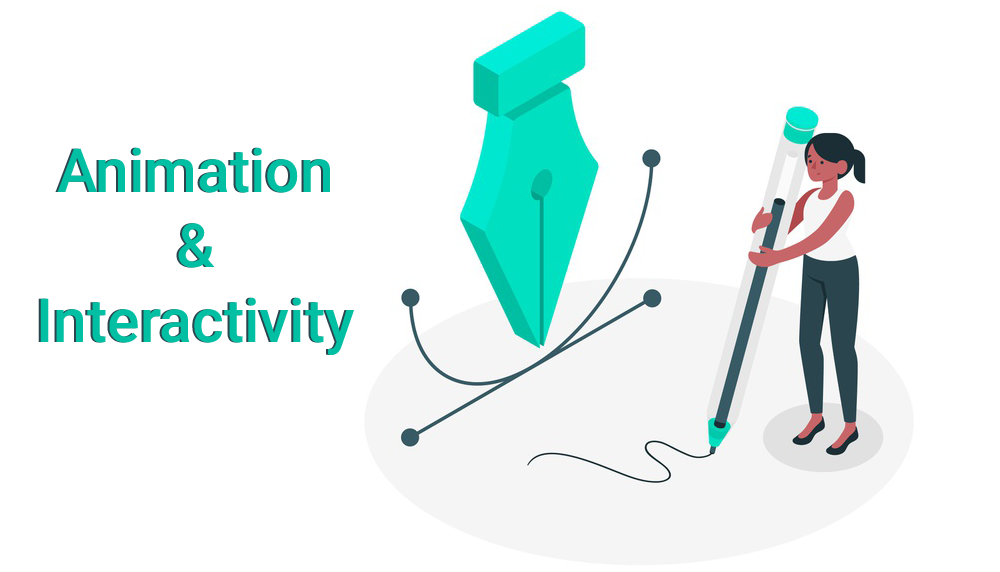 Animation has been predicted to be one of the most popular web graphic design trends in 2020.
Motion design is highly engaging as it can rapidly evoke the interest of web visitors while enhancing their immersive experiences.
Animation in web design entails several applications: from micro-interactions which provide users with feedback as they hover on website elements to animated headers, interactive typography, and explanation videos.
Some brands make use of funny micro-interactions, cute characters, and animated videos as an excuse for irregular website issues. For instance, your brand can make use of funny animation to make loading and waiting for website processes much more pleasant for visitors or users.
Moreover, animation can also help in eliminating negative user experiences, influence your brand's overall image, and increase the loyalty of your target audience.
You can also produce animated videos for your website to communicate your values, goals, and emotions to your existing and prospective customers. An eye-catching animated video is the most engaging way to tell the story of your brand.
Hand-drawn Icons
Do you know that hand-drawn design elements can inject humanity and emotion into your website? Users seem to crave perfected, impersonal graphics as they have dominated web graphic design for several years. This is probably because hand-drawn icons are positively emotional.
In 2020, therefore, adding some hand-drawn icons will give web designs a form of realness which visitors will find appealing.
Stylized and unique hand-drawn elements and icons can be used to show off the personality of your brand, thereby making you stand out from your competition. Many graphic designers state that hand-drawn elements are virtually a countermovement to the trend of – pixel-perfect – flat designs.
So, showing off your open shapes and scratchy edges will end up revealing just how lifelike and human your brand is.
Therefore, in 2020, graphic designers will be making use of more hand-drawn illustrations or hand-drawn icons/elements as messy-looking elements to their designs.
Custom Illustrations
Another spectacular web design idea that will be showcased in 2020 is custom digital illustration. The more abstract and imaginative illustration can turn any site into something unforgettable and unique. You can even transmit your brand's entire culture and story via the use of not more than one narrative image.
These days, many companies design highly engaging illustrations to express their brand's ideas, showcase how to use their products, or establish an emotional bond with their target audience.
If you want your brand or company to stand out and win your prospective customer's heart with a memorable illustration, you should consider discussing how to integrate custom digital illustration with the best graphic design company in Pune.
This is not a job that should be assigned to amateurs, who only know how to perform graphic design online.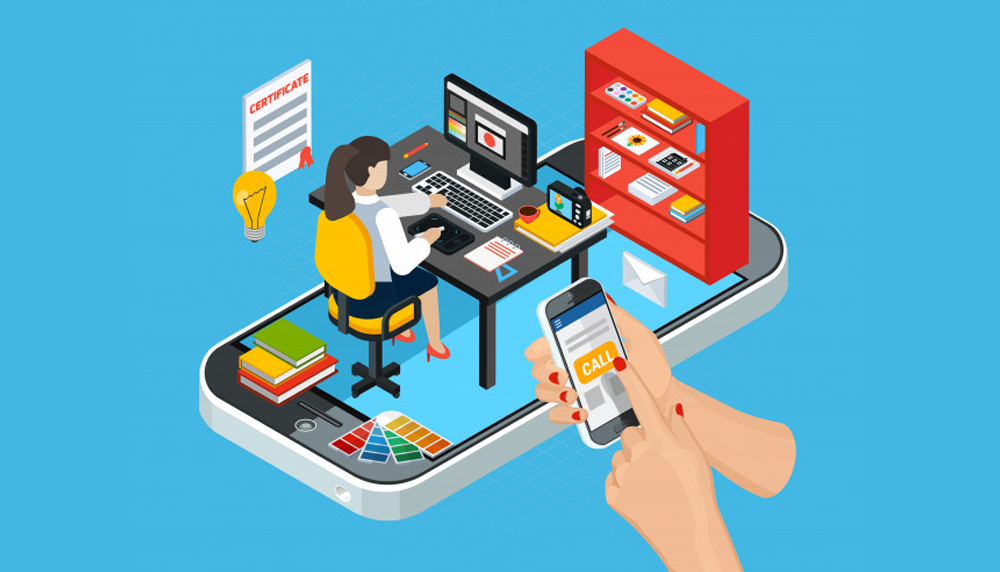 Gradients
Apple and Instagram have used gradients, so if they did, you should as well.
Gradients refer to the elements of throwback color aesthetics. It is an ingenious website idea that can be used for making logos, CTA buttons, backgrounds, or color blocks on a website.
In 2020, veteran web graphic designers have forecasted that the gradient will involve the blending of contrasting tones and colors into highly unusual mixes that will inject new energy into web design for various industries.
The gradient mix is the perfect tool for UX designers whose goal is to focus the attention of the user or visitor on a particular article on a webpage, thereby sparking positive emotions.
Therefore, make sure you highlight this aspect when discussing with the top logo design company in Mumbai.
Mix Photography with Graphics
If you want to communicate a customized message, you should consider using photographs mixed with graphics or illustrations. Photos of people or products can also enhance branding while helping your site to stand out from the crowd.
When original graphics overlap real photographs, the resulting visual is usually unforgettable, which is how your target audience should see your brand at all times.
It is, therefore, essential that you match the style of the graphics and illustrations with the personality of your brand. These styles can resolutely sway how your target audience interprets the image, making for a more engaging experience.
Immersive 3D Elements
3D visuals are always a delight, though what held this innovative development back all these years was the expensive price tag as well as technology.
However, 3D technology is now available such that the top graphic design companies in Mumbai can create 3D designs without relying on heavy-duty equipment.
The best way to create immersive experiences for your site is the use of hyper-realistic 3D that takes up the entirety of the screen. This is going to be in place until virtual reality (VR) becomes cost-effective and more mainstream.
The use of 3D designs may enhance visuals, but it has also the added benefit of engendering user experiences as well as interactive 3D design that encourages visitors to stay much longer on your website.
So as 2020 continues to unfold, more and more immersive 3D web graphics design will emerge, drawing visitors as it visually breaks down the boundaries between reality and digital space.
Vector Graphics
Traffic to websites from mobile devices has significantly increased in recent years. And statistics have even revealed that mobile traffic is much higher than those obtained from desktop computers.
This shift from desktop traffic to mobile traffic has also greatly affected the web graphics design industry, resulting in "mobile-first designs." Without any doubt, the process of web designing prioritizes smartphone users by building mobile-friendly and highly responsive websites.
One vital mobile-first web graphics design trend that will continue to trend in 2020 is the use of what is known as "scalable vector graphics."
Scalable vector graphics (SVG), which is unlike anti-mobile image formats like PNG and GIF, are non-pixel vector images that accurately scale and fit the size of any screen without distorting or sacrificing the quality of the image.
It is a crucial design trend since it ensures the consistency of the quality of website graphics across all mobile devices.
Minimalism
Minimalist designs make websites appear somewhat sophisticated but simple. And in most cases, that is all you need for your site to look stunning. In other words, the minimalistic approach will continue to trend in the world of web graphic design trends.
Good minimalist design entails having a small number of elements on the webpage. It also involves the use of negative space to catch the attention of viewers as they browse your site.
Minimalistic web design has a simple trick: keeping it bare and clean without overdoing it.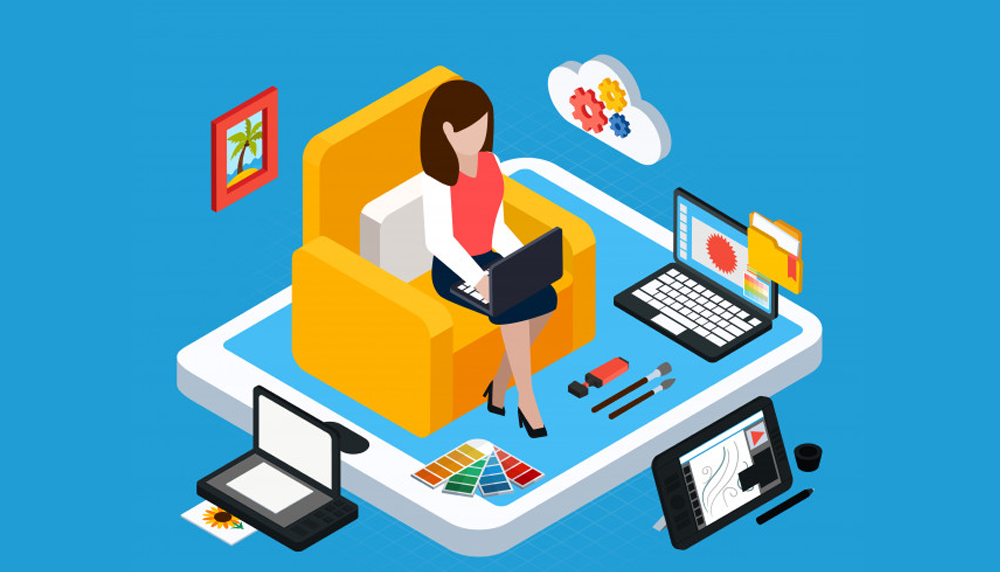 Smart Videos
Videos are the most potent forms of visual media online these days. If done well, they can transform your site overnight, thereby making it more engaging.
When you add videos to your website's design, it makes your site look less annoying and more appealing. However, how you go about this is something that must be well-thought-out or else, you could bungle it.
Top graphic design companies in Mumbai can help you in this area. What is left for you to do is to consider the following:
What is the purpose of the video?
Where is the placement? On top of your web page, in the middle or at the right-hand side of your webpage?
How many videos do you think you should upload to your site?
Many marketers make the common mistake of embedding YouTube videos on their sites, just for the sake of having video content. This is a very wrong practice that you should never consider.
If you must stand out in your niche, you should consider creating a well-designed and purposeful HD-quality video that will convey a meaningful message that connects your brand to visitors and existing customers. Videos can also work together with the overall design of your business website.
Always use a video or two that is loaded with valuable information instead of packing your site with many videos. Putting up too many videos will overwhelm the interface of your website and confuse your visitors.
It is immensely vital to always stay ahead of the curve in the web graphics design industry. If you want to have your website designed by the best graphic design company in Mumbai, you need to know what is trending since the success of your site heavily depends on it.
If you are ready to transform your business with the right graphic design trends then you can head over to Prometteur Solutions now to get started.
1411
0
0
cookie-check
WEB GRAPHICS DESIGN TRENDS FOR BUSINESS TRANSFORMATION