Some business apps are useful, practical, and outright fun to use while some are frustrating, boring, or nearly useless. What makes the difference? Trust me, developing a successful mobile app is a time-consuming and complex procedure. You can use various Features For Your Mobile Application and make it easier by doing proper planning and by hiring the best mobile app development company.
How you are going to choose the best features for your app? Where do you begin? How do you choose the right mobile app functionalities according to your requirement? Well!!! In this case, you should develop a list of features and functionalities which you want to include, with bullet points or a step-by-step overview of how users will interact with the more complex functions.
What is a Mobile Application
A mobile application is a software application that is designed by either a mobile app developer or a mobile application development company, to run on small portable computing devices such as tablets and smartphones. Mobile applications are categorized into three; hybrid apps, cross-platform and web-based, and native apps. They are created for various reasons and come in different designs.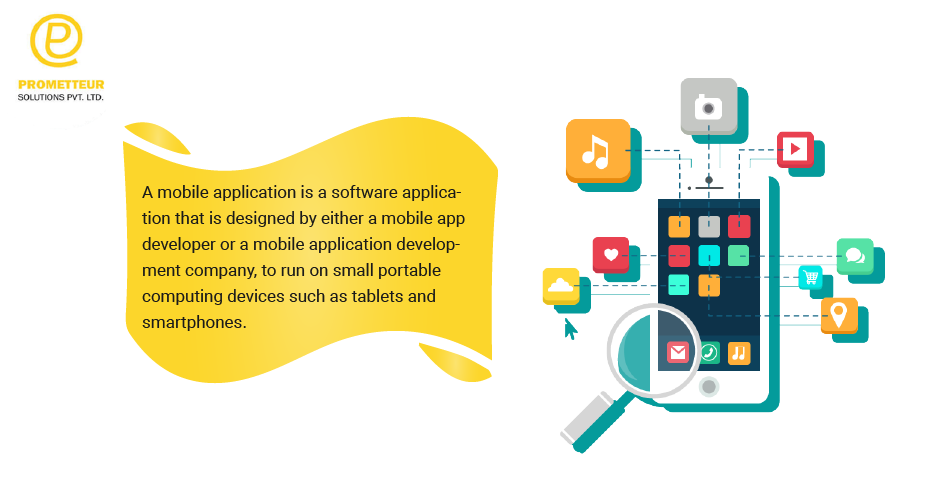 Mobile applications are characterized by what we may refer to as mobile app features. Mobile app features are what make the mobile app unique, powerful, and able to perform certain tasks.
How To Choose The Features For Your Mobile Application
Here are some tips for you which can help you on how to choose the best features for your mobile application.
Do Some Research: Know What You Want?
Whether you are a developer, a client, or a mobile application development company, it is always essential to have a good idea of the type of mobile application you want. Knowing what you want will make it easier to identify the best features of mobile applications for your business.
Since you understand the problem that you intend to solve with this product and have done excellent research and product definition, you should have a very clear idea of the things you want your product to do. Do you want a product with e-commerce mobile application features? Or would you prefer other mobile app features?
The main goal of any mobile app developer is to develop an attractive app or product. You can accomplish this by doing some research as a need of customers and market changes. Conducting research on customers, technologies, trends, and competitors will help you to get decide the direction of your app.
Understand the Purpose:
It is always beneficial to refer to PRD (Product Reference Document) to implement and simplify your ideas. This document is designed to guide you through the process of fully defining the purpose of the mobile app project. By answering questions like who is the targeted audience? What type of problem can you solve with it? To answer these types of questions product definition can help you.
Pick up the Best Class Features and Set According to Priority:
Always select the features which according to you can play a crucial role in the success of your application. According to the importance of the features as well as a priority, this needs to be done. Let's consider, you have developed some app features and you need to decide which app should be launched first and others that are not really important as earlier ones. Once you planned these things, the decision becomes easier.
Including Social Sharing Feature:
Nowadays social media is the most powerful and effective key for the success of any business venture. The inclusion of social sharing icons with your application will certainly give you a good benefit to connecting directly with the targeted users on various platforms including Facebook, Twitter, Instagram, Whatsapp, and others.
Providing Best UI and Functionality:
User satisfaction is the most important factor for every business. One of the important app features through which you can engage your users is by providing the best user interface and functionality. So, the app must be developed in such a way that it can be helpful to the user for day-to-day activities. Always, remember that if you fail to provide simple and proper functionality, the user may uninstall your app from their mobile phone.
Addressing Security Concerns:
Data security is the most important feature of the mobile app. So, protecting the app with secure login functionality and ensuring a proper authentication process for important data is the duty of the best mobile app development company.
Payment Gateways Integration
Payment Gateways are a core ecommerce mobile app feature for receiving online payments. They increase sales, ensure that the proper payments are made, and some may even automatically generate payment receipts to users. It also ensures that fraud is checked and user information is validated before any purchase is processed.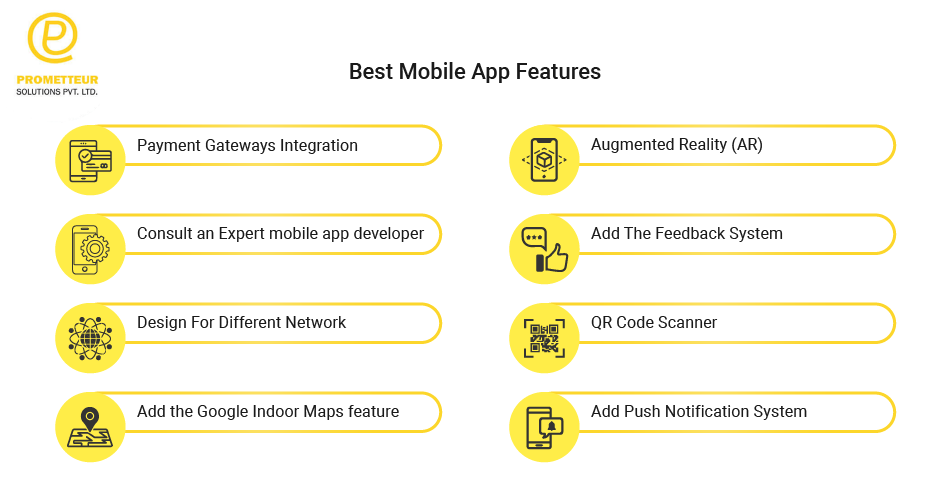 Consult an Expert mobile app developer
You may not have explicit knowledge and idea of how you want your mobile application to build. Neither will you know all the mobile app features that should be included in the mobile application you intend to build. One way to go about this is to seek expert advice from a mobile application development company or mobile application experts.
Design For Different Network
Mobile app development experts, web gurus, or mobile application development companies should know that not every user uses the 5G or 4G enabled device. Some use the 3G or slower networks, so make sure one of your mobile app features works well across different mobile networks. Therefore, make sure to test your mobile application on different networks and ensure that it runs well on all of them before launching it into the market.
Add the Google Indoor Maps feature
Google indoor maps help to provide enjoyable and convenient moments for visitors using their mobile devices. It makes it very easy for visitors to search through the rooms of a building. The mobile app feature can help visitors to quickly locate a store, malls, transits, airports and other relevant locations of interest to them
Augmented Reality (AR)
Augmented Reality (AR) is one of the new technologies that augments our lives. It is a mobile app feature that performs wonders in terms of interactivity and customer satisfaction. AR is a game-changer. It makes it possible for customers and buyers to experience how a product works before proceeding to make a purchase. With AR's integration as one of the core features of a mobile application, interactivity, customer satisfaction will become a reality for users.
Add The Feedback System.
If you want to involve your customers and users in deciding the next step in your business to meet their demands, integrating the feedback system into your mobile application features can do the magic for you. It is a mobile app feature that collects users' queries and complaints about what needs to be fixed or what is not going well with them while using your mobile application. This mobile app feature allows you to easily collect and analyze specific data, which you can use to improve the user experience, products, and services of your business for optimal growth
QR Code Scanner
It is a mobile app feature that saves customers spending too much time searching for a product they would love to buy. Its advantage is that when a customer scans the QR code with their mobile device, the customer is directed to the page where the item can be purchased. It also increases interactivity and user experience.
Add Push Notification System
It is an excellent mobile app feature for establishing advanced connectivity bridging communication gaps with your product's users. You can use it to send messages and notifications on new content, tasks, bonuses, security threats, successful and failed transactions, announcements. A push notification system has become one of the core features of the mobile app used for various communication purposes.
SOME MOBILE APP TEMPLATE AND THEMES WITH GREAT FEATURES
Mobile development companies usually have lists of mobile application templates and themes that they usually use to build mobile apps for businesses. Using themes and templates makes their work easier and faster since they don't have to rewrite codes or build new projects from scratch. The themes and templates come with some of the best mobile app features that are good for different products and services.
These templates are selected based on the type of problem that the mobile application is expected to solve. If, for example, it is a business that requires an eCommerce mobile application to render and sell its products, the mobile application developing company will select from their library of eCommerce templates and then tweak them to suit the purpose of the products.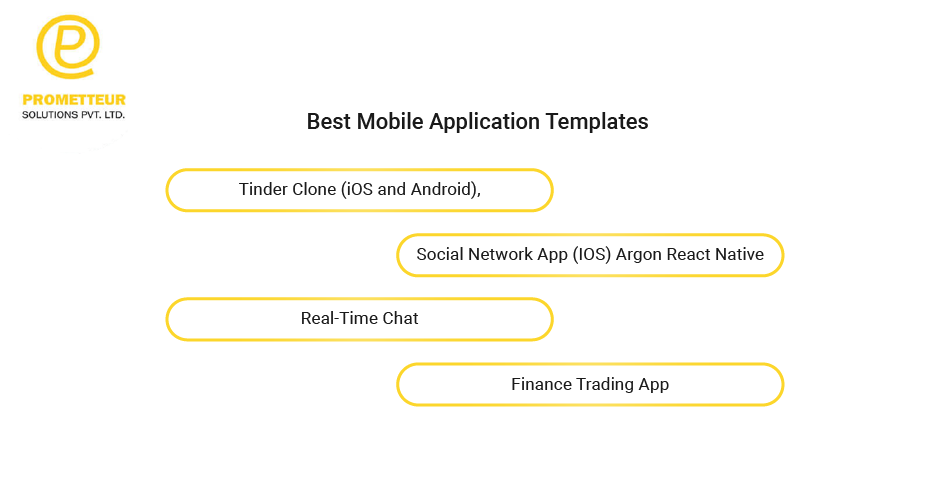 Having a mobile application list template to choose from makes the work a lot easier. It saves a lot of time for both the customer and the mobile application development company. It is also a perfect way of working smart and not complicated. Some of the best mobile application templates include,
Tinder Clone (iOS and Android)
Tinder is a product of React Native app template, which is excellent for creating a dating site. The template has some of the best mobile app features for building a dating site. It has functionalities like matchmaking, swipe cards, photo messaging, chatting, like button, user profile, dating profile, and swipe cards.
Tinder is a dating application template that is excellent for Android and iOS. With the software available for downloads on the app store and Google Play Store, It can be downloaded and used by many mobile application companies to quickly build mobile application software for their clients and customers within a short period.
Tinder is also connected to a back-end builder, and this has earned it to be ranked among the best mobile application template and theme lists in the cloud.
Shopertino (E-commerce application)
E-commerce mobile application features have become very common in mobile apps. It is so because most businesses have moved online, and most customers are always either on social media channels or doing other things on the internet. As a result, businesses have to move online to catch up with new digital marketing trends to advertise and sell their products. This has led to high demand for businesses and the development of many mobile applications with eCommerce features.
Mobile application development companies cannot meet the high demands for this product if they decide to always build them from scratch, especially when two different product demands share many similarities. It is only wise for them to use mobile application templates like Shopertino for speedy deliveries. Cupertino is one of the best mobile app templates with an eCommerce mobile app feature. It has a fantastic shopping user interface, SEO-ready, and enjoys integration with WooCommerce, Shopify, and Firebase.
Shopertiono has the following ecommerce mobile app features; Product lists, Apple Pay, Checkout, Order History, Stripe Payment, Shopping Cart, Android Pay, Instant Reorder, etc.
Social Network App (IOS) Argon React Native
Social networks have become a prevalent tool for meeting, interacting with people within and across borders, and engaging in business transactions. Mobile app development companies don't always have to build this product from scratch; instead, they can use the Social Network App to achieve even better results. The Social Network App is a mobile app template suitable for developing mobile applications with outstanding social media mobile app features.
It has a fantastic user interface design with incredible interactivity.
The Social Network App comes with the best mobile app features for building social network mobile applications.
If you are building a mobile app that requires chat functionality, then Real Time Chat template is one of the best options in the cloud. With this template, an app developer does not need to spend weeks writing and rewriting codes to develop a product with chat functionality as a mobile app feature.
The Real-Time Chat template is excellent for building and adding chatting features to mobile applications. It comes with relevant features of mobile application products that are specially created for chatting. Some of the features are photos, videos, clickable URLs, online status, typing indicator, green status, emojis and gifts, mentions and notifications, video and audio calls, etc.
Features of mobile application are added to the products based on the purpose the mobile application is created for, and finance and the trading app are unique mobile app features. The finance app template is used for building mobile applications with various financial features, such as cryptocurrencies, investment, budget manager, stock trading, etc.
Popular trading platforms like Robinhood and Coinbase use this mobile application template for running their crypto trading businesses, handling transactions, and log-ins amounting to millions of dollars every month.
Selecting the best features for your mobile application is a planning process that is essential to define the purpose, objective, and success criteria for the product. Therefore, you must focus all your efforts on properly defining the app in detail. This helps to achieve your business and product goals. Those are some of the best mobile application feature list templates and themes that you can use for your mobile app dev.
If you have any other tip to share, please leave a comment below.
Happy Coding!!

1549
-1
1
cookie-check
THE BEST FEATURES FOR YOUR MOBILE APPLICATION