These days you can find a mobile application for absolutely everything. Digital media plays a huge role in our lives. This just isn't true! But, many small business owners still believe that having a website or a facebook page is sufficient to attract and get in touch with their customers. The mobile application has become a necessary marketing tool for all businesses. While so many business owners think mobile app development is too expensive or and unnecessary investment.
Mobile apps are considered to be one of the most powerful tools for contacting the target audience in terms of business. Almost every adult in the world has a smartphone. Mobile can help a small business to engage with their customers and build a bond with them as well as it helps to drive sales, and provide their reputation in the market.
Today lets discuss mobile app development services in combination with business, and why you should consider building a mobile app like android applications or iOS applications for your business.
EASY ACCESS AND CONVENIENCE
One of the advantages of mobile apps for business is that it is a business tool that creates easy access to the business and gives both the business owners and their customers convenience. Before mobile applications became popular, the digital experience in using the services rendered by businesses or buying their product was very stressful and, in most cases, required physical presence for successful business transactions. However, technology has evolved and people and today, people and businesses are exposed to each other via multiple platforms, including a mobile app.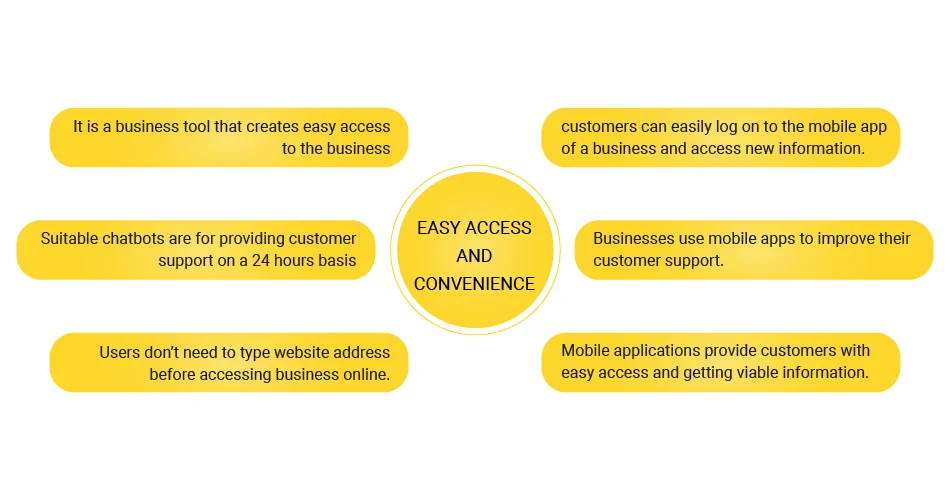 Another advantage of a mobile app for businesses is that customers can sign up on the mobile app of a business using their mobile devices and, in a matter of minutes, begin to make purchases and transactions. Businesses also use the mobile apps to notify customers from different locations about updates, upgrades, changes made, available hiring positions, etc. In other words, customers can easily log on to the mobile app of a business and access new information.
Suitable chatbots which are excellent for providing customer support on a 24hours basis is another advantage of mobile apps is. Businesses use mobile apps to improve their customer support.
Therefore, mobile applications provide customers with easy access and getting viable information about a business, make good decisions on the product and conveniently make purchases.
Don't Forget: Mobile app users don't have to ever type your business website address on a search engine before accessing your business online. All they ever need is one click. Another advantage of mobile apps for business, right? Winks!
INCREASE IN SALES AND PROFIT
Hey, we are still on why mobile apps are essential for business, and an increase in sales and profits is worth mentioning.
Suppose your customers are excited about gaining easy access to your products and services and having an excellent experience with your customer support system. In that case, they will love to stick to doing more transactions with your business company. Let us say, easy access and an excellent customer support system lead to an increase in sales. Hence, an advantage of mobile apps for business growth that can not be overemphasized is that it increases sales to bring more profits.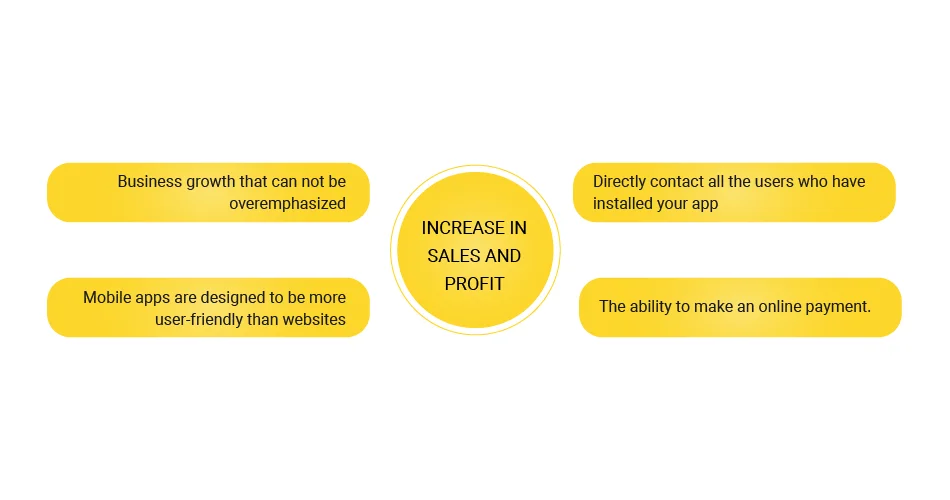 Research shows that businesses have higher chances of increasing sales and making more profits with a mobile app that customers can use to make orders and have them delivered to their preferred location. Usually, mobile apps are designed to be more user-friendly than websites, so users of mobile devices will by far patronize your business more from their mobile apps than they would if they always have to go through a website. Many things like one-click loggings, shopping online, placing orders, and payments are made more accessible with an app.
More and more small and midsize businesses are following the trend of mobile app development. Understanding that an effective mobile strategy involves more than just a mobile-friendly website. There are apps that you can play on, apps you can boost your productivity, apps you for banking, ordering food at restaurants, booking holidays, booking movies, and so much more. In case you are still not sure why anyone would want to build their own mobile platform, here are top benefits for your business growth.
Sales Growth
With the promotion, discount and bonus push notification, you can motivate the customer to purchase from you. You can directly contact all the users who have installed your app. There are many ways to increase the ROI of your business with a mobile app. For example, a company can send a special offer to customers who are near their store or office with the help of geolocation technologies.
The most useful advantage of mobile apps is the ability to make an online payment. People no longer want to spend their time in long queues in banks to deposit and withdraw money. Because the same things can be easily possible with a smartphone while having a coffee at home. You can provide as many options as possible like internet banking, Mobile banking, etc.
MARKETING TOOL
Improve your customer service
It doesn't matter what it is you sell, your customers need some way to reach you when they have a question or query. It would be much easier for them if you had a messaging service built into your app. This way, they'll get a quicker response. Which shows them that you care about them and want to help.
Every business's growth and success are highly dependent on marketing, and marketing is one of the jobs that a mobile app does for business.
One of the advantages of mobile apps for business is that it keeps up with marketing trends and even outperforming your competitors. Mobile apps do not use the traditional marketing technique but an advanced style of promoting your business, your product, and services to a large audience. With a mobile app, people now carry your business in their pockets, hands, and bags. Even more, in their lives. Meaning, when they want to purchase any product or service, your business will be the first to come to their minds.
If your mobile app has a good user experience and positive reviews, your business will succeed. You can initiate a reward program for daily logins and transactions (loyalty program), which will enable customers to earn rewards based on the number of times they perform relevant transactions on your mobile app for some time. One perfect way of achieving this is to gamify your mobile app, introduce more fun activities and place rewards for customers who repeat orders.
Also, another marketing advantage is that since people now have your business in their minds, now you can easily engage them and get them more emotionally attached with promotional activities on the mobile app; activities like discounts, newsfeeds, bookings, new product launch, and giveaways are some excellent examples to consider. Things like this are not usually successful with websites or offline, which is a great advantage of mobile apps for business.
It can help you to sell faster
If you have a certain product that you want to sell out before a certain time, you can send 'limited time" promotional coupons with your mobile app to your customers, Such promotions encourage sales and will also provide publicity to your business.
Boost brand recognition
If your business app is designed well and works properly, then your business should be the first that consumers think, when they want to buy something that you sell.
This is because the increased visibility will constantly remind them that you exist.
Just make sure that your app tested by a mobile app development company before you launch it. If your app is unprofessional, then it will have the opposite effect.
The right time for your business to think about a mobile app?
Do not build an app simply because you think you need it or because everyone else has one. The following points are given to analyze, is your business truly need an app?
– Evaluate whether a mobile app will truly impact your business? A successful mobile app must have clear goals, such as increasing sales, or building customer loyalty.
– When you want to reduce extra manpower using automation by the mobile application.
– If you have less than 100 reaches a day for your website, then you have to think again before developing a mobile app unless the conversion rate is not too high.
– Develop the simplest and cheapest version of the app first.
– If the simple version of the app is on the track to meet your success, then continue developing it to a better version with more features.
DATA COLLECTION AND ANALYSIS
Payment Gateways: The advantages of mobile apps for business will not be complete without mentioning mobile app-ready payment gateways for making and receiving payments.
Payment gateways are services provided by some fintech companies for online financial transactions whereby there is possible and successful exchange of data (digital assets) from a device and a financial institution. `payment gateways are essential features of mobile apps created for providing services on ecommerce, grocery, gambling and betting, hotel reservation, flight booking companies, etc.
Payment gateways bring increased advantages of mobile apps for businesses because they provide improved customer experience. With payment gateways, users can use their credit cards to make payments and invoice for their payment status. The process of processing payments for purchases is simplified and usually happens in a few seconds.
A profound advantage of mobile apps for business through payment gateway features is the elimination of fraud. When people pay through payment gateways, everything is automatically processed online. The technology makes it impossible for people to make fake transfers or use fake money to make payments.
the best payment gateways to integrate into your mobile apps are, Stripe, PayPal, Amazon Payments, Skrill, Paystack,
All In One Tool that saves cost
The list of the advantages of mobile apps for business continues as mobile apps can combine all the valuable features and marketing tools relevant for growing a business. With a mobile app, you have payment processing, chatbot rendering customer support, marketing tools like social media buttons for boosting brand image and recognition, and a well-designed user interface for an excellent user experience.
All those tools will cost you a huge amount of money if you decide to patronize relevant experts or companies that offer those services. But with a mobile app, you will save yourself the stress and spending of large amounts.
So, why are mobile apps essential for your business? The answers have been highlighted and discussed in this article. We now see that the advantages of mobile apps for business make the use of mobile apps a wise business move towards achieving success.
Mobile App Development Cost for 2021
Research shows that in 2021, the cost of mobile app development increased, with some mobile application development companies charging from $1,000,000 to a whopping sum of $10,000,000. However, you can still get a mobile app for your business for as low as $10,000; depending on the features of the mobile app, most reputable mobile app development companies will charge $10,000 and above for a mobile app.
Mobile Development cost for 2021 was highly influenced by the development company or team's charges, its design, superiority of development, and marketing. All mobile app prices are determined by their platforms, integrations, features, complexities, and locations. For example, the price of a mobile app development company in India will be different from that of a company in the US, Europe and Asia. Cloud servers, maintenance and support, are another hidden cost that determines their development costs.
Mobile App Development Company In India
Mobile app development companies have skyrocketed in numbers since the global pandemic. This is because the lockdown brought an increase in mobile application usage for several daily activities. Let us take a brief look at some of the mobile companies in India. These mobile app development companies are highlighted in no particular order as they are all reputable IT firms contributing to using technology in optimizing businesses and improving human lives.
Fueled
It is a mobile app development company that came into operation in 2007, and since then, it has been continuing to grow. It offers app development services for different enterprises and startups in different countries of the world. Fueled has handled big institutions like Harvard, Verizon, 9Gag, MGM Resorts International, and many others.
Prometteur Solutions LTD.
Prometteur Solutions LTD is a mobile app development company in India with some of the industry's best IT experts, rending IT services to clients from different parts of the world. It renders services in Web Dev, Mobile App Dev, IoT, Web Design, Ecommerce solutions, Software Development, Graphic Design and SEO service.
Infosys
Infosys is one of the largest mobile app development companies in India. With different offices worldwide, the company offers ICT services for businesses, institutions, entrepreneurs and organizations.
Tata Consulting Services
Tata Consulting Services is the most common mobile app development company in India. It is also the largest IT company in the country, extending its services to all corners of the world.
Accenture
It is a commonly profound presence in India and over 190 countries offering services in mobile app development, Cloud, Blockchain, Oracle, etc.
Hyperlink InfoSystem
Hyperlink InfoSystem is a mobile app development company in India renowned for providing ICT services for its clients in Asia and the US; it has one of the world's largest customer databases. It has worked with over 2300 clients from around the world.
Hyperlink InfoSystem has developed over 300 mobile apps and over 1600 websites. It offers AR, VR, AI, App Dev, Web Dev, IT support, Blockchain, IoT solutions, Salesforce Solution and CRM solutions, among others.
Data Systems
Data systems offer mobile app development, AI, Big Data analytics, Automation, Data Science, Machine learning, etc. it is an Indian-based company with a good team of IT experts with significant experience in providing IT solutions to businesses.
Zensar Technologies LTD.
Zensar Technologies LTD came into being in 1991 as a software company. It is commonly known for its impact on IT skills which it gained recognition for at Indian Perspective in the year 2018.
Either way, you go, a mobile app is going to be a standard component of any business in the future. The choice you make today is going to brighten up the future of your business. We at Prometteur are full-service mobile application development company, we believe marketing is all about connecting with the clients at the right place and at the right time.
We offer our services as you required and whenever you need it.
If you already have a mobile application, know here the top techniques to get 10000 app downloads in 2021.
1528
0
0
cookie-check
HOW TO INCREASE BUSINESS WITH THE MOBILE APP?